'India shall witness only deterioration in ties if Trudeau pursues this path, says expert
Updated: Sep 19, 2023, 5:54 PM
|
Published: Sep 19, 2023, 12:54 PM
Follow Us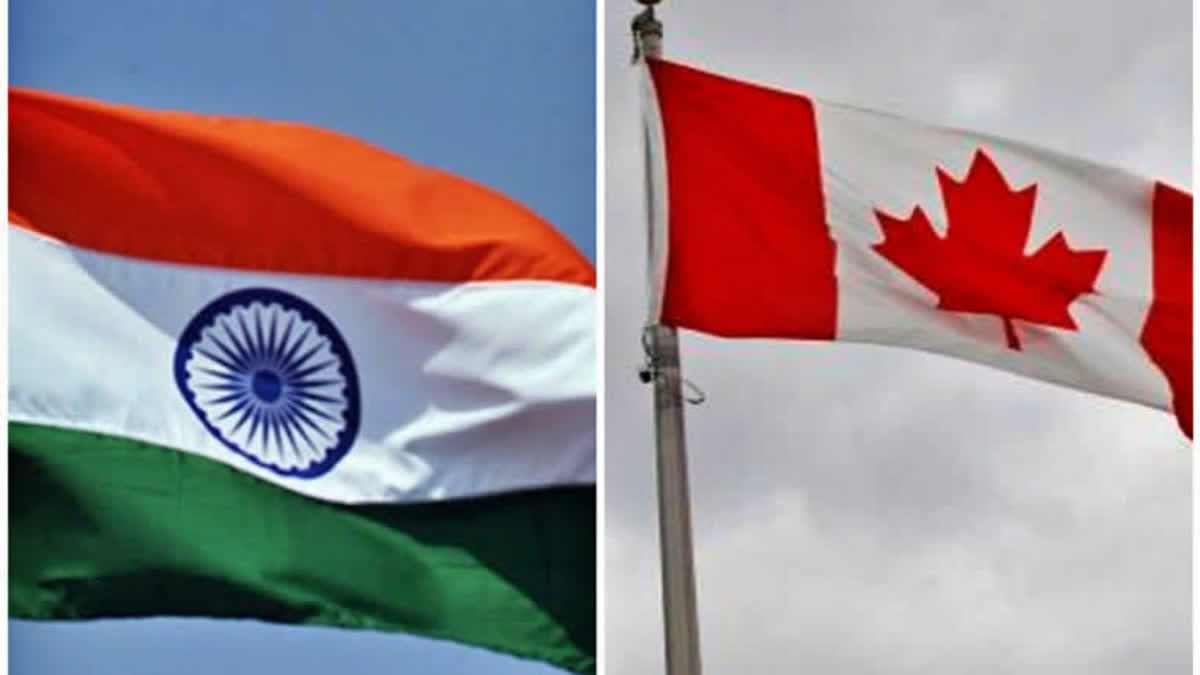 'India shall witness only deterioration in ties if Trudeau pursues this path, says expert
Updated: Sep 19, 2023, 5:54 PM
|
Published: Sep 19, 2023, 12:54 PM
Follow Us
New Delhi: India-Canada ties have hit a new low with India expelling a Canadian diplomat in New Delhi, an aggressive move which came in response to Canada expelling an Indian diplomat over allegations of India's involvement in the killing of Khalistan Tiger Force chief Hardeep Singh Nijjar, to Indian Commerce Minister Piyush Goyal confirming that trade talks between both nations have been paused because of the increasing pro-Khalistani activities. The question that has risen is what are the geopolitical implications going further? Where is Canada's Indo-Pacific strategy headed?
Speaking to ETV Bharat, India's former diplomat Anil Trigunayat said, "Canada and India ties in my view are at their lowest. Baseless accusations against India and expulsion of an Indian diplomat would not wash away the fact that for decades Canada under Trudeau has allowed and enabled Sikh extremists and terrorists to thrive and operate with impunity against India's sovereignty interests".
"During his visit at G20 PM Modi had seriously taken up these issues with evident and sought the Canadian cooperation to counter the menace but in vain. PM Trudeau just to save his political downfall is pandering to extremist elements which will eventually hurt Canada. We shall witness only deterioration in ties if Trudeau pursues this path", Trigunayat told ETV Bharat.
On the question that Canada has strained ties with both China and India, the former diplomat opined that Canada and China have their dynamic which is more embedded with the US-China rivalry.
"As for Canada's Indo-Pacific strategy, Canada is a small player and I don't see any change in their approach, which is driven by the US", he added.
In a tit-for-tat move, the Ministry of External Affairs on Tuesday expelled a senior Canadian diplomat based in India. This was conveyed by New Delhi to the High Commissioner of Canada to India, Cameron Mackay, who was summoned today after the Canadian PM alleged India of being behind the fatal shooting of Khalistan Tiger Force chief Hardeep Singh Nijjar who was shot dead in Canada.
Nijjarr, who was wanted in India, was gunned down outside a gurdwara, in a parking area in Canada's Surrey, BC on June 18. In a statement, MEA said, "High Commissioner of Canada to India was summoned today and informed about the decision of the Government of India to expel a senior Canadian diplomat based in India. The concerned diplomat has been asked to leave India within the next five days".
"The decision reflects the Government of India's growing concern at the interference of Canadian diplomats in our internal matters and their involvement in anti-India activities", MEA added.
According to sources, Canadian PM Trudeau said his country's national security officials had reasons to believe that agents of the Indian government carried out the killing of the Canadian citizen, who also served as the president of Surrey's Guru Nanak Sikh Gurdwara.
"Canadian security agencies have been actively pursuing credible allegations of a potential link between agents of the Government of India and the killing of a Canadian citizen, Hardeep Singh Nijjar," Trudeau said. However, in a hard-hitting statement, India, thereafter, rejected allegations made by the Canadian government linking it to the assassination of Khalistani leader Hardeep Singh Nijjar
In a statement, the Ministry of External Affairs (MEA) termed the allegations 'absurd 'and 'motivated'. The MEA said that the allegations were aimed at diverting attention from Khalistani terrorists and extremists who are given shelter in Canada. "We have seen and rejected the statement of the Canadian Prime Minister in their Parliament, as also the statement by their Foreign Minister", MEA spokesperson Arindam Bagchi said.
"Allegations of the Government of India's involvement in any act of violence in Canada are absurd and motivated. Similar allegations were made by the Canadian Prime Minister to our Prime Minister and were completely rejected. We are a democratic polity with a strong commitment to the rule of law", MEA spox added.
"Such unsubstantiated allegations seek to shift the focus from Khalistani terrorists and extremists, who have been provided shelter in Canada and continue to threaten India's sovereignty and territorial integrity. The inaction of the Canadian Government on this matter has been a long-standing and continuing concern. That Canadian political figures have openly expressed sympathy for such elements remains a matter of deep concern", MEA said.
The space given in Canada to a range of illegal activities including murders, human trafficking, and organized crime is not new. We reject any attempts to connect the Government of India to such developments. We urge the Government of Canada to take prompt and effective legal action against all anti-India elements operating from their soil, the government said.
Earlier, Canada postponed the Trade Mission to India due to heightened diplomatic tension between the two nations, which was scheduled for October this year.