Absence of Putin, Xi from G20 Summit: The impact on geopolitics in Indo-Pacific and beyond
Updated: Sep 8, 2023, 8:31 PM
|
Published: Sep 8, 2023, 3:03 PM
Follow Us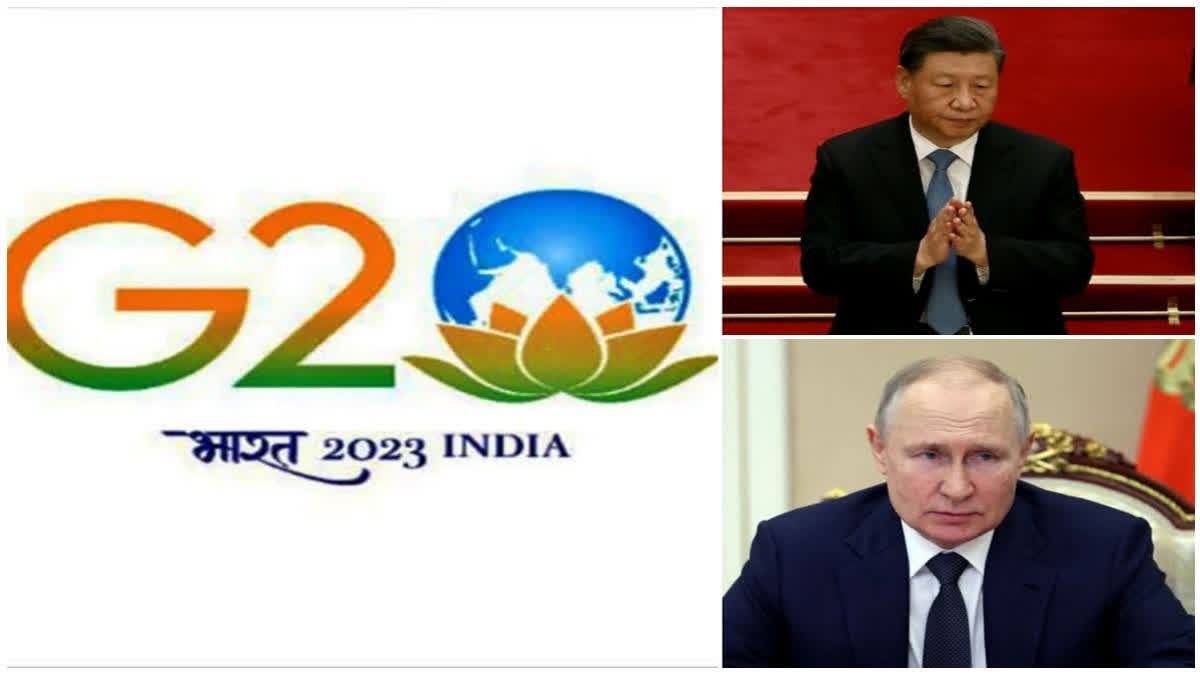 Absence of Putin, Xi from G20 Summit: The impact on geopolitics in Indo-Pacific and beyond
Updated: Sep 8, 2023, 8:31 PM
|
Published: Sep 8, 2023, 3:03 PM
Follow Us
New Delhi: Though the Group of 20 (G20) is an intergovernmental forum that seeks to address issues related to the global economy like international financial stability, climate change mitigation and sustainable development, the conspicuous absence of Russia's Vladimir Putin and China's Xi Jinping from this year's Summit in New Delhi on September 9-10 may lead to geopolitical ramifications as well.
Their decision to skip the Summit speaks volumes about the evolving dynamics in the Indo-Pacific and the ongoing conflict in Ukraine, heralding significant shifts in the global balance of power. For years, the G20 had been a platform for dialogue and cooperation among the world's leading economies. However, the rise of China's hegemony in the Indo-Pacific and Russia's belligerence in Ukraine had strained these international bonds to their breaking point.
Let's take the absence of Russian President Putin first. During a telephonic conversation with Prime Minister Narendra Modi last month, Putin conveyed his inability to attend the G20 Summit and said that Russia would be represented by its Foreign Minister Sergey Lavrov instead.
Prior to the telephonic conversation between the two leaders, Kremlin spokesperson Dmitry Peskov had said that Putin would not be able to attend the Summit as "now he really has a busy schedule". "And of course, the main focus is still the military operation (in Ukraine). So direct travel is not on the agenda right now," Peskov said.
According to Swasti Rao, Associate Fellow at the Manohar Parrikar Institute of Defence Studies and Analyses, Putin skipping the Summit is a reflection of Russia's isolation internationally because of its war with Ukraine.
"Look, Putin did not attend the G20 Summit at Bali in Indonesia last year too," Rao told ETV Bharat. "He also did not attend the BRICS (Brazil, Russia, India, China, South Africa) Summit in Johannesburg last month."
Though Putin did not attend the BRICS Summit physically, he addressed it virtually. South Africa is a signatory to the International Criminal Court (ICC) where a case has been registered against Putin for the war in Ukraine. By not attending the BRICS Summit in person, Putin saved South Africa the embarrassment of taking any action against him.
India, though, is not a signatory to the ICC. If Putin had attended the G20 Summit in New Delhi, it could have given India the opportunity to showcase its strong partnership with Russia.
"You should read between the lines here," Rao said. "It shows international isolation of Russia." She also referred to the international summit on the war in Ukraine held by Saudi Arabia in the Red Sea port city of Jeddah in August this year. Though Saudi Arabia has close ties with Russia, Moscow was not invited to that summit. However, Ukraine was. India was represented by National Security Advisor Ajit Doval.
"Even in countries that are not directly affected by the war, there is a growing sense of unease," Rao said while referring to Russia pulling out of the Black Sea Grain Initiative.
In July last year, the UN helped broker a lifesaving deal between Ukraine, Turkey and Russia that enabled Ukraine to resume shipping millions of tons of desperately needed grain exports through the international waters of the Black Sea. The deal unlocked millions of tons of desperately needed grain and other foods that would otherwise be stuck in Ukraine. The Black Sea Grain Initiative helps people in need across the globe, especially in Africa, by directly delivering desperately needed grains to lower-income countries and bringing down food prices.
In July this year, Russia announced that it would no longer guarantee the safety of shipping through the Black Sea. The decision came following blasts on the Kersch bridge, that links Russia to the Crimean peninsula. A furious Putin said that the year-old Black Sea Grain Initiative was detrimental to his country's interests.
During the second Russia-Africa Summit held in St. Petersburg in the last week of July, leaders of African countries requested Putin to revive the grain deal. Putin refused saying that this could not be done until his demands were met and instead offered food grain for free. The Africans refused to accept a gift and instead insisted on the revival of the deal.
"Because of its miscalculation in the war in Ukraine, Russia has suffered from reputational damage," Rao said.
Meanwhile, Chinese President Xi also skipping the G20 Summit has come as a surprise to many. Reports suggested that Xi had to skip the event due to internal political developments in China amid rising concerns about the country's economic and social issues. Xi, has instead, deputed Premier Li Qiang to represent China at the Summit.
Xi's absence also comes after China released a new "standard map" last month that showed India's Arunachal Pradesh and Akshai Chin, and disputed areas in the South China Sea as parts of its territory. This has drawn strong protests from India, Indonesia, Malaysia, the Philippines, Vietnam and Taiwan.
Rao said that China would now like to undermine the importance of G20 which has Beijing's traditional adversaries like the US and the European Union (EU). While China is not showing any inclination for trade talks with the US, the EU has problems with Beijing over Taiwan and human rights issues. Earlier this year, Italy pulled out of China's Belt and Road Initiative (BRI). France too is cracking down on China's influence operations in the Indo-Pacific, a region that stretches from the east coast of Japan to the east coast of Africa.
According to Rao, Xi's decision to skip the G20 Summit might have been sparked by the recent expansion of BRICS. During the Johannesburg summit, six new countries were included in the bloc – Argentina, Egypt, Ethiopia, Iran, United Arab Emirates and Saudi Arabia. All these countries have close ties with China. While China wants to project BRICS as an alternative to the West-dominated G7, countries of which are also members of the G20, India and Brazil do not want to show the bloc as being anti-West.
"China feels that it has got what it wanted with the expansion of BRICS," Rao said. "So, what is the importance of G20?" In a way, she said, it is good that Putin and Xi are not attending the Summit in New Delhi. Otherwise, a number of meetings would have been marked by walkouts and protests.
What can we expect in a joint statement at the end of the New Delhi Summit? "In my opinion, there will not be any joint statement," Rao said. She explained that many of the countries will seek inclusion of Russia'a war with Ukraine which other countries would oppose.
"Instead, India should focus on a common minimum programme that includes issues like climate change, digital economy and sustainable development and try to deliver this," Rao stated.