Gujarat MLA Jignesh Mewani appears in Assam court for ongoing trial

Published: Sep 19, 2023, 7:31 PM
Follow Us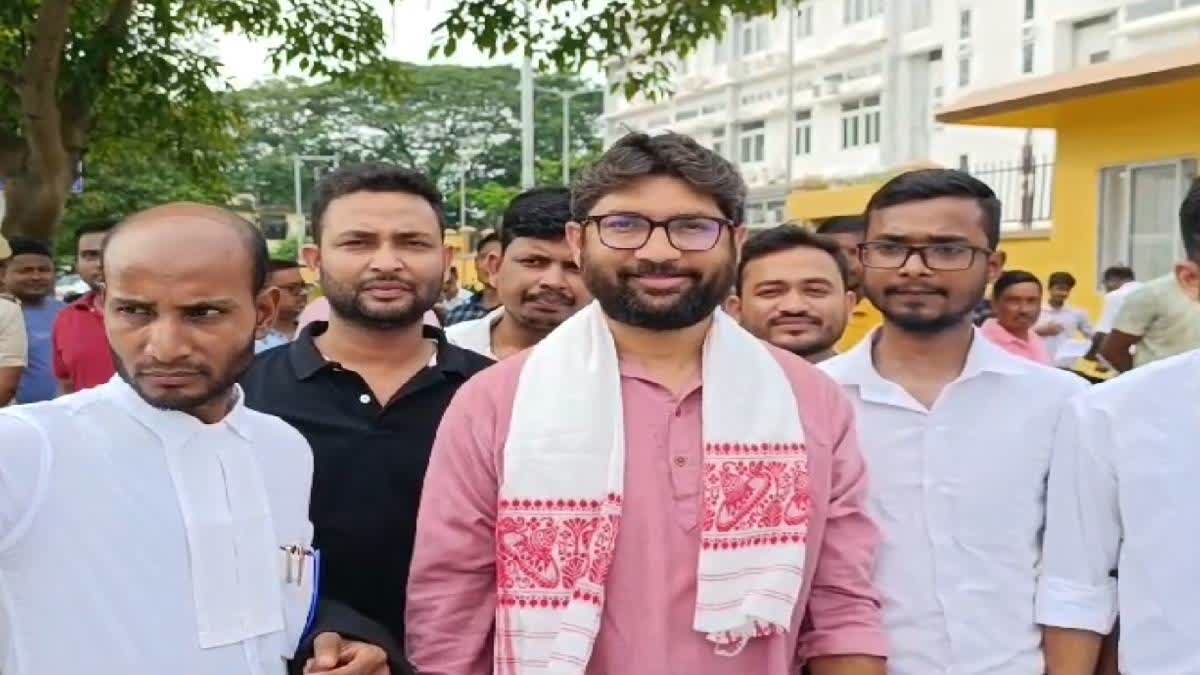 Gujarat MLA Jignesh Mewani appears in Assam court for ongoing trial

Published: Sep 19, 2023, 7:31 PM
Follow Us
Barpeta (Assam): Gujarat Congress MLA Jignesh Mewani made a courtroom appearance at the Chief Judicial Magistrate's Court in Barpeta on Tuesday, as part of an ongoing trial in connection with a case registered against him at the Barpeta Road police station. This was his third appearance before the court, previous ones were on July 17 and August 25.
After his court appearance today, Mewani informed media that the court had exempted him from sections 294 (obscene act in public place) and 353 (assault or criminal force to deter public servant from discharge of his duty) of the Indian Penal Code (IPC) that were lodged against him. However, the trial will continue concerning two other sections filed against him. The court has scheduled the next hearing in October.
Mewani was arrested by Barpeta police on April 21, 2022 (on FIR number 81/2022) under sections 294, 353, 323 (voluntarily causing hurt) and 354 (whoever assaults or uses criminal force to any woman intending to outrage her modesty) of the IPC at the Barpeta Road police station. The ongoing trial primarily revolves around accusations of obstructing public duties and violating the dignity of women police officers.
Responding to the controversy surrounding Sonia Gandhi being portrayed as 'Bharat Mata' in a Congress poster in Telangana, Mewani said, "All the women in this country are Bharat Mata." He questioned the BJP's silence on incidents of rape in Manipur and Madhya Pradesh.
In reference to the ongoing 'India' controversy, Mewani said that regardless of the name of the country the core issues that are affecting people need to be addressed.
"Be it 'Bharat' or 'Hindustan,' or 'India', the fact remains unchanged that the core issues of power shortage and unemployment are affecting the 40 crore people or the country. There is dearth of housing for approximately 20 crore people. Addressing these challenges should be the primary focus, irrespective of nomenclature." he said.