Andhra Pradesh: 40 boats destroyed in massive fire at Visakhapatnam jetty area
Updated: Nov 20, 2023, 12:22 PM
|
Published: Nov 20, 2023, 11:04 AM
Follow Us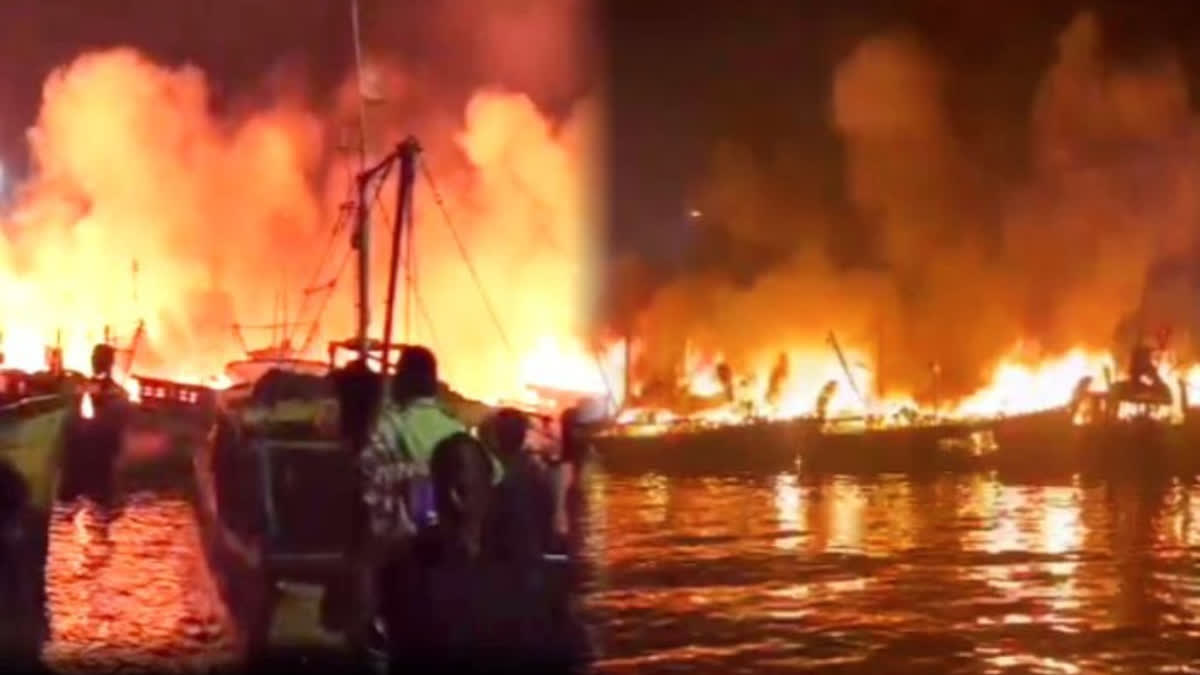 Andhra Pradesh: 40 boats destroyed in massive fire at Visakhapatnam jetty area
Updated: Nov 20, 2023, 12:22 PM
|
Published: Nov 20, 2023, 11:04 AM
Follow Us
Visakhapatnam (Andhra Pradesh) : A huge fire accident occurred in Visakhapatnam fishing harbor, Andhra Pradesh, in the intervening night of Sunday and Monday. The fire that first started near number one boat in the jetty area quickly spread to other boats in a few moments. Over 40 boats are burnt in this incident, sources said. The locals suspect that the fire was set by unknown people.
No casualties nor injuries to anybody have been reported so far. Firefighters have reached the spot and are trying to control the fire. On receiving the information, the firemen arrived at the spot and brought the fire under control. Officials brought a special fire engine from the Visakhapatnam Port Authority to put out the blaze.
The workers in the jetty area are worried that those who were sleeping in the boats at the time of the accident may have been caught in the fire. Over a dozen fire engines were pressed into service. Caution was taken during firefighting as the boats carry high quantities of diesel and also LPG cylinders used by fishermen for cooking.
Locals suspect that the boat may have been deliberately set on fire by unknown persons. The owners of the boat are in tears because of the loss of property in lakhs due to this incident. According to eyewitnesses, the accident happened around 11 pm on Sunday. It seems that around Rs 25 to 30 crores worth of property has been damaged.
At the time of the accident, some boats had finished hunting and came to the fishing harbor while others were filling fuel and preparing to go hunting. It was at this time that the fire occurred. Boat owners and other workers are worried that the fish ready for sale have been burnt in the fire. The jetty area where the fire broke out is located nearer to the container terminal.