Andhra CM's camp office in Visakhapatnam set up at Rs 433 crore
Updated: Nov 21, 2023, 6:58 AM
|
Published: Nov 20, 2023, 4:22 PM
Follow Us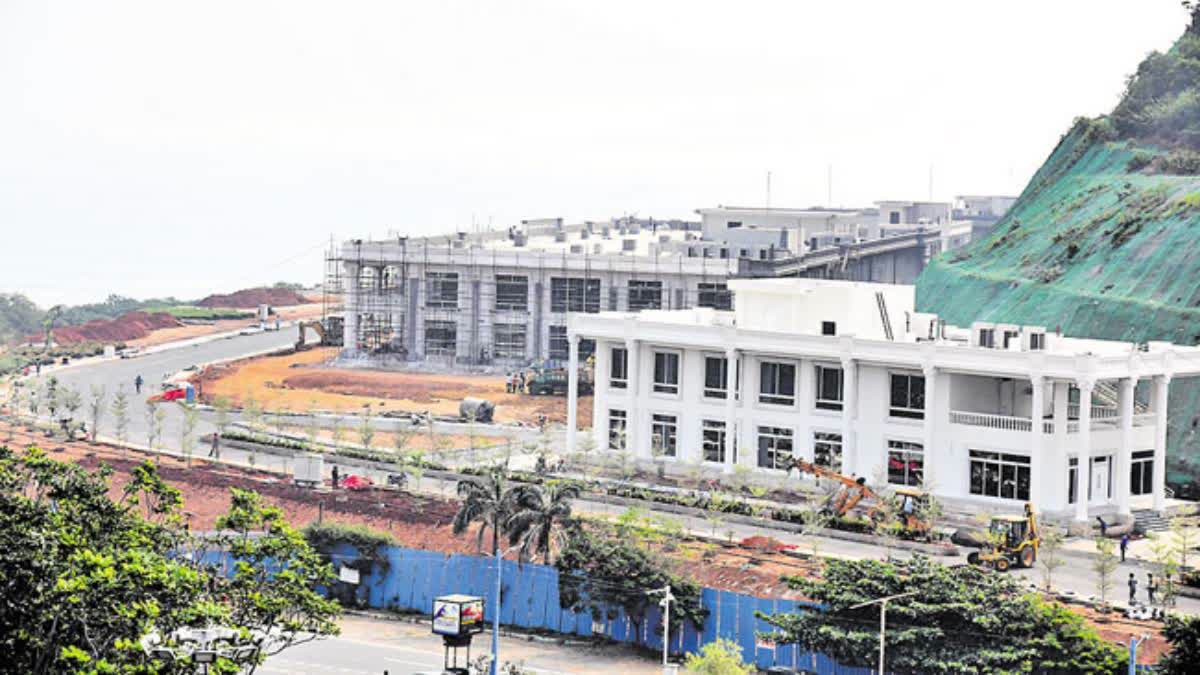 Andhra CM's camp office in Visakhapatnam set up at Rs 433 crore
Updated: Nov 21, 2023, 6:58 AM
|
Published: Nov 20, 2023, 4:22 PM
Follow Us
Amaravati: Nearly Rs 433 crore has been spent for the chief minister's camp office in Rushikonda in Visakhapatnam, Andhra Pradesh. The expenses were around 16 per cent higher than what was estimated.
The camp office was set up under the Andhra Pradesh Tourism Development Corporation's Rushikonda Redevelopment Project. Initially, Rs 350.16 crore was allocated for the project. Later on, additional allocations were made.
The total cost of the project had not been revealed so far. However, after the High Court questioned whether the government had any objection in providing the orders online, government orders of all departments were uploaded on the website. Following which, the expenditure details of the camp office were revealed.
On Saturday, the government uploaded 10 government orders related to the Rushikonda project. In the beginning, the government had said that these were tourist buildings. Later, a committee was setup with IAS officers and its report stated that the plot was favourable for establishment of the CM's camp office.
The government initiated the construction work in three phases under the aegis of Andhra Pradesh Tourism Development Corporation. In the first phase, Rs 92 crore was allocated, which was later increased to Rs 159 crore. In the second and third phases, Rs 94 49 crore and Rs 112.76 crore were allocated respectively.
It has been learnt that Rs 46 crore was spent on constructing roads, drinking water facilities, electricity, sewerage and other works. A total of Rs 21.83 crore was spent on landscaping. In the third phase, a tender was called for work amounting to Rs 77.86 crore but 16.46 per cent higher expenditure was recorded and finally the work was pegged at Rs 90.68 crore.
The order stated that modern facilities were made available including laminated panels with thickness of 3 mm and 9 mm to make those resistant of heat, bacteria, water and chemicals. Also, 138 modern single-seater sofas, 42 two-seater sofas, 25 three-seater sofas, 721 executive chairs, 205 tables, 20 beds were ordered for relaxation. On furniture alone, over Rs 14 crore was spent.