Djokovic wins record 7th ATP Finals title by beating Sinner in straight sets
Updated: Nov 20, 2023, 5:30 PM
|
Published: Nov 20, 2023, 10:03 AM
Follow Us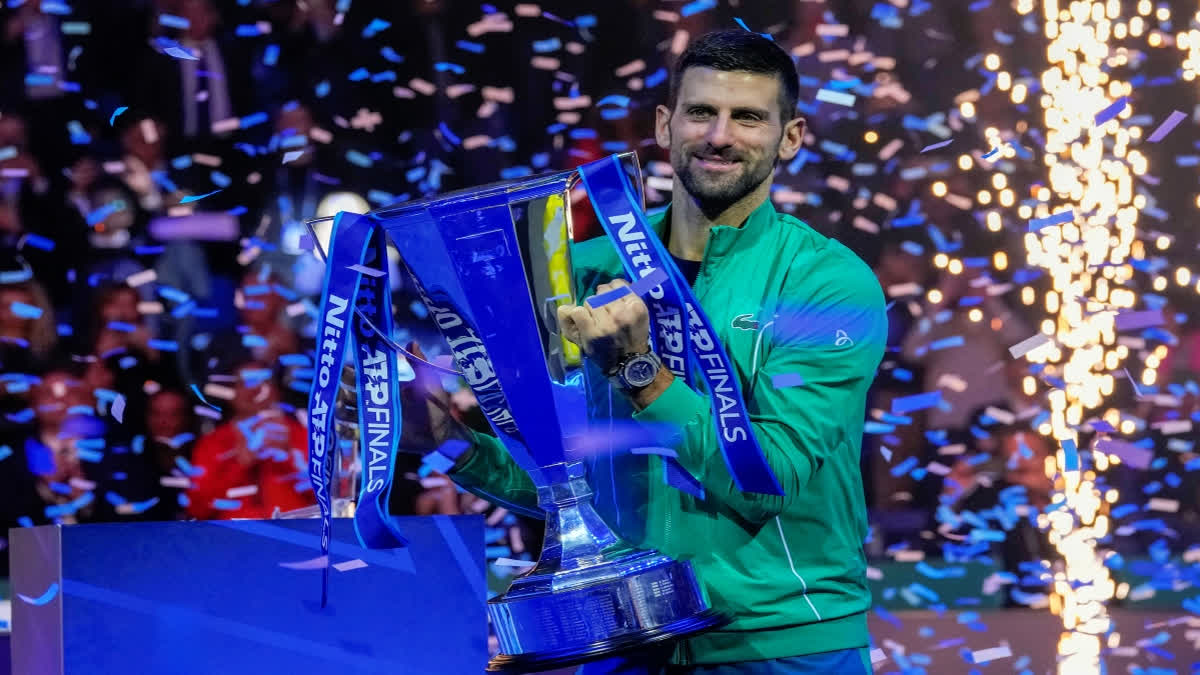 Djokovic wins record 7th ATP Finals title by beating Sinner in straight sets
Updated: Nov 20, 2023, 5:30 PM
|
Published: Nov 20, 2023, 10:03 AM
Follow Us
Turin (Italy): Star Serbian tennis player Novak Djokovic won a record-breaking seventh ATP FINALs title with a straight-set victory over Italian Jannik Sinner on Sunday, November 19.
Djokovic took just an hour and 43 minutes to win 6-3 6-3 as the Serbian continues to reach new heights at the age of 36. He began this year (2023) with a record-extending 10th Australian Open championship title and also claimed his 23rd Grand Slam singles trophy at the French Open breaking Spanish Rafael Nadal's 22-win mark. Djokovic also made it to the Wimbledon final 2023 held in London but lost to second-world-ranked Carlos Alcaraz, who also won the U.S. Open 2023.
"One of the best seasons I've had in my life, no doubt," Djokovic said. "To crown it with a win against a hometown hero in Jannik, who has played amazing tennis this week, is phenomenal."
Djokovic entered Sunday's final tied with Roger Federer on six titles at the season-ending tournament for the year's top eight players and he extended his arms and beamed broadly after clinching his seventh when Sinner double-faulted. Djokovic also defeated 20-year-old Alcaraz in Saturday's semifinal encounter to reach to the finals.
"I'm very proud of the performances these last two days against Alcaraz and Sinner, probably the best two players in the world next to me and (Daniil) Medvedev at the moment, and the way they have been playing I had to step it up," Djokovic said.
"I had to win the matches and not wait for them to hand me the victory and that's what I've done. I think I tactically played differently today than I have in the group stage against Jannik, and just overall it was a phenomenal week."
It was his fourth win over Sinner, who had recorded a first-ever victory against Djokovic in the group stage in Turin and was the first Italian to reach the final. But Djokovic was in imperious form on Sunday and won 14 straight points from the end of the first set to the third game of the second to leave him firmly in control and subdue the Turin crowd.
Djokovic had already secured the year-end No. 1 ranking for a record-extending eighth time by winning his opening match at the ATP Finals. After this tournament, Djokovic will become the first player to hold the No. 1 ranking for 400 weeks, with Roger Federer at 310 the only other man to eclipse the 300-week mark.
It was also only the second time in the last 15 years that a player has made the finals of all four Grand Slam tournaments and the ATP Finals. The only previous occasion was when Djokovic did it in 2015.
Sinner came into the final having won all of his matches in Turin and backed by a fervent home crowd, who had dreams of him becoming the first Italian to win the tournament in its 54-year history. But the 22-year-old Sinner could offer little in response to a master class from Djokovic, especially in a blistering first set that lasted just 38 minutes and saw the Serbian win 20 of 22 service points. Djokovic also served up 13 aces during the match.
"Congratulations to you (Novak) for this week and not only: you started the season by winning and you ended it by winning, you won three Slams and many other tournaments," Sinner said. "What else is there to say? You're an inspiration not only for all those watching but especially for the players.
"I also want to thank my team we saw also today that I can still improve a lot but we can look at the positive things from this season. When we started the year, I was one player and now I'm another. Thanks to you who have helped me understand so many things."