World Cup 2023 final: Dravid rues losing in final despite playing good cricket in the tournament

Published: Nov 20, 2023, 7:07 AM
Follow Us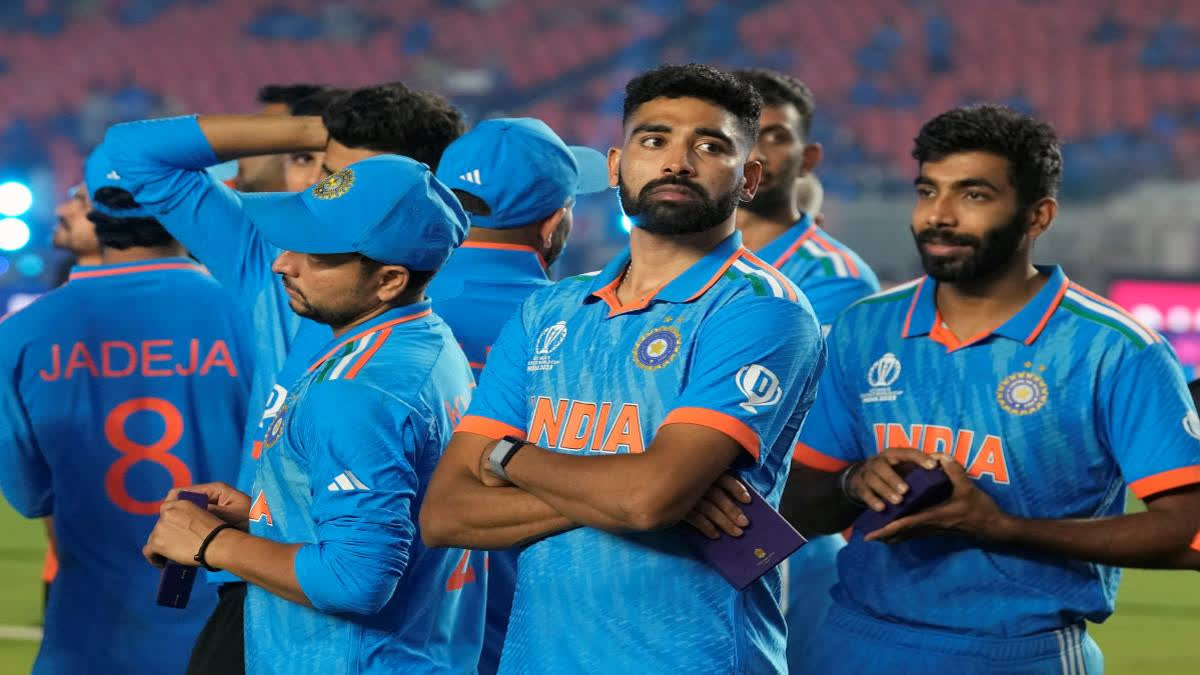 World Cup 2023 final: Dravid rues losing in final despite playing good cricket in the tournament

Published: Nov 20, 2023, 7:07 AM
Follow Us
Ahmedabad: India lost to a better team, a broken but chin-up head coach Rahul Dravid said, congratulating Pat Cummins and his unit for winning the World Cup after a superlative display in the final against India.
"It has been a tough day at the office. We ran a good campaign and I am proud of the boys. The quality of cricket we played right through this tournament was exceptional. We gave everything we had in this tournament. So proud of all the boys and the support staff. Just at the last step in the final, we didn't have our best game and credit to Australia. My congratulations to them. They played really well on the day, and they were better than us," he said at the post-match Press conference.
To have been put out of the game summarily by Australia after 10 straight wins up to the final, it is difficult to reconcile with such a defeat.
"Of course, there's going to be disappointment. There is disappointment in the dressing room, and there is disappointment among the boys and among the support staff. But, when the dust settles, we can reflect on what has been a really good campaign," Dravid remarked.
Defending the fire and brimstone performance by Sharma at the mouth of the innings, Dravid said it was important to get off to a good start because it got slow and lower later on.
"Losing Rohit at 84 to a terrific catch was unfortunate. But we set the base up really well," he said.
"Rohit was utterly disappointed, as are many of the boys in the dressing room. "There were a lot of emotions in that dressing room. It was tough to see as a coach because I know how hard these guys have worked, what they've put in, the sacrifices they've made. But that's sport. That happens."
"The better team won on the day. I'm sure that the sun will come up tomorrow morning. We'll learn from it. We'll reflect. And we'll move on, as will everyone else. That's what you do as a sportsman. You have some great highs in sports, and you have some lows in sports. You keep moving on and learning."
Dravid said the team fell about 30-40 runs short. "It's not that we were looking to bat it out. The ball was stopping in the afternoon a little bit more than it did in the evening. Not that there was a lot of dew, but just felt like the ball came onto the bat a lot better in the evening. We were rotating the strike, but we weren't able to hit those boundaries. Yes, there was a conscious effort to take the game deep, but we kept losing wickets. We just lost wickets just when we felt that we built a partnership, and we could start going. We lost a wicket, we lost Virat [Kohli], then we lost Jaddu [Jadeja] and then we lost [KL] Rahul."
Talking of Rohit as captain and batsman having committed to a brand of cricket that was fiery but set the tone of the innings, Dravid said.
He continued, "He's been an exceptional leader. He led this team fantastically. He's given so much of his time and energy in the dressing room to the boys. He's always been available for any of our conversations, or any meeting. There's been a lot of planning, a lot of strategy that goes in. He's always committed to those things," he narrated.
"His batting was fantastic, the way he set the tone for us. We knew that we wanted to play a certain way. We wanted to play a positive attacking brand of cricket. And he was committed to doing that. He wanted to lead by example. Right through the tournament, he was superb in doing that. I just can't speak more highly of him as a person and as a leader," Dravid added.
Asked if crunch games at the summit instil fear and average play in the team, Dravid disagreed promptly.
"I won't believe that we played with fear in this tournament. In this final match, we were on 80 runs in 10 overs. We were losing wickets. When you lose wickets, you have to change your strategy and tactics. When we lost against England, we played differently. You start with front-foot cricket. In the final, we didn't play anything out of fear. They did a lot of good bowling in the middle overs. We lost three wickets. So, we needed a period of consolidation. But whenever we thought we'd play attacking cricket and hit, we lost wickets. So, we had to build again. Did not play defensively," Dravid said.
Dravid urged the nation with its billion fans to not get carried away by the final defeat. Instead, he asked them to look at the team's fantastic campaign right through the World Cup. "We went to 11 cities, played in front of our fans, truly grateful for the kind of support we received. Every single venue we went to was packed. It was a privilege to play in front of our fans and I thought the team did really well to entertain them. So, while there will be disappointments today, there's a lot of joy that this team has given to the people over the last couple of months," Dravid said.
Talking about the sublime unit that the bowling department emerged to be in the tournament, Dravid said, "A lot of planning and effort goes into it. Paras [Mhambrey] works closely with them. We've got our sports science team that looks after their fitness. Keeping fast bowlers on the path and working with them requires planning, strategy and a willingness from the boys to put in the effort and the hard work. Credit to Booms [Bumrah], Shami and Siraj. They've been brilliant through this tournament, as has been Jaddu and Kuldeep [Yadav] and even Ash [R Ashwin] in the one game that he played. So yes, bowling's been truly spectacular," he added.