World Cup 2023 final: Australia bundle out India for 240 with clinical bowling effort

Published: Nov 19, 2023, 6:57 PM
Follow Us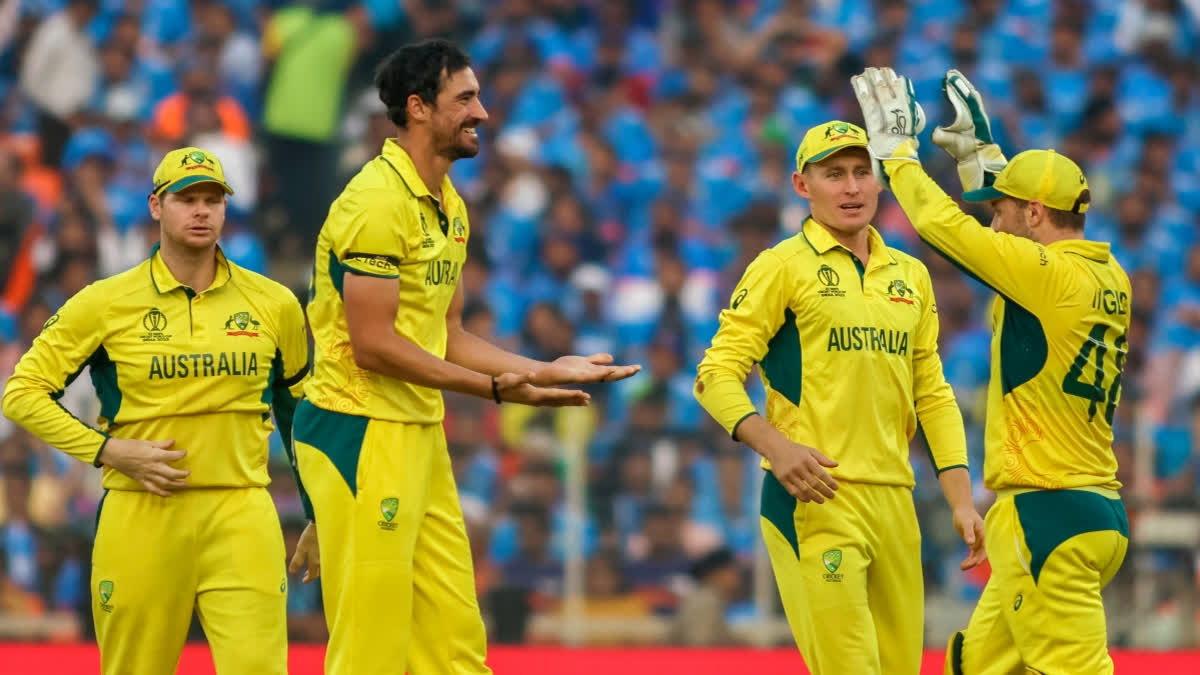 World Cup 2023 final: Australia bundle out India for 240 with clinical bowling effort

Published: Nov 19, 2023, 6:57 PM
Follow Us
Ahmedabad: Australian skipper Pat Cummins worked on his promise of silencing the 1.32 lakh crowd at Motera by cordoning off India to a low 240, somewhat indefensible if dew comes, with continuous wicket-taking that started with the first powerplay onwards.
The Aussie brilliance came into play right after Cummins won the toss and elected to chase, raising quite a few eyebrows. But as the innings progressed, the talk of him being suicidal changed to delivering a masterstroke by spotting the action in the pitch. A bow to Mitchell Starc who took a three-for (10-0-55-3) in the final, felling the big three with clinical bowling spells and reverse swinging with beauties like the one which got K L Rahul. Hazlewood (9-1-38-3) and Cummins (10-0-34-2) took two each. Maxwell and Zampa took one each.
It was an Australia story all through, from the 10th over onwards. In overs 1-10, India made 80 runs for the loss of 2 wickets at a rate of eight an over; 11-20 saw a dip to 3.5 with 35 runs and a loss of one wicket; 21-30 was 37-1; and 31-40 at just a 4.5 run rate with the loss of another wicket.
Coupled with brilliant fielding and impeccable bowling by his quicks and spinners, it spelt doom for India as boundaries dried up completely and the cordon kept tightening to the extent of one boundary coming after 98 balls and the next taking 12 long overs!
The first wicket for Australia came in the fifth over itself when Shubman Gill elevated the ball erroneously to mid-on where Adam Zampa made no mistake as Starc celebrated, getting one in powerplay after his captain strangely asked to bowl after winning the toss. Shubman Gill walked when Rohit Sharma was on customary fire and Gill's misdemeanour came in as an inconvenience, coming as it did in the fifth over of play and Sharma had already hit three fours and a six.
Six No 2 came soon after as Rohit not to be overawed by the Aussie cordon, lifted it too long off with no movement whatsoever in the field. The slower one from Starc worked well for Sharma who got into action to forget the Gill departure. India was at 31-1 when Kohli walked in to keep the campaign going.
Three boundaries, one better than the other, announced that the campaign was with the veterans of the game and Starc was at the receiving end of the Indian charge. The Indian 50 came in 6.3 overs with a wicket lost and a Rohit-Kohli partnership building up.
Glen Maxwell was brought in early, easing up Kohli to drive through cover and get another boundary. As the battle for dominance started to play out between the Australian arm and the Indian batters, Rohit packed off Maxwell for first a six over long-off and then a cover drive before walking at 47 in 30 balls with four boundaries and three sixes, when
Travis Head took one of the greatest catches of the tournament. India, who were going well, plummeted to 76-2 and the Aussies won this round of the duel.
Rohit continued his fearless hitting and flirting with danger continuously to finish his assignment of giving a flying start to the innings. However, this time, the loss pinched as this was a Final against Australia and the man in form had been sent back with 47 in 31 balls. And then Shreyas Iyer walked at four, edging it to the keeper bringing Indian into the doldrums at 81-3 in 11 overs. The powerplay was all Aussie and the pressure was all India's. Cummins promise of silencing the crowds started prowling with a finger on the lip.
In the middle, there was a slowdown with seasoned campaigners Kohli and Rahul going for rotation instead of the Sharma-like audacity. The Aussies then brought in Zampa, their fiercest spin weapon, in a bid to unsettle the stumps yet again. A big score was desperately looking for a break as 81-3 pressed the toil button for India.
India 100 came in 15.4 overs with the robust eight-plus run rate falling to six and asking for some boost but not at the risk of losing another wicket. The silence had come in and Cummins was talking. For five overs, the Indian duo was unable to hit a boundary, bringing the run rate to below 6 an over, the last boundary being hit by Shreyas in the 10th over. No boundaries started trending on social media platforms even as Kohli-Rahul option for caution and preservation.
Rahul's 19 in 37 balls, and Kohli's 39 in 42 signified a worrying slowdown. Perhaps, that's what Sadguru and Sachin Tendulkar were discussing animatedly In the President's box as Deepika Padukone and Ranveer Singh looked on.
Meanwhile, the boundary drought extended to 14 overs. The 50 partnership between Kohli and Rahul came in 58 balls without a single boundary by either of the two. Kohli reached the seventh half-century of the tournament in 56 balls with four boundaries, all of which he had hit in the company of his skipper. The exemplary Aussie fielding stopped at least four that would have touched the ropes.
The half-ton was well earned as it came under trying circumstances and when Kohli's preservation tactics were being given pride of place despite the crease on the eyebrow. Finally, a boundary was scored by Kohli after 98 balls in rotation, the longest boundaryless sequence broken to huge relief.
The Test match kind of batting and the patience and the rotation regimen had preserved a wicket but a 300 runs to defend under the lights was an absolute must. At 146 for 3 in 28 overs, 80 in the first 10 and 66 in the next 18 overs, resembled a well-earned tactic to bide time.
Just then Kohli was stunned as he was bowled in 54 runs by Pat Cummins. He just stood for several seconds absolutely broken that the ball had slipped through his bat and played on. Advantage Australia all the way. Silence all around. India 148-4 in 29 overs. Jadeja in to save the show, ahead of
Surya Kumar Yadav. 2003, 2015, all those memories kept coming back even as a pensive Bumrah was wondering what and how he would mount a defence on a slim ground of runs. India's 150 runs came in 29.1 overs with four big ones gone and India testing their middle and lower middle order in the most important match of the tournament. Kohli's departure was backbreaking enough to turn the talk of Cummins' choice after winning the toss from suicidal to masterstroke.
India plummeted from eight an over and four an over, Australia making a statement in support of their skipper choosing to chase. The Aussie cordon was well and truly in place, and it was for Jadeja and Rahul to work around it, somehow, anyhow. Rahul 50 came in 86 balls and just one lonely boundary. Test match syndrome in the 35th over? Time to charge. Sadly, however, the clock ticked on and Jadeja in a loss of concentration after a referral nicked it to the keeper to walk at nine, bringing India to 178 for 5.
All now rested on the bat of Surya Kumar Yadav at a time when the reverse swing was playing the villain. The T20 firebrand had 14 overs to up the ante or perish. But with Cummins and Hazelwood in charge, it was a crucial and difficult time. After a brief flair by Shiraj of all the people, hitting a four, Kuldeep was run-out to fold the Indian innings three balls short of 50 overs.
In 40 overs, India stood at 197 for 5 with Surya trying to lend some muscle to the scoreboard. But it was not India's day as Rahul nicked to Inglis and walked at 66 in 107 balls at a time when he was needed the most. It was sheer quality from Starc who came round the wicket to send in a delivery that back of a length at off stump and straightened up.
India had just reached 200 when Shami walked into bat when he should have just bowled. He perished unnoticed after playing 10 difficult balls, caught behind to Starc for six runs and the Indian downfall looked imminent. Next to go was Bumrah for one and Zampa did not even celebrate!
Next for the march past was Surya who struggled and struggled and finally fell to a short ball and a wild swing of the bat transiting the ball to Inglish at 18 runs in 28 balls, ensuring India would not finish get bundled up too early.
The Indian campaign had hit a roadblock which meant the Cup was slipping out. Even the Bumrahs and the Shamis would need a lot more runs to mount a defence. A low score and dew, na-na!