Ravindra Jadeja, the proverbial 'undertaker' of Indian cricket who takes bouquets and brickbats in equal stride, is on a song
Updated: Nov 19, 2023, 3:02 PM
|
Published: Nov 19, 2023, 9:44 AM
Follow Us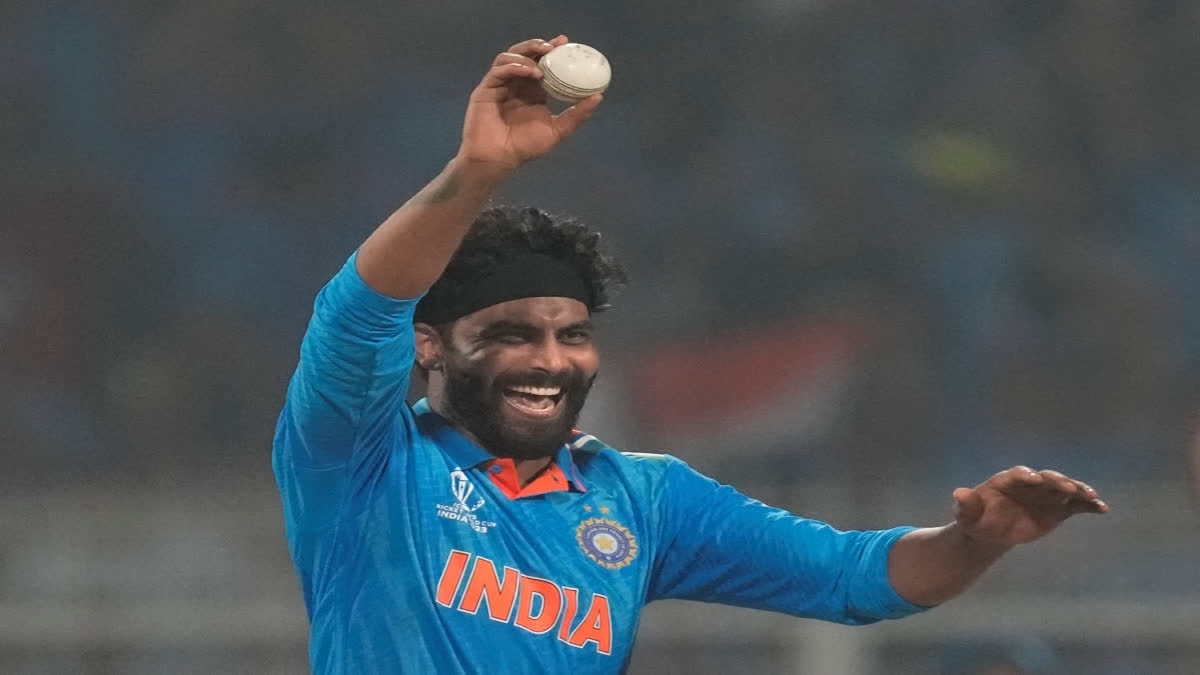 Ravindra Jadeja, the proverbial 'undertaker' of Indian cricket who takes bouquets and brickbats in equal stride, is on a song
Updated: Nov 19, 2023, 3:02 PM
|
Published: Nov 19, 2023, 9:44 AM
Follow Us
Ahmedabad: Did you say Jadeja? The guy who sports those curly locks and black bandana to curl the ball into the wicket without sound or fury signifying many a dismantle. Or is it, Sir Jadeja? The 'spin doctor' has been plotting doom for many batters since the Dhoni era, bowling exactly where he would get his man on the instructions of his leaders.
He is a 'rockstar', who is a known flying machine in the outfield from where he manages the right spots at the wicket and becomes the catcher on a high with jaw-dropping acrobatics. The Jaddu of Indian cricket strangely has remained underrated at times. Not only that, he had to fight for his place in the team. With Ashwin the obvious choice, he has to sit out in his early years.
Jadeja, the quiet and unassuming performer in the 2023 squad of legends, is a muted but crucial splash in the rainbow colours of the Indian team. Did you know, that Jaddu has three triple-hundreds in domestic cricket to his name and an equal number of memes mocking the quality of bowling? Did you know, he has been the quickest left-arm spinner to reach 200 Test wickets, the first Indian since Anil Kumble in 1993 to top the ICC ODI bowling rankings and the bowler, who drew in the hammer for a reality-defying bid of US$2 million in 2012?
At this World Cup, where he is the flavour of the spinners, second to Kuldeep Yadav but a choice above R Ashwin. Did you even notice that he has taken 16 wickets in the 2023 edition, one up on Yadav? That on the list of leading wicket-takers, he rubs shoulders with the more talked about and feared Santner conceding only 339 runs as opposed to a leaky 449 runs by the Kiwi in an equal number of matches?
Not really, because he has been at it quietly, studiously, quickly getting his assignment in the middle done as the other legends steal the limelight with blitzkriegs that overshadow consistent but introverted performers like Jadeja.
He started the parade for pride, in the very first match of India's campaign when dire straits were singing away in a low scorer going the Australia way. It was Jadeja who shaped the game with a magical spell: 10 overs, three wickets, two maidens and 28 runs. His quiet 35 runs against Sri Lanka were meaningful too.
Jadeja's role in this campaign has been simple, much like his approach to cricket. Play second fiddle to Yadav, support him from the other end, take wickets in the bargain, break partnerships, add to the spin kitty and make runs when it reaches a stage where he must play the role of a willow warrior.
To his credit, he has done all of this and more, on all occasions that have arisen requiring his input. More, because the livewire he has been on the field, taking humanly impossible catches to send off players on fire. His 16 wickets in 10 matches, at an unbelievably low run-giving at 4.25 per cent towers over his equally jaw-dropping 77 runs in the 2019 semifinal which India unfortunately lost to New Zealand.
In 2023, he has been sublimely seminal, in case you did not notice. A strike rate of 55.50 with the bat, he has taken seven catches in 10 matches so far with the Kiwis bearing the brunt as three went into his inescapable hands in the semifinal at Wankhede.
My personal memory of Ravindra Jadeja has been of him making monkey gestures in his pads and with his bat at commentator Sanjay Manjrekar, after scoring big in a 2019 World Cup match.
For someone being called an underappreciated performer by skipper Rohit Sharma, to have been called a "bits and pieces" player by a commentator would certainly evoke anger. But, coming from a usually quiet man like this one, it was surprising.
The quietude with which Jadeja goes about his task in any match, perhaps comes from his searing need to perform under difficult circumstances, something he has been doing since childhood, and now with the ball, bat and, most importantly, fielding. This should have, ideally, lionised his stature like the other stars in the team.
Never mind if that has not happened! Jadeja speaks when his turn comes and in this World Cup, he has been speaking in every match thus far. He has unquestioningly supported Yadav's campaigns from the other end, bowling fast and bowling all his 10 overs with no run bursts.
While all the focus has been on the quicks in the bowling department, and Yadav as an attacking spinner in the middle overs, Jadeja has finished his assignments unnoticed, slipping in a wicket or two with a "by-the-way" veneer.
He is most visible in the team when he is taking impossible catches or constructing runouts with direct throws or delivering batting cameos when the team requires it from the lower middle-order batsmen. On two occasions, he has upped the scores in dire circumstances, including his contribution against South Africa which brought in a five-for from a spinner!
But Jadeja's real asset is his bowling all-rounder persona, left arm orthodox at that. He bowls fast and seldom gives the batsmen time to move their feet. His entrapments are as delightful as they are befuddling. The way he bowled Themba Bavuma in the match against South Africa at Eden Garden was a brief glimpse of the show he is capable of. The first ball, angling into the middle, turned away to beat the outside edge and hit the off stump in what was unanimously adjudged a beauty.
In consonance with his innate unobtrusiveness, he slipped in his five-for in a big match against big batters of a big team – again unnoticed – coming from behind and when all eyes were on the quicks in the first powerplay, and then on Yadav in the middle overs.
"Jadeja has been really good. A big matchwinner. He keeps doing the job, goes under the radar but today is a classic case of what he does - score late runs and take wickets," Sharma said in praise of his fiver-man after the SA match.
Taking 50 per cent of wickets and sending off a team for a dismal total of 80 runs is what Jadeja is capable of, without making much noise, which is no mean feat. "I feel happy that in an important tournament, in important matches I am delivering with the bat and ball. It feels good. Important games are coming up and I am more confident about my individual performance," he says, a matter of fact.
Perhaps, it is Jadeja's difficult childhood that has shaped his resilience in cricket. His mother was the sole breadwinner of a big family. His father worked as a night watchman for a private company and was mostly between jobs. His sisters prodded him to play cricket to shield him from harsh in-house realities. His mother passed away when he was just 17 and he was often bullied and not allowed to bat as he didn't have a rupee needed to buy a turn when he was a child.
Not one of those boys from Saurashtra have reached anywhere near real-time cricket, let alone at the international level. Jadeja, on the other hand, has studiously worked his way up into the Playing 11 of Team India, unbothered by the in and out phase that has dogged him in the game. But years later and many milestones up, Jadeja still speaks of pride in the Indian jersey and shows no resentment or fatigue for the struggles to keep alive in a sport that has legendary bench strength and only 11 players for a team.
"Whenever we play for India in the jersey it is always a birthday. Very few people get a chance to wear an Indian jersey so it is a big thing but if you do a good performance on your birthday and the team wins then it becomes double special and like you asked why no tough match was made - so it is good that there should not be any tough match, if the opponent team comes to play, they should feel that they are under more pressure and panic," he says with a smile.
Jadeja, sometimes sports humour. Ask him if he could think as a captain about a player like him who is bowling 10 overs in every match, 50 runs in every match, batting, and fielding, how happy would he be and pat comes the reply: "I have been thinking like the captain since the first match, it's just that I've never become one."
On a more serious note, Jadeja has an uncanny knack for judging the wicket and tailoring his bowling to that. "When they were bowling, it was healthier. The turn was more and the bounce of the wicket less. But if you ask me personally, the wicket in the afternoon and now, it was a little easier. I won't say easy, but it was fine. But in the afternoon, there was a turn and it was slow, so batsmen couldn't hit.
Whenever we come to Kolkata, the bounce is less and the spin is there. So that was an advantage that we knew that there would be spin and the wicket would be played slowly. Mentally we were prepared with this," he tells you. Jadeja has been amid ups and downs constantly. But, in his mind and in the middle, he keeps it simple and to the point, much like his regimen bowling that recorded him as the leading wicketkeeper in the 2013 Champions Trophy with 12 wickets.
"I always try to give an impactful performance in batting or bowling when the team needs me in any department. I never take fielding for granted. I also feel that I can miss a catch. So, I am always more prepared, that if I get a catch, I don't relax on the field," he says.
With the biggest day having dawned for Team India, one hopes his fast spins will give a positive turn to Team India's final bid for the Cup at Motera. He missed the cut in 2011. Hopefully, he will make his very own special cut in the Final.