Mohammed Siraj show as India thrashes Sri Lanka by 10 wickets to lift Asia Cup
Updated: Sep 17, 2023, 9:23 PM
|
Published: Sep 17, 2023, 6:51 PM
Follow Us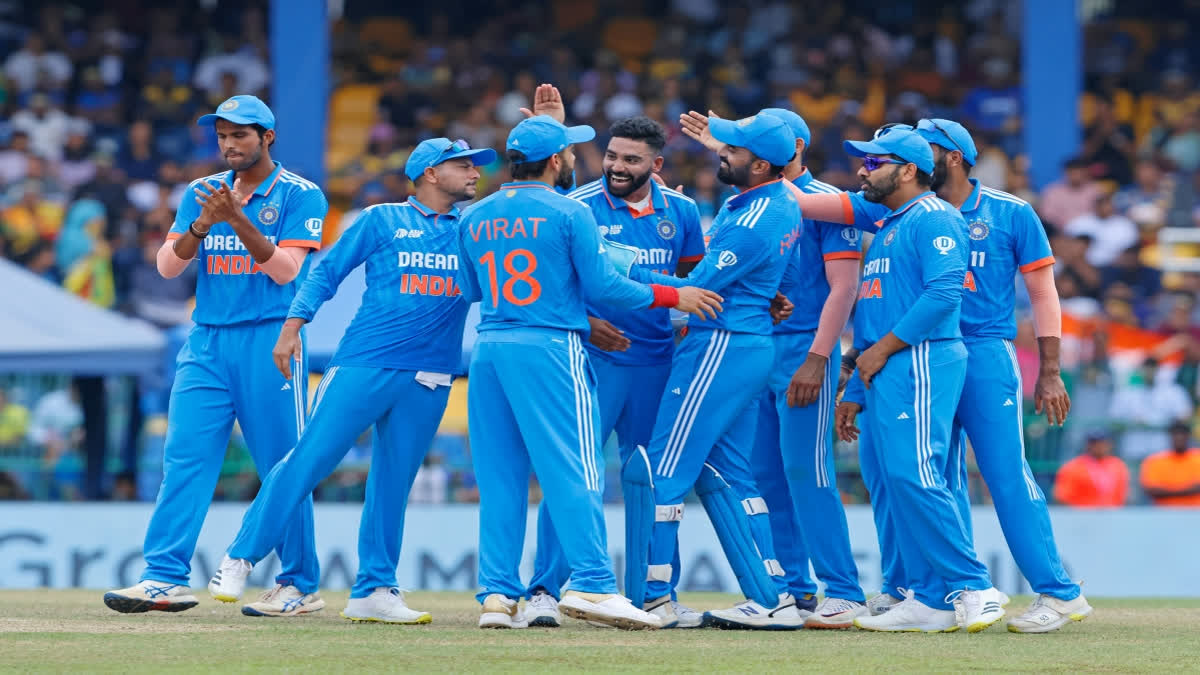 Mohammed Siraj show as India thrashes Sri Lanka by 10 wickets to lift Asia Cup
Updated: Sep 17, 2023, 9:23 PM
|
Published: Sep 17, 2023, 6:51 PM
Follow Us
Colombo (Sri Lanka): Today's story of the century when it comes to the Asia Cup. A six-wicket haul by Mohammed Siraj, a five-for in the first four overs of the game, an off-stump wonderland created by the Indian quick, a final innings of an international tournament wrapped up giving just 50 runs away and India plucking 10 wickets much before Sri Lanka batters could complete their 20 overs of a 50-over match!
What would you call this incredible construct, that too on the shoulders of a single man who came in unannounced and turned an off-stump length ball fable into a three-over hall of fame moment? Siraj's four wickets in his first over, fifth in second and sixth in fourth was a job done for celestial mention.
Thanks to Siraj's 6-21 and three Lankan ducks on his belt, India are on top of the world. Siraj's incredible explosion of destroyer instinct took the name and game away from Lanka's home advantage or any plans of victory they may have envisaged in front of a packed stadium.
So quick was the extermination plot put into action by Siraj that even the clouds did not get time to douse the proceedings and the Duckworth-Lewis gentlemen would be left wondering how to insert a spoiler in this quickie that India needs to be Asian Campions – 51 runs in 50 overs is all they require.
The proceedings got going by Jasprit Bumrah's routine first-over wicket when he compelled Kushar Perera to edge the length delivery just outside off. Wicket-keeper K L Rahul made no mistake in gloving a brilliant catch-operation, diving to his left. With Lanka 1-1, the great Bumrah weapon had worked in with testing deliveries measured away from both left and right handers.
And then came the right-arm quick Siraj and his own swinging length beauties tantalisingly close to the off stump, almost nudging the furniture and getting a maiden in his first over. Only good fortune and extreme vigilance gave the batsmen their short life in the middle.
The crumble cookie was served by Siraj from his second over. The first to go was Pathum Nissanka, grabbed by a livewire Ravindra Jadeja at the Jhonty Rhodes spot, giving Siraj his first wicket with a good length ball just outside the off-stump.
New man in Samarawickrama Sadeera had not even taken his first breath when the athletic Hyderabadi Siraj trapped him plumb before the wicket just above his knee, compelling him to walk on a duck despite a referral. The next ball had Charith Asalanka walking to a straight-forward catch by Ishan Kishan at cover bringing Siraj on a hattrick.
He missed his hattrick but was on fire, giving some funny moments to the game, chasing his own delivery all the way to the boundary, racing and beating fielder Ishan Kishan in the process and giving a hearty laugh to his team.
The adrenaline and precision bowling got his fourth scalp when Dhananjaya de Silva edged an off-stump ball to Rahul and India got right on the top of the world on the unexpected but welcome burst of performance by Siraj. Lanka at 12-5 and all wickets gone in the first four overs!
Next over? Siraj uproots the wickets of Dashun Sanaka with Lanka innings 12-6 and its batsmen looking as inelegant as a callow bunch of footballers trying their hand at cricket. In a jiffy, the chirp shifted from possible rain damage, to India losing the toss, to Bumrah's customary first-over wicket to Siraj and his six-wicket haul in just three of his seven overs!
A five-for in the first six overs of the game could be explained only as a Terminator gone ballistic on an unexplained performance potion that had nothing to do with chemicals but everything to do with his chemistry with the ball.
A small break later, Siraj got his sixth on a good length delivery which moved into the wicket from just outside off to uproot the middle stump of Kushal Mendis returning to mourn the day at a personal 17. The field, meanwhile, resembled a Test match interior decoration with three slips and a gully being waved at by none other than a delighted Prabhudeva who was enjoying the 'muqabla' in the middle.
That Hardik Pandya took three wickets to end the Lankan misery without prolonging the ignominy, was irrelevant talk. It was Siraj's surgical strike that broke the backbone of the opponents. Indeed, it was a dream spell the big and burly Siraj delivered – two overs and five wickets, four in one and one in the next. There was one and only one consistent spot on the international map of Asia Cup and that was the slender rectangle kissing the off-stump. Siraj's amazing precision bowling, his full-length deliveries magically close to the off-stump, that became the most visited, discussed and enjoyed tourism spot of the tear-drop nation.
His 6-21 were unprecedented figures in the history of Asia Cup and, in all likelihood, will go unchallenged for a long time in the annals of this tournament. Such brilliant bursts are often unexplained and deck up the game with those glorious moments that come visiting only once in a blue moon. All credit to Siraj because none of the deliveries could be attributed to chance, bad play or any other eventuality that could have had potential to take away the credit from the arm that bowled stunner after stunner just outside the off-stump, making it his terrain of undisputed kingship.
From being Hyderabad's highest wicket-taker playing only his second season of Ranji Trophy with 41 wickets in nine matches, to scripting history today, Siraj is the performance enhancing dose India would love to have at the mouth of the World Cup.