World Cup 2023: Rohit Sharma dictating terms for India with solid opening stands in tournament

Published: Nov 17, 2023, 8:25 PM
Follow Us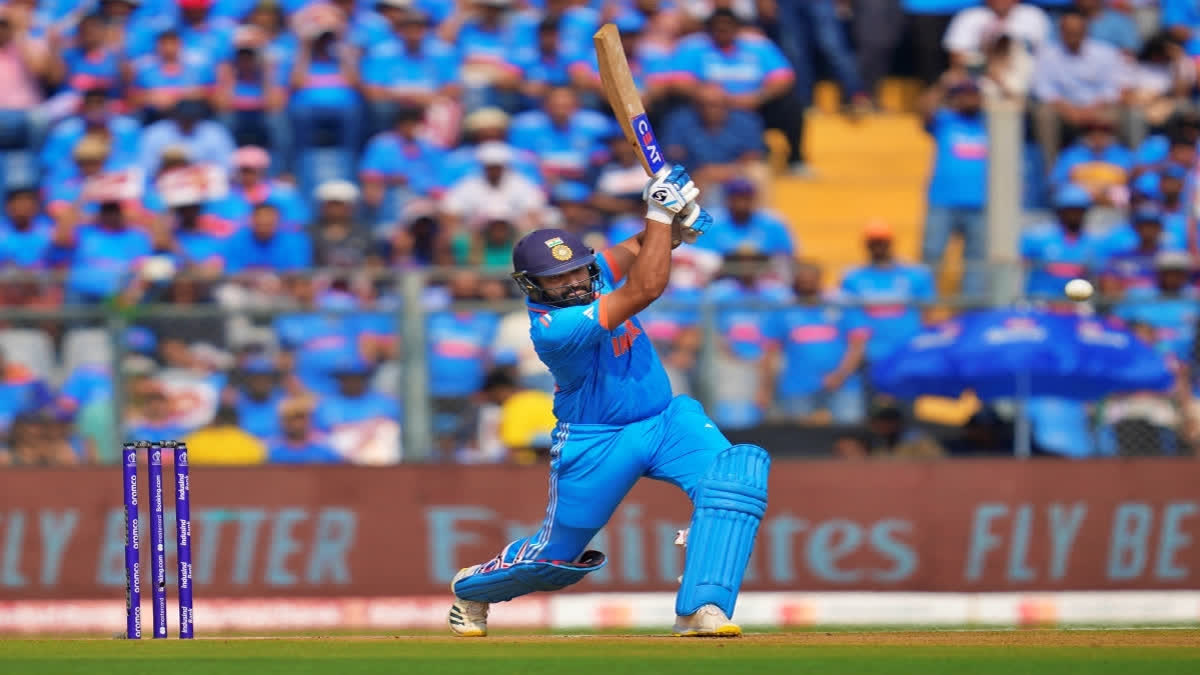 World Cup 2023: Rohit Sharma dictating terms for India with solid opening stands in tournament

Published: Nov 17, 2023, 8:25 PM
Follow Us
Ahmedabad (Gujarat): Rohit Sharma is that rare breed of wartime generals (are there any really?) who has fought in the frontlines instead of delegating the battle to his foot soldiers. In fact, by putting his bat in the line of fire, he has handed them the platform required to build on the spoils, to construct victories from a safe place and bloom without the pressures of early mortality.
That's not the kind of Rohit Sharma we knew in his old days when preservation, watchfulness and careful constructions signified him as a frontline batter, till IPL came along and he graduated from instinctively being a cautious blade-runner with a Godly repertoire of shots, to being the people's one and only Hitman.
Drawing from both these shapes and forms, today he is the skipper, who is the self-proclaimed commander-in-chief of all-out onslaughts not caring for his long life in the middle, only quick results that have helped bestow the team with a Gillette-smooth drive on the road to Motera.
With an awe-inspiring blend of fearlessness and courage, not to mention his gumption to take risks and limit its consequences to himself, the skipper has put preservation and protectionism on the casualty list, as part of a strategy to set the power play ablaze with runs, give the required momentum to the No 3-5 to built without losing a wicket and then going back to big hitting to drive nails into opposition's fightback.
At least on three occasions in the tournament, Rohit Sharma has been the man behind putting 90 or more runs on the board during the first powerplay as the young Shubman Gill just watched and learned from the other end. Sharma is the guy, who has boldly hit more fours and more sixes in the first 10 overs of games than any man playing.
What it does to the bowlers is break their line of control and, more alarmingly, get back into the run-up with double ferocity to take out Sharma. But this hasn't deterred him a speck. The fortitude and heroism he showed in the semi-final match against New Zealand, where he pitched in 47 runs in just 29 balls at the mouth of the most important match for India, will give risk-takers around the world a reason to be.
It takes a big heart to consciously sacrifice the self for the team but in doing so, Sharma has risen from being a master run-getter to a statesman among the blade-runners of the game. Like 2019, he could well have amassed five or more 100s in this edition too, but his goal was to tick the team winnability box rather than compete with players in linear roles of being top batters. He got 500 of his runs in this edition using just 406 deliveries and a handsome strike rate of 123.15 per cent!
Sharma visits the 2023 World Cup top-scorers chart in fifth place, coming after top-gun Virat Kohli with 711 runs in this tournament, Quinton de Kock, Rachin Ravindran and Daryl Mitchell. But that's a statistic that hides the real worth of Sharma which is not just about the heart and soul of a campaign but also about the mind to pawn longevity in the middle to a Cup in the hand.
In the 10 innings he has played in this World Cup to reach the final, Sharma managed only one century in 84 balls against Afghanistan, three fifties, a duck against Australia, four against Sri Lanka, 40 against New Zealand and two 80s. The 87 runs he scored against England in Lucknow looked like a drag as they came in 101 balls with his lowest strike rate of 100! The 40 in 24 balls against the Kiwis had quickfire written all over it, as did 48 off 40 against Bangladesh and 86 in 63 balls against Pakistan which included six maximums.
As a builder, Sharma stands unparalleled, giving sound starts and not bothering about conversions, getting them nevertheless with a towering half-century of sixes, downing even the mighty Chris Gayle. The dual purpose Sharma's amazing courage serves is give runs to the team to build on but more importantly, infect bowlers like Kuldeep Yadav to bowl with a big heart and not be afraid of being taken to the cleaners. That kind of support and backing has been a constant gratitude talk not just by Kuldeep but all players to want to walk the talk that their captain does.
Batting coach Vikram Rathore openly credits Sharma of coming up this explosive avatar where conservatism has been shed for a grand purpose. "It is his idea, he is taking the initiative. There are no set strategies at a World Cup. We are looking to maximise, looking to score as many runs as we can. And if the surface is good, and if he feels he can go for it, he does," Rathore said in one of the informal player gallery talks with journalists.
Indeed, this is Mr Maximum in a maximum tournament, with maximum risk looking for maximum results. Ahmedabad will be no different if Sharma has to lift the Cup on the big Sunday.