Travis Head steers Australia to sixth World Cup win
Updated: Nov 19, 2023, 10:16 PM
|
Published: Nov 19, 2023, 1:34 PM
Follow Us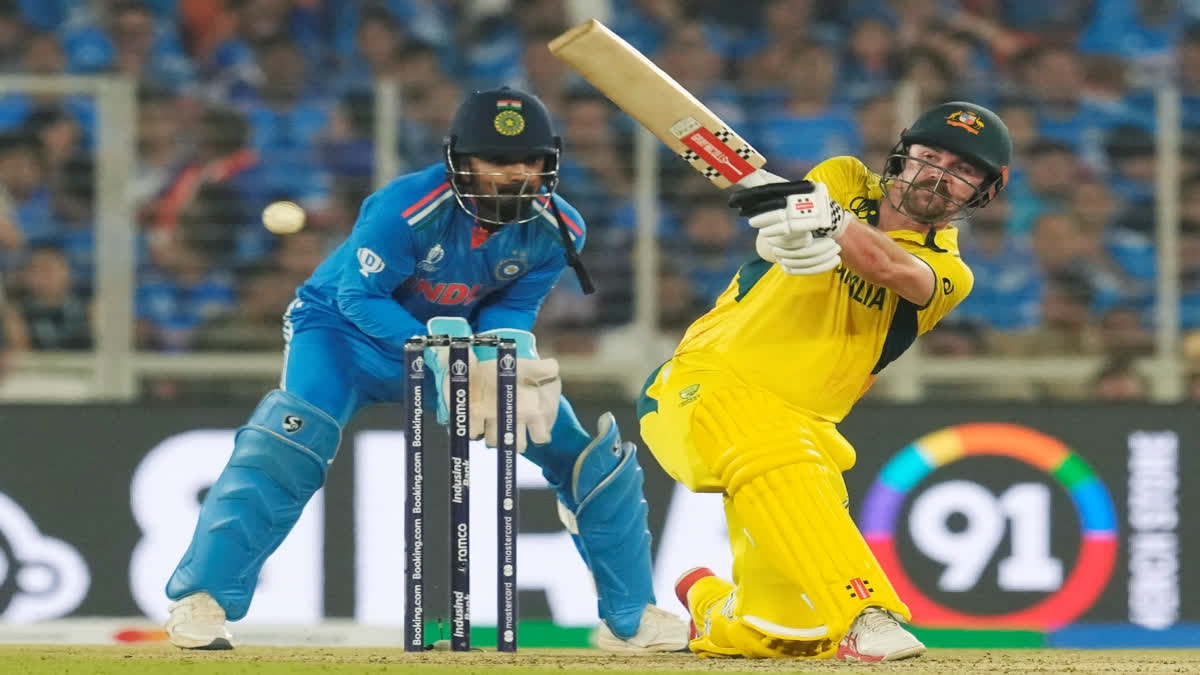 Travis Head steers Australia to sixth World Cup win
Updated: Nov 19, 2023, 10:16 PM
|
Published: Nov 19, 2023, 1:34 PM
Follow Us
Ahmedabad (Gujarat): Australian opener Travis Head steered Australia to their sixth World Cup title as they trounced India by six-wickets in the summit clash at the Narendra Modi stadium here on Sunday.
First, Australia managed to get an upper hand in the first innings as they bundled a formidable India for just 240. While Rohit Sharma yet again provided a fiery start, the team could not keep up the tempo on a wicket that slowed down quite radically as the innings progressed. Star batter Virat Kohli and KL Rahul stitched a partnership but the latter used too many deliveries. Aussie pacers Starc, Hazelwood, and Cummins shared 7 wickets between them. Spinners also managed to clog the run flow putting pressure on Indian batters who otherwise had toyed with every opposition before this game.
Head, who scored 137 off just 120 balls, and became the seventh batter to score a hundred in ODI World made the chase a walk in the park as Australia romped home with seven overs to spare. Celebrations erupted in the Australian camp as soon as Glenn Maxwell hit the winning runs. It was heart-breaking moment for Rohit Sharma and company as India's wait for an ICC Trophy continued.
Catch the live updates of Australia's chase'
Glenn Maxwell hit the winning runs as Australia won their sixth ODI World Cup by trouncing India by six wickets. Travis Head was dismissed in the 43rd over after slamming a blistering 137 off 120 balls. His knock was laced with 15 fours and four sixes. When he was dismissed, Australia needed only two runs and were one hit away. Marnus Labuschange remained unbeaten on 58.
Australia was just 10 runs away from the win.
Mohammed Siraj conceded five runs in the 41st over. The mood in the upbeat in the Australian dressing room and skipper Pat Cummins was smiling with his team mates.
Marnus Labuschange too completed his 50 as he too joined the party. A dominant Australia played their A game in the most important game of the marquee tournament.
Australia was cruising towards the 241-run target as they were set to break millions of hearts in presence of Prime Minister Narendra Modi, who was present at the Stadium.
It was Travis Head show at the bull-ring. In the 38th over too, he smashed Kuldeep Yadav for a maximum over mid-wicket boundary. Australia was inches away from their sixth World Cup title.
Travis Head was in a mood to finish off things quickly. On the third ball of the 37th over, he dispatched Mohammed Siraj into the stands and continued his terrific run.
Head and Marnus Labuschange were playing without taking any risks. They scored just three runs in the 36th over but kept rotating the score board. Head's century was the eight ton for Australia in the ongoing World Cup.
Travis Head was in a mood to finish things quickly. He slog-swept Ravindra Jadeja for a maximum on the first ball of the 35th over. Australia amassed seven runs off it and were inching towards the team 200.
Travis Head completed a brilliant hundred off 95 balls with a single off Kuldeep Yadav in the 34th over. It was Head's fifth ODI century and second in this tournament. He is seventh batter to notch up a hundred in the final of the ODI Cricket World Cup.
Ravindra Jadeja conceded two runs in the 33rd over. The game was drifting away from India.
Kuldeep Yadav conceded two runs as Australia's scoring rate has dwindled in the last few overs. But with no asking pressure, the batters were scoring at their own pace.
Ravindra Jadeja conceded only three runs in the 31st over. It seems that Australia were on their way to become World Champions once again.
Jasprit Bumrah bowled a golden over and conceded only two runs in the 30th over. But it was Australia's game from here on.
Ravindra Jadeja conceded only three runs in the 29th over. Australia needed 76 runs to win the World Cup and lift the Silverware.
Travis Head pummeled Jasprit Bumrah to submission as he hit three boundaries in the 28th over. Australia amassed 14 runs in the over and the game was drifting away from India.
Ravindra Jadeja conceded four runs in the 27th over. It was now Head versus India.
A set Travis Head, who was in his 60s, did not spare any bowler. He hammered Mohammed Shami for a boundary and silenced the 1.32 lakh spectators, who were cheering for the Men in Blue. Marnus Labuschange was playing his role to perfection.
Ravindra Jadeja conceded eight runs in the 25th over. Head's outside edged flew to the fence on the first ball.
Mohammed Shami conceded five runs in the 24th. Head welcomed Shami, who was reintroduced in the attack, by smashing a boundary, a lofted shot over the bowler's head.
Ravindra Jadeja conceded five singles in the 23rd over even as Australia was inching closer to the 241-run target.
Travis Head brought up his fifty in the 22nd over bowled by Kuldeep Yadav. He also joined the illustrious list of batters to score fifty in semi final and final of the ODI World Cup.
Mohammed Siraj conceded six runs in the 21st over even as Travis Head and Marnus Labuschange were rotating the strike with utmost ease.
Australia brought up their team 100 in the 20th over with a single by Travis Head on the second ball. Left-handed Head, who opened the innings with David Warner, was nearing his half-century. Marnus Labuschange is playing second fiddle to Head.
Mohammed Siraj conceded four runs in the 19th over even as Australia was on the verge of completing the team 100.
Kuldeep Yadav was bowling an exceptional spell as he conceded only two runs in the 18th over. India needed to break the partnership, which was taking the game away from them.
Mohammed Siraj, who was introduced in the 17th over, conceded six runs. Travis Head, who moved into the 40s, hammered a late cut, which raced to boundary. Travis and Marnus have so far added 46 runs for the unbroken fourth wicket. The Aussies needed another 148 runs to win.
Travis Head freed his arms in the 16th over as he dispatched Kuldeep Yadav for a maximum over deep mid-wicket on the fifth ball. The over was slightly expensive as Australia amassed nine runs in the over.
Left-arm spinner Ravindra Jadeja also conceded four runs in the next over as Australia was inching closer to the target.
Kuldeep Yadav conceded four runs in the 14th over and was maintaining the pressure. Head and Marnus were taking the game deep.
Ravindra Jadeja in his second over conceded only two runs, but he was challenging both the batters. The Australian batting duo of Travis Head and Marnus Labuschange are playing without taking any risks.
It was spin from both the ends as Rohit Sharma handed the ball to chinaman Kuldeep Yadav. The Uttar Pradesh bowler conceded only three runs in his first over.
Rohit Sharma introduced left-arm spinner Ravindra Jadeja in the 11th over. The Saurashtra spinner almost removed Travis Head, who got numerous lives. Jadeja appealed for a leg-before the wicket on the final ball, but the on-field umpire gave not out and skipper Rohit Sharma decided not to review it.
Travis Head smashed Mohammed Shami for two back to back boundaries, including an on drive. On the next ball, Head almost played on. Marnus Labuschange was yet to get off the mark. After 10 overs, Australia was 60/3. Shami conceded 9 runs in the 10th over.
Jasprit Bumrah only conceded four runs (byes) in otherwise exceptional over. He kept putting pressure on Marnus Labuschange, who was unable to get off the mark.
Mohammed Shami bowled a maiden over as the Australian batters are on the backfoot. The Indian pacers are wreaking havoc and have kept the team in the hunt for their ODI World Cup.
Jasprit Bumrah got the prized scalp of former Australian skipper and star batter Steve Smith. Bumrah trapped Smith in front of the wickets as he made the ball do the talking. The Gujarat pacer is on fire and his celebration said it all. Australia need 194 runs for winning their sixth World Cup. The silenced crowd at the Motera has come alive.
Pacer Mohammed Shami bowled a brilliant sixth over as he conceded only one run. He was making sure that no freebies were given to the two batters.
Jasprit Bumrah dismissed Mitchell Marsh in the fifth over. Mitchell Marsh (15) was caught by KL Rahul as Australia in pursuit of 241 on a difficult track. From here on, with still over 200 runs needed, it will be a herculean task for Travis Head and Steve Smith.
Mohammed Shami conceded 12 runs in the fourth over. Mitchell Marsh hammered Shami for a six over long-off.
Bumrah, like Shami, is making the ball move at will. He nearly got Mitchell Marsh caught behind on two consecutive deliveries before troubling Travis Head as well. India would love to get some early wickets here and put pressure on the Aussies who are chasing a below par score here.
Mohammed Shami proves once again why he is the best bowler of this World Cup. David Warner who survived an edge last over is gone as he edges one to Kohli who grabs it with both hands. Shami is making the ball talk here. Suddenly the crowd has found its voice. Mitchell Marsh comes on the crease and has made his intentions clear. He slogs one over covers for four. That was after Shami conceded 5 wides. Another eventful over this has been but a successful one for India.
David Warner had a shocker of a start to this chase as he edged off the first ball of Jasprit Bumrah over but no one in the slips went for the catch. The ball went between Kohli and Gill and ran away to the fence. Tavis Head then slammed two boundaries of the over that was an eventful one.
Catch all the live updates from the first innings here
India have been bundled out for 240 in 50 overs. After the toss, both teams got what they wanted. Once again, Rohit Sharma has done what he has been doing all through the tournament, taking his team off to a flier. Even after losing Gill cheaply, Rohit and Kohli batted with a lot of intent. Travis Head took one of the best catches of the tournament resulted in Rohit's wicket and Australia bowled fantastically after that. Cummins nipped out the in-form Shreyas for 4 and India couldn't gather any kind of momentum after that. Kohli and Rahul stitched a fifty partnership but the Australian skipper came back to remove India's run machine Virat Kohli to silence the crowd in Ahmedabad he said in the pre-match press conference. India scored only four boundaries in the 11-50 overs span and hadn't hit a single six. Australia's fielding was top-class and the Indian batters found it hard to even rotate strike. The pacers got the ball to reverse-swing as well which made things even more challenging for India on a slow track. They somehow managed to get to the 240-run mark and a respectable total. If there's no dew, India will still fancy their chances. But at the halfway stage of this finale, Australia will be the happier side.
Over 50 (IND 240/10)
It was a good length delivery and on the off stump, Siraj came down the track and cleared the mi-on fielding by taking his front leg from the way and slapping it past the bowler beating Hazlewood to his left for a boundary on the second delivery of the over. Siraj dragged it down towards the deep mid-wicket, Siraj called for a two but Kuldeep wasn't that quick in running and lost his wicket while stealing the second run. India somehow managed to reach the 240 mark.
Over 49 (IND 232/9)
Australian skipper Pat Cummins bowled an outstanding spell in the final and ended up with figures 10 overs, and 34 runs, and picked 2 big wickets for Shreyas Iyer and Virat Kohli. He has conceded only five runs in his last over.
Over 48 (IND 227/9)
The plan of bowling slow and short pitch deliveries has worked for Australia against Suryakumar Yadav. For the umpteenth time in this inning, a shuffling SKY is early into his pull shot. The ball lobs up gently off the glove for the keeper to grab an easy catch. Just four runs came from the over including a wicket.
Over 47 (IND 223/8)
Just two runs came from Cummins's second-last overs. It was struck down on the pads and umpire umpire Richard Kettleborough said not out. It was a superb yorker and Kuldeep helped it on the off-side for a single on the last delivery of the over.
Over 46 (IND 221/8)
Starc is bowled on more than 140 kph+ speed in his last over. They have accumulated seven runs with singles and doubles in this over.
Over 45 (IND 214/8)
Bumrah has been given out lbw. Zampa bowled scrambled seam and on a fuller length. Bumrah went on the front foot to block but missed it out on the inside edge to get rapped on the front pad adjacent to the sticks. He made three off one.

Most wickets for a spinner in a World Cup
23 M Muralitharan (22007)
23 Adam Zampa (2023)
21 Brad Hogg (2007)
21 Shahid Afridi (2011)
20 Shane Warner (1999)
Over 44 (IND 213/7)
Third wicket for Starc! Shami swings hard across the line. It's a length ball marginally outside off. The hint of away movement, maybe, and there's the thick outside edge. Another easy grab for Josh Inglis. India lose their seventh wicket. He made 6 off 10 with a boundary.
Mitchell Starc in ODI World Cup finals
2/20(8) vs NZ Melbourne 2015 (B McCullum, L Ronchi)
3/55(10) vs Ind Ahmedabad 2023 (S Gill, KL Rahul, Mohd Shami)
Over 43 (IND 211/6)
Cummins has bowled two 140 Kph+ deliveries in this over so far. Every one of the Indian batters are finding a fielder and the Aussies are really up for it and cutting down the angles, diving, sprinting, and saving runs. Their game awareness and energy so far have been incredible.
Over 42 (IND 207/6)
It was a good length ball from around the wicket that straightened off the pitch. Rahul got squared up nicked the ball and Josh Inglis made no mistake. Rahul's dogged innings is over now. He departed on 66 off 107 with just one boundary. Seven runs came from the over with a boundary from Shami, who came to bat after Rahul's wicket.
Over 41 (IND 200/5)
Australia won the middle over phase by winning another 10 over phase by conceding only 35 runs and picking a huge wicket of Ravindra Jadeja. Skipper Cummins also managed to complete his fifth bowler overs with Maxwell, Marsh, and head conceding only 44 runs and picking a huge wicket of Rohit Sharma.
Over 40 (IND 197/5)
Rahul edged it down to the third man. It was full and outside off from Hazlewood as the balls reversed a bit, Rahul went on the front foot and tried to drive it through to deep cover but got a thick outside edge that went down to the third man for a single on the last delivery of the over. Just five runs came from the over.
Over 39 (IND 192/5)
Finally, India found a boundary here after nearly 13 overs. Zampa bowled a short pitch bowl that too on wide length giving room for Suryakumar Yadav, who wasn't going to miss out. He went deep in his crease and cut it away firmly into the gap between the backward point and short third man for a boundary.
Over 38 (IND 182/5)
Hazlewood is doing what he is exactly known for. He is coming and hitting the pitch hard. Just three runs came from the seventh over with three singles.
Over 37 (IND 179/5)
There's an appeal for stumping and they'll check. It was full and outside off by Maxwell and Rahul tried to push it through a touch quicker and it didn't turn back in as much as Rahul expected, he pressed right out and played it inside the line, it zipped past the outside edge and Josh Inglis whipped the bails off.
Over 36 (IND 178/5)
Australia lost their review on the previous delivery and then picked a wicket on a similar kind of ball. This is brilliant bowling from Hazlewood, just that in-between length on off-stump, he angled it in with the seam pointing away, Jadeja tried pushing it for a single but reversed a little bit and that was enough to find a healthy edge. He made 9 off 22 balls.
Over 35 (IND 173/4)
Fifty for KL Rahul on the biggest of stages! It was short on length and angled into off-stump, Rahul played it into the off-side towards point for a quick single, resounding applause and Rahul raised his bat in acknowledgment. India is in trouble against Australia for the second time in this tournament and Rahul stands up tall to shoulder the responsibility again, it's been a superb knock already.
Over 34 (IND 169/4)
Bonus runs for India and a hearty sight for their spinners, this one turned off a length on leg-stump, just brushed a bit of his thigh-pad, and trickled away fine past the keeper as he looked to work it into the leg side. Five runs came from the over including a two runs on leg bye.
Over 33 (IND 164/4)
First signs of reverse swing on the bowling Mitchell Starc. It was full-on off-stump and it just tailed back in ever so slightly, Jadeja went forward and pushed it towards mid-on for a quick single. Just two runs came from the over. Rahul is just two runs away from his half-century.
Over 32 (IND 162/4)
Zampa has gone wicketless but proved very economical. He has conceded only 29 runs in his 7 overs so far.
Over 31 (IND 158/4)
Six runs came from the seventh over of skipper Pat Cummins. Cummins has some exceptional figures so far with 7 over 2 wickets and conceded only 23 runs. Rahul is nearing his fifty now.
Over 30 (IND 152/4)
Australia have won all two phases of the 10 over so far in this innings. They conceded only 37 runs and picked the most important wicket of the match Virat Kohli. Only three runs came from the 30th over. India are in deep trouble now.
Over 29 (IND 149/4)
Cummins removed Kohli as he gets played on. He stood there in disbelief before slowly trudging off. It was a short-of-length delivery on the stumps, Kohli tried to nudge it towards the third man but the ball took the inside edge of the bat and got played on. Kohli was anchoring the innings beautifully. Cummins comes on and picks up one of the most important wickets of the final. ravindra Jadeja walks into bat at number six.
Over 28 (IND 148/3)
Indian batters have no issues in rotating strikes against Adam Zampa. Four singles came from his over.
Over 27 (IND 142/3)
First boundary after such a long time. It was on pads and Rahul nudged it towards long leg for four. A boundary for India after 97 balls and Maxwell kicks the turf in disgust.
Over 26 (IND 135/3)
50 for Kohli! 5th successive fifty this tournament and 9th 50+score as well. Gets there with a punch to long-on. Raises his bat and just gets on with it. Just four singles came from the over.
Five consecutive 50+ scores in World Cups
5 Steven Smith in 2015
5 Virat Kohli in 2019
5 Virat Kohli in 2023
Over 25 (IND 131/3)
Just three runs came from the over from Maxwell's over.
Over 24 (IND 128/3)
Australia have asked the keeper to come closer to the bat and to allow them to step down from the crease. Marsh has bowled superbly keeping it on the stumps. Just three runs came from his second over.
Over 23 (IND 125/3)
Virat Kohli is in his forties now. and partnership is also nearing fifty. But they're a little slow so far in this partnership till now. Just four runs came from the Starc's sixth over.
Over 22 (IND 121/3)
Travis Head bowled only two runs over against KL Rahul and Virat Kohli. These two have played enough balls knowing they'll have to look for boundaries here and there. On a pitch that was on the slower side, they'll have capitalize on fifth bowler overs.
Over 21 (IND 119/3)
Australia have won the second 10 overs phase of the innings. India has only 35 runs in the last 10 overs losing a crucial wicket of Shreyas Iyer. Cummins is looking to complete his fifth bowler over here as he keeps mixing bowlers.
Over 20 (IND 115/3)
The conditions are very similar to their first outing at Chennai. It is the little tacky surface where the ball wasn't coming onto the bat. The only difference was, India was batting second and under lights. Just two runs came from Mitchell Marsh's first over.
Over 19 (IND 113/3)
Bowling changed from both ends now. Hazlewood comes into the attack. Kohli and KL stole six singles in an over. The run rate still above 6 shows how important that inning of Rohit was.
Over 18 (IND 107/3)
The Australian skipper made the bowling change. he has brought off-spinner Maxwell back on into the attack. Just two runs came from his first over of this spell.
Over 17 (IND 103/3)
Cummins bowls another good over for Australia here. Just three singles came from the over. It's been 50 deliveries now India hasn't scored a boundary.
Over 16 (IND 101/3)
India have crossed the 100-run mark. Just four runs came from the third over of the match with only four singles.
Over 15 (IND 97/3)
Skipper Pat Cummins did what he said in yesterday's press conference. He has literally made the Crowd go silent here at Narendra Modi stadium. He has been spot-on with his captaincy and execution. Australian skipper Pat Cummins keeps it very tight on lines and lengths. Just two runs came from his fourth over.
Over 14 (IND 94/3)
We had a pitch intruder at the Narendra Modi stadium. A break in play while the stewards get that sorted. Kohli and Rahul take that opportunity to have a conversation about how to approach the game going forward.
World Cup 2023 final: Man wearing 'STOP BOMBING PALESTINE' t-shirt invades pitch, tries to hug Virat Kohli
Over 13 (IND 89/3)
Another five runs over for India. Vrat and Rahul kept tickling the ball for singles and found five singles in an over.
Over 12 (IND 87/3)
A good over for India considering the two wickets in the last two overs. Zampa conceded five runs in his first over. KL and Kohli looking good touch and calm and composed so far.
Over 11 (IND 82/3)
Shreyas Iyer with two hundred in his last two games falls for just 4 runs. It was back-of-length delivery in the corridor of uncertainty, just outside off and Shreyas Iyer caught hanging out his bat at that one. Had to play at it since it was too close to off, not too much movement from the pitch on in the air and Iyer edged it through to the keeper. Australia on top with two quick wickets. Just two runs came from the 11th over.
Over 10 (IND 80/2)
This was a flighted delivery angling away, Rohit stepped for a slog across the line and sliced it high. Head took a well backward running catch at cover-point just inches from the ground. Australia is on the top now after two quick wickets in the powerplay. He had already got 10 off the over, but he wanted to maximize the powerplay. But he's been playing the team game. 14 runs came from the 10th over but India lost their skipper Rohit Sharma.
Rohit Sharma in WC 2023
- Most sixes in a World Cup
- Most runs by a captain in a World Cup
- Second highest strike rate in a World Cup (Minimum 400+ runs)
- 401 runs at a strike rate of 135 in overs 1 to 10 (the most in the tournament)
Over 9 (IND 66/1)
Kohli looking in good touch here. Just five runs came from the Cummin first over.
Over 8 (IND 61/1)
Glenn Maxwell conceded seven runs in the eighth over. Kohli was looking at his elements.
Over 7 (IND 54/1)
It was the Virat Kohli mini show as he hammered Mitchell Starc for three successive drives. Kohli got into the groove and is playing perfect second fiddle. Starc conceded 14 runs in the over.
Over 6 (IND 40/1)
Australian pacer Josh Hazlewood conceded only three runs in the over.
Over 5 (IND 37/1)
Amidst the aggression from Rohit, Gill loses his wicket as the young batter tries to pull a delivery from Starc but plays straight in the hand of the fielder at mid-on. Zampa gobbles the sitter and the batter goes back to the pavilion.
Over 4 (IND 30/0)
A four and a six from the Indian skipper in the fourth over of the game as he continues his aggression. A brilliant intent from the captain is helping India keep their run rate quite decent.
Over 3 (IND 18/0)
Starc bowled a tidy over and Gill also nicked the first delivery while facing the brilliant delivery from the pacer. However, it didn't carry to the slips and the batter survives.
Over 2 (IND 13/0)
Rohit Sharma switched his intent in the second over with two blistering fours but Josh Hazlewood also bowled a delivery which might have dismissed Rohit.
Over 1 (IND 3/0)
A hint of swing for Mitchell Starc but he was not very disciplined in the first over. Rohit looked comfortable while facing the pacer and India will hope that he will continue momentum.
India (Playing XI): Rohit Sharma(c), Shubman Gill, Virat Kohli, Shreyas Iyer, KL Rahul(w), Suryakumar Yadav, Ravindra Jadeja, Mohammed Shami, Jasprit Bumrah, Kuldeep Yadav, Mohammed Siraj.
Australia (Playing XI): Travis Head, David Warner, Mitchell Marsh, Steven Smith, Marnus Labuschagne, Glenn Maxwell, Josh Inglis(w), Mitchell Starc, Pat Cummins(c), Adam Zampa, Josh Hazlewood.