Tendulkar gifts Virat Kohli his iconic No. 10 jersey; star India batter now has a prized possession
Updated: Nov 19, 2023, 7:47 PM
|
Published: Nov 19, 2023, 6:00 PM
Follow Us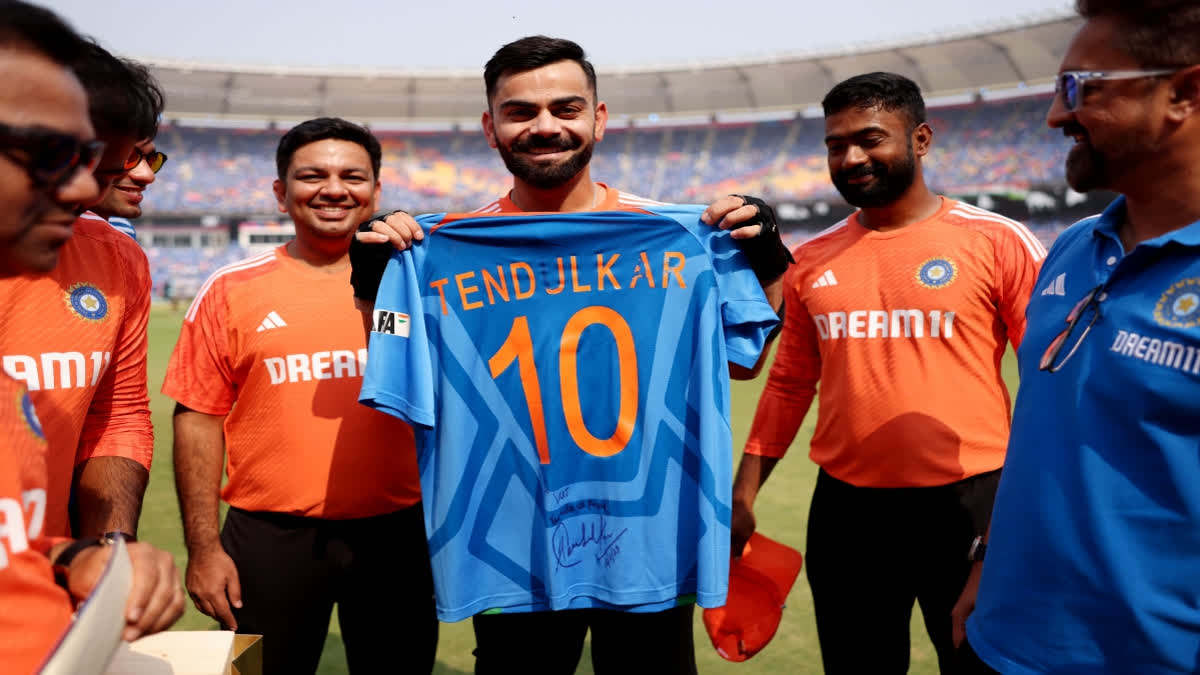 Tendulkar gifts Virat Kohli his iconic No. 10 jersey; star India batter now has a prized possession
Updated: Nov 19, 2023, 7:47 PM
|
Published: Nov 19, 2023, 6:00 PM
Follow Us
Ahmedabad (Gujarat): Star batter Virat Kohli surpassed his idol Sachin Tendulkar for the most number of centuries in the 50-over format at the iconic Wankhede Stadium in Mumbai.
Kohli has always idolised batting great Tendulkar, who has numerous records to his name. Tendulkar, who hails from Mumbai, held the record for most ODI hundreds with 49 tons. Kohli hit his record-breaking 50th ODI ton in the first semi-final against New Zealand.
Kohli received a prized memorabilia ahead of the World Cup final against Australia here on Sunday -- the iconic No.10 jersey of his idol Sachin Tendulkar. Tendulkar gifted Virat Kohli his signed jersey worn during his last ODI, the Asia Cup match against Pakistan at Mirpur in 2012.
"A special occasion & a special pre-match moment. There's CLASS written all over this gesture! The legendary Sachin Tendulkar gifts Virat Kohli his signed jersey from his last ODI," the BCCI wrote on X, formerly known as Twitter, with a picture of Kohli holding the jersey.
Kohi has also achieved a special feat in the ongoing final against Australia as he added 54 runs more to his tally of highest runs in a single World Cup edition. Kohli (711) had surpassed Sachin Tendulkar in the first semifinal in terms of most runs in a single World Cup edition as the batting maestro had scored 673 runs in the 2003 World Cup. Kohli has now 765 runs in the ongoing edition with a stupendous average of 95.62 including three centuries against Bangladesh, South Africa and New Zealand.
Kohli is the first batsman in the game's history to score 50 ODI centuries, going past Tendulkar who has made 49 tons. Brought up in Delhi, Kohli on multiple occasions, has spoken about how he started playing the game after idolising Tendulkar.