World Cup Final 2023 | 'It will be nice to win the World Cup,' says Rohit Sharma
Updated: Nov 19, 2023, 1:46 PM
|
Published: Nov 18, 2023, 8:39 PM
Follow Us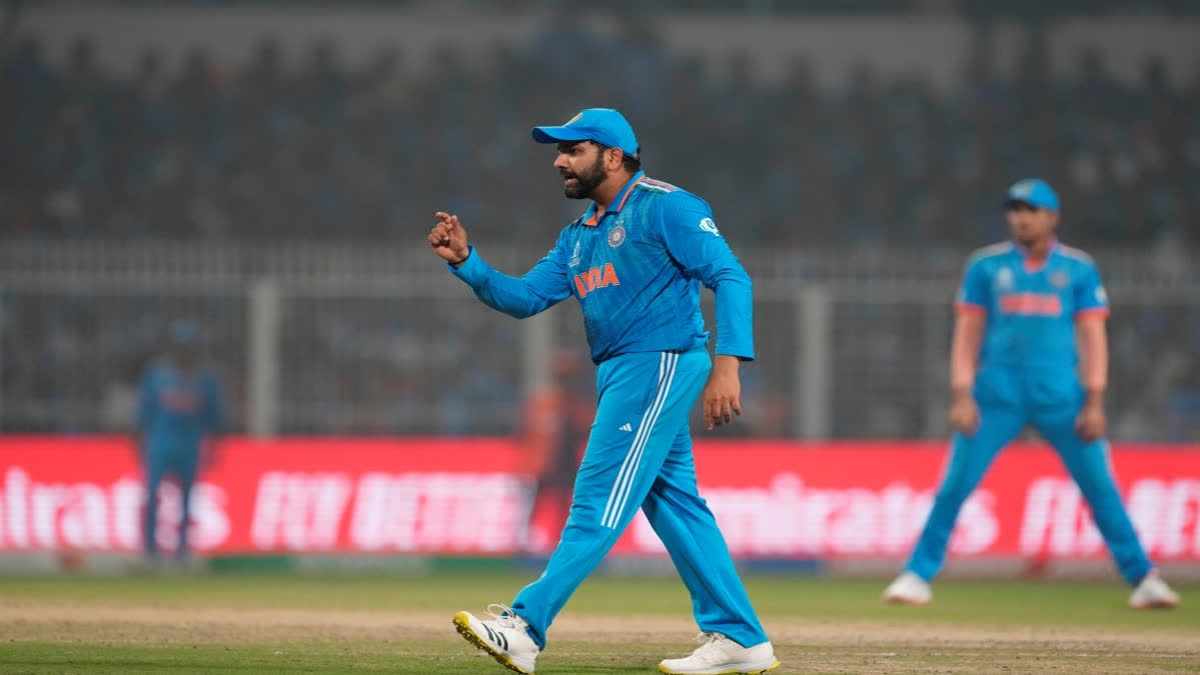 World Cup Final 2023 | 'It will be nice to win the World Cup,' says Rohit Sharma
Updated: Nov 19, 2023, 1:46 PM
|
Published: Nov 18, 2023, 8:39 PM
Follow Us
Ahmedabad: Calm, composed and focussed – that's Rohit Sharma's mantra to approach the big day tomorrow which will define the player and the skipper he is for all times to come.
Having grown up watching 50-over cricket, this format is his first love but in deference of keeping the mind relaxed, "neither up nor down, just in the middle, all balanced", he said, "it will be nice to win the World Cup."
But things are not that casual for such a big occasion when he and his men will face a team carrying the tag of eternal champions and the team most difficult to beat in summit situations.
"It is a big occasion whatever dreams and work you do is for that day tomorrow. But you need to keep all this aside and work on the job at hand. Our focus will be on the job. You need to keep yourself calm and only then can you play out your role well," the skipper said.
If the 2011 World Cup was dedicated to the little master Sachin Tendulkar, Sharma plans to do it for his head coach Rahul Dravid.
"Rahul bhai's role in all this has been absolutely massive in terms of getting clarity. You know what kind of a player he was in his days. For him to allow me and others to play like the way we have and wanted to is a big thing for him. But he has played a big role in giving clarity and, yes, we need to do this for him (win the Cup)," he said.
"There's one thing for me to think about and the other thing for coach to not agree to certain things. Clearly, looking at how Rahul bhai himself has played his cricket and how I am playing these days, obviously it's quite contrasting. For him to agree and give me that freedom and liberty to go and play the way we want to play, that says a lot about him," he said.
Sharma also talked at length about the way he stood by the players in difficult times "where during the T20 World Cup, we had a good run up until that semi-final and we lost and how he reacted to certain situations and informing the players about this is what we are looking at and all of that says a lot about him as well." "And obviously, what he has done for Indian cricket is massive. And he also feels that he wants to be part of this big occasion. And it's for us to do it for him," he added.
Acknowledging that it was very difficult for a bowler like Mohammed Shami to be benched for the first few matches of the World Cup but the team management had long conversations with him to keep his spirit alive. "It is difficult, very difficult, to not be part of playing 11. For Shami to be in that space initially and then come and do what he has done, bowl the way he has is huge," Sharma said.
While on bowlers, he commended the quicks for the way they played out their roles, bowled as openers, in death and while defending. "Containing batsmen (batter) has not been easy but our seamers and spinners have done brilliantly," he said.
Acknowledging their contribution as a bulk need, Rohit Sharma recalled that when he started off, he was chasing in the first four or five games and to restrict teams below 300 on Indian conditions was a great effort.
"Restricting the opposition is not an easy job. But our seamers and the spinners did that perfectly. And then again, the second half of the tournament where we had to defend scores, we've defended quite clinically. They've been very professional. They know what is expected out of them. All the three seamers that have played in the second half, (Mohammed) Shami, (Mohammed) Siraj, (Jasprit) Bumrah, know what is expected and how they need to go about doing that stuff. The same for the spinners as well. The spinners have come in where we wanted to take wickets in the middle overs, and they've done that. They've been quite professional in getting the job done for the team," he said.
Emotionally, it has been a rollercoaster for Rohit and his unit. "It's a big thing, a big occasion. Whatever hard work and dreams you have you have for this. Tomorrow, that day will be in front of us. But the biggest challenge for professional athletes is how you can put all this aside and focus on the work. So along with me, all the other 10 players, who will play on the ground tomorrow, their focus will be more on their work for the team, rather than thinking about, this is the biggest moment of life. Of course, it is. Back of the mind it is there. But it's important to remain calm in such situations," he added.
Sharma said, calmness allows you to play the shots and think about what not to be played. "If the bowlers are putting the ball under pressure, then what do you what to execute for the team, which batsman's strength is where, where not to bowl. So, to execute all this, you need to be calm," he said.
Not that the difficult task and the big occasion of playing the Australians is lost on Sharma. "They are coming into the tournament winning eight out of eight matches. They have played them well," he pointed out when a journalist said this unit is not as dominant as the ones led by Steve Waugh and Ricky Ponting.
However, he refused to be daunted and reiterated that pressure has to be tackled. "We do not want to worry about the opposition and their form. We will focus on what we want to do as a team. Whatever preparation we did for this day, two years ago, when we started when I became the captain, we have prepared for this day.
"We had T20 World Cup, the Championship - World Test, and now this. So, for all three formats, we had to prepare, identify players, which players could be the right ones for which format. It was a two-and-a-half-year process. We identified that these players will take part in three different formats at different times. They were given role clarity. We identified their basics as captain and coach and told them that this will be their job for the team.
"Role clarity has played an important role in reaching this far. Whether we perform well or not is another thing, but as long as all the boys are playing, if it is clear, then the work becomes a little easier. We put a lot of effort into playing with a clear mindset, identifying clear roles, and which boys will come and bat, which boys will bowl, which boys will stand in the slip. We had planned all this. Till now everything has been good. Hopefully, the tomorrow will be the same," Sharma said.
Talking about his role as a batter and skipper, Sharma explained the philosophy behind him being ultra-aggressive. "Before the start of the World Cup, I wanted to play in a certain manner. I had no idea that it is going to come off or what if it doesn't come off. I had plans for both, if it comes off what I'm going to do in the next game, if it doesn't come off what I'm going to do in the next game.
"For me what is important is because I start the innings, there is a bit of freedom there to go and express myself but you must have seen in that game against England where I had to change my game a little bit once we lost a few wickets. I'm prepared to do that as well. That is what the experienced player needs to do," he said.
Sharma admitted that even after 12 years he gets emotional about not having a place in the 2011 team. "I don't want to go back there. It was a very emotional period. It was a very hard time. But now I'm happy that I'm leading the team into the final. I never thought it will happen. But things do happen if you wish for it and if you dream big. I'm just very happy to be here.
"I know the importance of tomorrow. So, I just want to keep it nice and relaxed and calm and not get too emotional thinking about what happened in 2011 or what can happen tomorrow. I just want to create the same environment that I created for myself when we started this World Cup. We were all in great space. We are all in great space now. I just want to maintain that. Like I said, don't want to go too up. Don't want to go too low. Just nice and balanced," he said before walking away to give the final touches to the most important campaign of his life.