What is Deepfake? Identifying this AI-powered feature and urgent need for vigilance

Published: Nov 11, 2023, 5:54 PM
Follow Us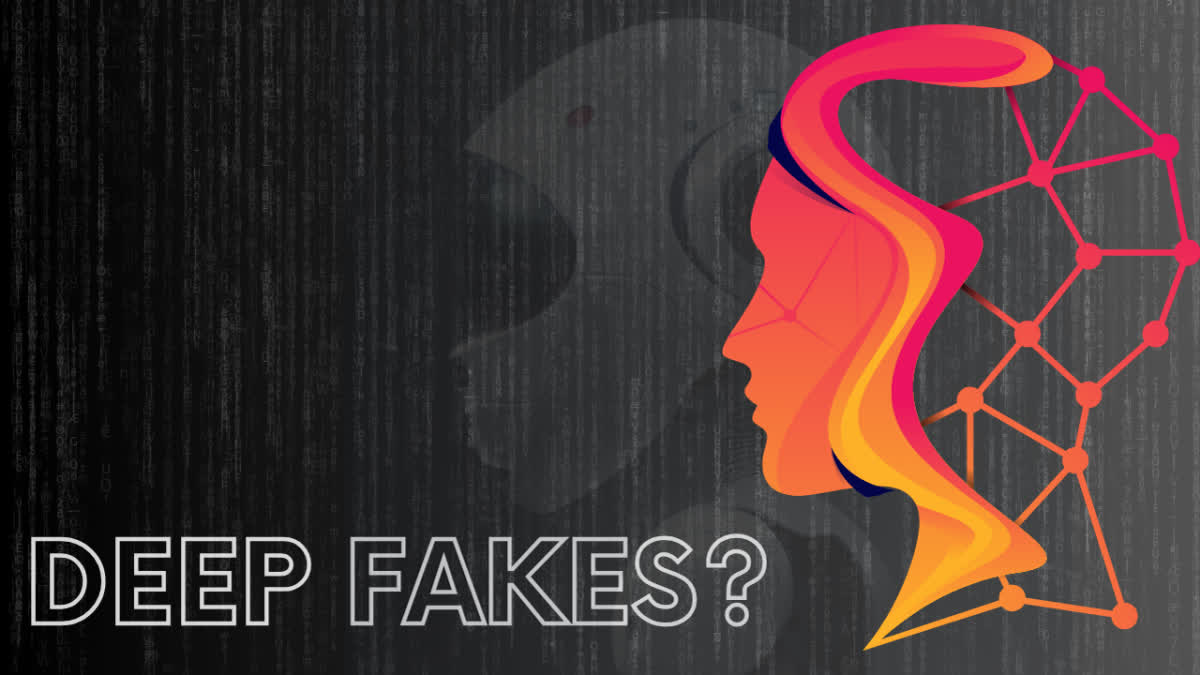 What is Deepfake? Identifying this AI-powered feature and urgent need for vigilance

Published: Nov 11, 2023, 5:54 PM
Follow Us
Hyderabad: Artificial Intelligence is playing a vital role in the era of swift technological progress. A disconcerting innovation called "deepfake" has raised serious concern regarding the credibility of digital content and the potential for spreading misinformation in recent times. Deepfakes, born from the fusion of "deep learning" and "fake," leverage Artificial Intelligence (AI) and Machine Learning to skillfully modify video and audio content convincingly altering the visual and auditory aspects.
On November 8, the Indian government directed social media intermediaries to remove manipulated videos or deepfakes from their platforms within 24 hours of receiving a complaint, as mandated by the IT Rules 2021. This directive was given following the emergence of deepfake videos featuring actors Rashmika Mandanna and Katrina Kaif online within a week.
A deepfake video, gaining traction on the internet, depicted actor Rashmika Mandanna entering an elevator. After a close investigation, people identified the digital manipulation. Even the legendary actor Amitabh Bachchan responded to the incident and called for a legal action. Union Minister Rajeev Chandrashekhar also took notice. The video is so intricately manipulated that discerning that the character is not genuinely Rashmika Mandanna proves to be a challenging task.
Deepfake refers to manipulated multimedia, altering a person's face or body in images or videos to resemble someone else. Coined as synthetic media in 2014, it gained traction in 2017 when an anonymous Reddit user curated a Deepfake playlist. Initially used for humour, recent instances involve top Malayalam actors' faces imposed on iconic 'The Godfather' scenes, showcasing the technique's evolution.
Despite detectable fakeness, viral success on platforms like Instagram represents deepfake's impact. According to Cyfrima, a cybersecurity company, there has been a 230% surge in cybercriminals and scammers leveraging deepfakes, leading experts to predict its overtaking phishing soon.
Synthetic media is an umbrella term for text, images, videos, or voice generated through Artificial Intelligence, capable of reshaping the misinformation landscape. These AI-driven techniques, like many technologies, can be wielded for both constructive and malicious ends.
Notably, misuse poses significant threats such as brand endangerment, impersonation and fraudulent communication leading to unauthorised access to networks and sensitive information within organisations.
How to identify a deepfake?
Deepfake technology has reached new heights, making it imperative for users to stay vigilant when consuming online content. Here's a comprehensive guide with key pointers to distinguish between authentic videos and their manipulated counterparts.
Scrutinise the beginning of the video closely. Notably, in the widely circulated Rashmika Mandanna's video, the initial frames featured Zara Patel, a British-Indian influencer, before seamlessly transitioning into a deepfake scenario within the elevator.
Pay attention to the subject's facial expressions throughout the video as genuine emotions flow consistently, but deepfakes often exhibit irregular changes during conversations or actions, serving as red flags for manipulation.
Detects potential lip sync issues by examining the synchronisation between audio and video. Deepfakes may present subtle discrepancies that become apparent upon closer inspection. Watching viral videos multiple times can help uncover these inconsistencies.
Deepfake videos may subtly deviate from authentic body language, displaying variations inconsistent with natural human behaviour. Observing these nuances can aid in identifying fabricated content.
Before concluding, always verify the source of the video. Utilise search engines to cross-reference the content and ensure its authenticity. Avoid hastily accepting information without proper confirmation.
Cultivate a habit of consuming news from reputable and trustworthy publishers (according to you). Authentic sources provide a solid foundation for accurate information, reducing the risk of falling victim to deceptive content.
Staying informed and adopting cautious consumption practices is paramount. By incorporating these strategies into your digital routine, you can navigate the virtual landscape with greater confidence and discernment.
Why are Deepfakes threatening?
Social image matters the most for an individual, which can easily be spoiled through deepfakes. Let's break the threat into multiple aspects.
Misinformation and disinformation: Deepfakes present a potent tool for crafting convincing videos and audio recordings that fabricate statements or actions, posing a significant risk to individuals' reputations and influencing public perception with false information.
Privacy invasion: Innocent individuals are vulnerable to deepfake manipulation, leading to the violation of privacy as their images or voices are exploited for malicious purposes. This intrusion can result in harassment, blackmail and potential exploitation.
Election interference: Deepfake tool raises alarms about its potential role in manipulating political events, including the creation of counterfeit speeches and interviews. This could significantly impact public opinion and sway the course of elections.
Crime and fraud: Criminal elements could leverage deepfake capabilities to impersonate others, engaging in fraudulent activities that pose a challenge for authorities in identification and prosecution of the perpetrators.
Cybersecurity concerns: The evolving sophistication of deepfake technology poses a growing threat to cyber security. Detecting and preventing cyber-attacks becomes increasingly difficult as manipulated videos and audio recordings become more convincing and harder to identify.
Laws in India regarding deepfakes
India has addressed the rising concern of deepfakes through its legal framework. Threat actors using deepfake technology to spread misinformation face deterrence, as per India's IT Rules, 2021. These regulations mandate that intermediary platforms swiftly remove reported fake or deepfake content within 36 hours.
Following the viral deepfake videos featuring Rashmika Mandanna, the Indian IT Ministry has taken proactive steps. Notices have been issued to social media platforms clarifying that online impersonation is illegal under Section 66D of the Information Technology Act of 2000. The IT Rules, 2021, reinforce this stance by prohibiting the hosting of content that impersonates others, compelling social media firms to promptly take down artificially morphed images upon notification.
Unmasking some cases of Deepfakes
Scarlett Johansson: In 2017, deepfakes thrust themselves into the public eye when an anonymous Redditor manipulated videos featuring celebrities like Scarlett Johansson, creating fabricated scenes that appeared shockingly real. This watershed moment marked the dawn of widespread awareness about the potential misuse of deepfake technology.
Barack Obama: The University of Washington added fuel to the fire by circulating a deepfake video of President Barack Obama, revealing the disturbing ability to put words into the mouth of a world leader. The implications of such manipulation raised concerns about the potential for misinformation campaigns and the erosion of trust in the digital realm.
Nancy Pelosi: Manipulated videos reached political spheres when an altered video of House Speaker Nancy Pelosi, retweeted by then-President Trump, portrayed her as inebriated. The real-time manipulation of timing in the video blurred the line between truth and falsehood, underscoring the power of deepfakes to sway public opinion.
Mark Zuckerberg: British artists demonstrated the potential chaos by creating a deepfake of Facebook CEO Mark Zuckerberg discussing the "truth of Facebook and who really owns the future." This provocative video, widely circulated on Instagram, underscored the vulnerability of social media platforms to the dissemination of fabricated content.
Case in India: The peril of deepfakes transcended entertainment and politics when a 73-year-old man in India fell victim to a deepfake scam. Impersonating his former colleague through a convincing video call, the scammer utilised deepfake technology to match both face and voice. The victim, unaware of the deception, transferred money before realising the orchestrated ruse. This incident marks India's first reported case of a deepfake scam, prompting a police investigation into the funds traced to an account in Maharashtra.
Deepfakes have been implicated in more instances beyond the mentioned cases. Many incidents, small or big, whether reported or undisclosed, urge on the rising challenges posed by Artificial Intelligence, including deepfakes. It's truly alarming how AI and Machine Learning collaborate to artistically tweak video and audio, adding a touch of scepticism to what we see and hear. It is imperative for global leaders and organisations to collaboratively reassess the boundaries of Artificial Intelligence's influence on our lives. A collective effort is crucial to navigate the evolving landscape of AI-generated concerns and their potential impact on society.