Jio introduces JioAirFiber, wireless broadband services; targeting 200 million homes on Ganesh Chaturthi
Updated: Sep 19, 2023, 4:00 PM
|
Published: Sep 19, 2023, 3:21 PM
Follow Us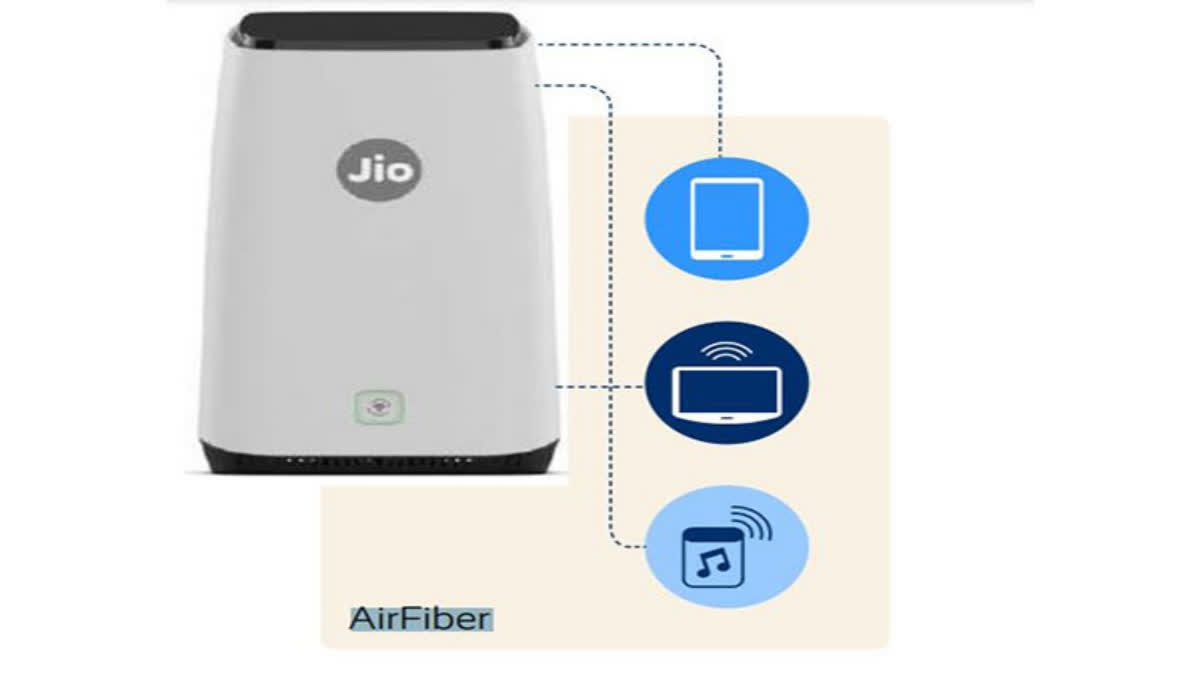 Jio introduces JioAirFiber, wireless broadband services; targeting 200 million homes on Ganesh Chaturthi
Updated: Sep 19, 2023, 4:00 PM
|
Published: Sep 19, 2023, 3:21 PM
Follow Us
New Delhi: In a recent annual general meeting, Jio unveiled its latest offering, JioAirFiber, a wireless broadband service, coinciding with the auspicious occasion of Ganesh Chaturthi. JioAirFiber has commenced operations in eight major cities across the country, including Ahmedabad, Bengaluru, Chennai, Delhi, Hyderabad, Kolkata, Mumbai and Pune.
With an extensive optical fiber infrastructure stretching over 1.5 million kilometres across the country, Jio aims to target an untapped segment comprising over 200 million Indian homes.
JioAirFiber delivers high-speed, fiber-like connectivity of up to 1 Gbps through a Fixed Wireless Access solution, eliminating the need for wires. Multiple devices, including smartphones, PCs, tablets, smart TVs, and set-top boxes can be connected simultaneously without compromising on internet speed.
Acknowledging the challenges of last-mile connectivity in India, JioAirFiber aims to bridge the gap by providing hassle-free broadband services, addressing complexities and delays often associated with extending optical fiber to premises.
Akash Ambani, Chairman of Reliance Jio Infocomm Limited, said, "Our extensive fiber-to-the-home service JioFiber, already serves over 10 million customers, with hundreds of thousands more getting connected each month. But there are still millions of homes and small businesses to be connected at a rapid pace."
"With JioAirFiber, we are expanding our addressable market to rapidly cover every home in our country with similar quality of service. JioAirFiber will enable millions of homes with world-class digital entertainment, smart home services and broadband, through its solutions across education, health, surveillance and smart home", the chairman said.
JioAirFiber plans start at Rs 599 for a 30 Mbps speed connection, offering 550+ Digital Channels and 14+ OTT Apps. The highest-tier plan, JioAirFiber Max, provides a 1,000 Mbps speed connection at Rs 3,999, inclusive of digital channels and OTT apps. Plans are available in six-month or one-year options.
Give a missed call on 60008-60008 to start booking on WhatsApp or Visit www.jio.com or visit your nearest Jio Store.
Step 2: Book your JioAirFiber connection
Register for JioAirFiber services in a few easy steps
Jio will get in touch with you and connect your home on priority, as soon as services in your building are ready.
India's telecom industry recently witnessed the launch of high-speed 5G services in October 2022, promising low latency and improved user experiences across various sectors compared to 3G and 4G technologies.