Apple Event 2023: iPhone 15 Series, Apple Watch Series 9, and Airpods Pro launched
Updated: Sep 13, 2023, 1:56 PM
|
Published: Sep 13, 2023, 1:07 PM
Follow Us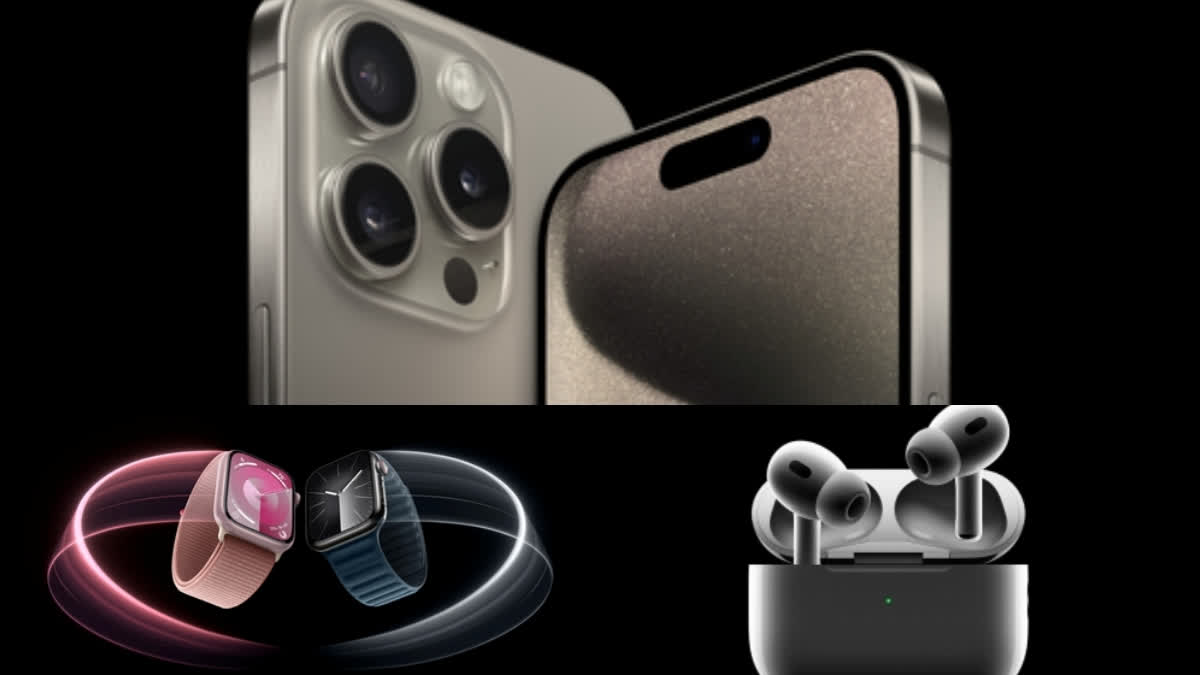 Apple Event 2023: iPhone 15 Series, Apple Watch Series 9, and Airpods Pro launched
Updated: Sep 13, 2023, 1:56 PM
|
Published: Sep 13, 2023, 1:07 PM
Follow Us
Cupertino(California): Apple has once again impressed the world with a range of new product launches, including the highly anticipated iPhone 15 series and the latest addition to their smartwatch lineup, the Apple Watch Series 9.
Introducing iPhone 15 Pro, iPhone 15, Apple Watch Series 9, and Apple Watch Ultra 2. All that and more news from the #AppleEvent.

— Apple (@Apple) September 12, 2023
Apple introduced four models in its iPhone 15 series:
iPhone 15 and iPhone 15 Plus: The iPhone 15 available in 6.1-inch, whereas iPhone 15 plus available in 6.7-inch display sizes, come in vibrant colors such as pink, yellow, green, blue, and black. Storage options include 128GB, 256GB, and 512GB. The price of these much awaited phones startes at Rs 79,900 and Rs 89,900 respectively.
iPhone 15 Pro and iPhone 15 Pro Max: These two models also offer 6.1-inch and 6.7-inch displays and come in sleek titanium finishes. Storage options range from 128GB to a whopping 1TB, with prices starting at Rs 134,900 for the Pro and Rs 159,900 for the Pro Max.
All four models can be pre-ordered in more than 40 countries, including India, starting September 15. However, the newly launched phone will be available from September 22. The iPhone 15 series comes with a stunning titanium design, an innovative action button for personalization, and the powerful A17 Pro chip for an unparalleled gaming experience.
"This is the most pro lineup we have ever created, with a state-of-the-art titanium design, the best iPhone camera system yet that enables game-changing new workflows, and the A17 Pro chip, which ushers in a new chapter of performance and games never before seen on iPhone," said Greg Joswiak, Apple's senior vice president of Worldwide Marketing.
One of the most exciting feature is the new USB‑C connector, which offers speeds up to 20 times faster than USB 2, opening up new possibilities for pro workflows.
Apple has also adopted the Indian satellite navigation system NavIC for its high-end iPhone 15 Pro and the iPhone 15 Pro Max models for location-based services.
Today we announced Apple's first carbon neutral products with models of Apple Watch Series 9, Ultra 2, and SE. By 2030, all of our products will be carbon neutral! pic.twitter.com/wIFSv219M9

— Tim Cook (@tim_cook) September 12, 2023
Apart from the addition iPhone 15 series, Apple on Tuesday unveiled the Series watch with the double tap gesture feature. Users can now control their Apple Watch Series 9 with a simple double tap. Apart from the double tap gesture, Siri requests that don't rely on the internet for information can now be processed directly on the device, leading to quicker and more reliable responses.
In an attempt to achieve its goal of carbon neutrality, Apple Watch Series 9 are made with aluminium. The Series 9 is powered by the custom Apple silicon S9 SiP, featuring a 4-core Neural Engine that's twice as fast as its predecessor. The watch also promises for 18-hour battery life.
"Apple Watch is an indispensable companion that helps millions of people with their health, fitness, communications, and safety," said Jeff Williams, Apple's chief operating officer. "We're introducing our best Apple Watch lineup, with incredible new capabilities and technological advancements, including a new double tap gesture, brighter display, on-device Siri, as well as our first-ever carbon neutral products," he added.
"At Apple, we are committed to making products customers love and protecting the planet at the same time, and this year, we hit a key milestone toward our Apple 2030 goal," said Lisa Jackson, Apple's vice president of Environment, Policy, and Social Initiatives.
AirPods Pro (2nd Generation)
Apple has raised the bar with the second generation of AirPods Pro. The new AirPods Pro come with MagSafe Charging Case (USB‐C), ensuring a seamless charging experience. The 2nd generation AirPods Pro offer double the active noise cancellation in comparison to earlier version of AirPods. The new update provides an immersive spatial audio experience, and additional ear tip sizes for improved comfort. Users can enjoy Lossless Audio with Apple Vision Pro, providing a high-quality listening experience.
With the introduction of iOS 17, AirPods Pro users will also be gaining access to features like adaptive audio and conversation awareness, enhancing their audio experiences. Also, users can even charge AirPods directly with iPhone 15, iPhone 15 Plus, iPhone 15 Pro, and iPhone 15 Pro Max, which also come with a USB‐C connector.