National Education Day: Is access to quality higher education in India a mere dream?

Published: Nov 11, 2023, 4:27 PM
Follow Us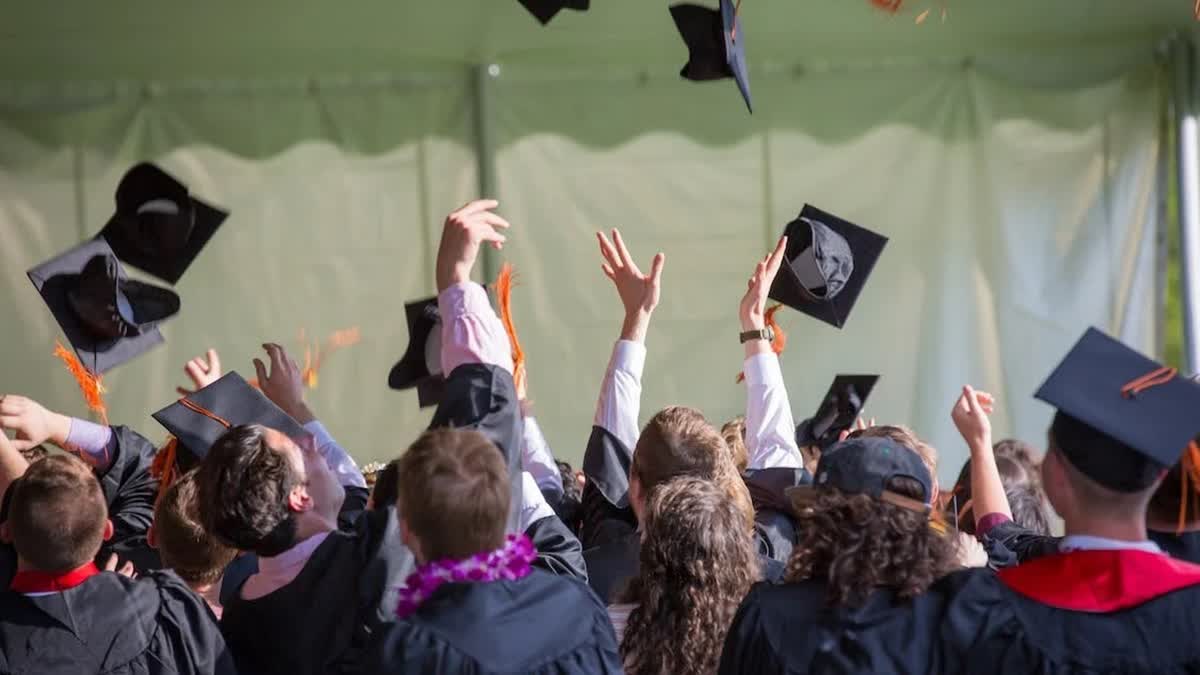 National Education Day: Is access to quality higher education in India a mere dream?

Published: Nov 11, 2023, 4:27 PM
Follow Us
Hyderabad: National Education Day holds its roots in the life and contributions of Maulana Abul Kalam Azad, a luminary in India's history. Moulana Azad, born on November 11, 1888, was a prominent freedom fighter, a staunch nationalist, and a visionary educationist. He was a key figure in the Indian independence movement, and his commitment to the cause of education was unparalleled. He firmly believed that education was the most potent weapon that could be used to transform society and empower the masses.
As India's first Minister of Education, he laid the foundation for the country's modern education system. His tireless efforts led to the establishment of the University Grants Commission (UGC) and the Indian Institutes of Technology (IITs). The theme for National Education Day this year is "Innovative Learning for a Sustainable Future."
This is in line with the Fourth Sustainable Development Goal of achieving "Inclusive and equitable quality education and promote lifelong learning opportunities for all" by 2030. Even before the onset of COVID-19, the world was already slowed down to achieve its education targets. To quote a statistic, the analysis shows that global learning levels showed no progress during 2015-19 among the primary school children.
If no additional measures are taken, only one in six countries will meet SDG4 and achieve universal access to quality education by 2030. An estimated 8.4 crore (84 million) children and young people will still be out of school and an estimated 30 crore (300 million) students will still not have the basic numeracy and literacy skills they need to succeed in life.
Basic school infrastructure is far from all-inclusive. About 25% primary schools globally do not have access to basic services such as electricity, drinking water and basic sanitation facilities; needless to mention of other facilities such as computers and the provision of disability adopted infrastructure. To deliver SDG4, education systems must be re-imagined, and education financing must become a priority national investment.

World's Second Largest System, but...
India is now the world's second largest higher education system, with over 4.3 crore (43 million) students in over 56,000 Higher Educational Institutions (HEIs), including 1,100 universities. However, as far as the Gross Enrollment Ratio (GER) is concerned, only one youngster out of four in our country is getting an opportunity to go to a college for higher education.
One of the laudable aims of the National Education Policy (NEP) 2020 is to double the GER to 50% by 2035. Further, India is the second largest source of international students, next to China, globally. Over 13 lakh Indian students went abroad for higher studies from 2017 to 2022. The US is the most popular destination, hosting 4.65 lakh students, followed by Canada (1.83 lakh students), UAE (1.64 lakh students), and Australia (1 lakh students).
Indian students now study in more than 240 nations globally. Countries such as Uzbekistan, Philippines, Russia, Ireland, and Kyrgyzstan are gaining interest. Overall, more than 11.30 lakh Indian students are presently studying in foreign colleges. On a flip side, only 48,000 foreign national students were enrolled in India in 2021 with the highest number of students coming from the neighbouring countries.
That means India is still at a nascent stage in attracting the international students which is reflected by the fact that out of 45 lakh (4.5 million) international students, only about 0.6% preferred India. Even those students preferred a handful of HEIs located in States like Karnataka, Maharashtra, Telangana and Delhi, but not others. Against this backdrop, the NEP promises to open up the country's highly regulated, bureaucratic and a largely closed academic system to the world.
In 2022, the UGC issued Regulations on International Financial Services Centres Authority (Setting up and Operation of International Branch Campuses and Offshore Education Centres) to allow some eligible foreign institutions (both top 500 universities and other foreign institutions) to establish campuses in India. How this measure alone will improve the ecosystem for enhancing the quality of higher education in the country without revamping the entire education system right from the primary education is not clear.

Need for Massive Quality Enhancement
As per the latest 2024 Times Higher Education World University Rankings, apart from Indian Institute of Science (IISc), India has only four universities in the top 600, namely, Anna University, Jamia Milia Islamia, Mahatma Gandhi University (Kerala), and Shoolini University. Though an increased number of 91 Indian universities were qualified to be included in the rankings this time, they are far down on the lists.
From the quality standards view point, India's higher education system is highly inconsistent and lopsided. On one side, India has a few premier specialised institutions such as IITs, IIMs (Indian Institutes of Management) and some research institutions. India also has some outstanding central and state universities; and a very few first-rated private or 'deemed to be universities'.
Altogether such HEIs account for not even 10% of total number. On the other hand, we have a vast number of HEIs whose quality of education is always questionable, except of those very few here and there as silver lining. The National Institutional Ranking Framework (NIRF), under the Ministry of Education, Government of India, has been evaluating HEIs in the country since 2016 on the basis of five parameters.
In 2023 NIRF rankings, only 5,543 or 12% of institutions participated for ranking. The All India Survey on Higher Education (AISHE) data show that 43% of the universities and 61% of colleges in India are located in rural areas. The list of top 100 colleges under NIRF shows negligible presence of colleges from rural areas. Similarly, the States in which there are huge number colleges are lagging behind in having a good number of high-quality colleges.
For example, Uttar Pradesh has the highest number of colleges in the country, followed by Maharashtra and Karnataka. But the list of top 100 colleges does not feature a single college from U.P. It features hardly three colleges from Maharashtra, and two from Karnataka. In fact, over 80% of high-quality colleges are in three States of Tamil Nadu, Delhi, and Kerala. This reflects the prevalence of huge inequalities across the country in terms of access to quality education.
Indian education has been intensely underfunded for decades. India's spending on R&D was only 0.7% of GDP in 2021 which was among the lowest in the world, as per a study conducted by NITI Aayog and Institute of Competitiveness. The world average is 1.8%. India's spend was lower than the BRICS nations.
Analysts advocate that research spending should reach 3% of GDP, and the corporate sector's contribution should increase. Furthermore, several policy prescriptions on education, including the NEP 2020, reiterated the need to push up public investment on education to 6% of GDP. The Union and State governments' combined expenditure has not been touched even half of it.
The lack of political will is the biggest obstacle to achieving this target. The Union government's spending on education amounted to just 0.63% of GDP in 2013-14; in subsequent years it fell precipitously touching a low of 0.37% in 2022-23. School education faced more shortfalls. India's 54% of the population is below 25 years of age.
According to the International Labour Organisation (ILO), India is expected to face a shortage of around 2.9 crore (29 million) skilled personnel by 2030. Following this, it has been forecasted that if India does not take timely actions like investing in new technologies or building industry-demanding skills, the skill deficit could cost the country around $1.97 trillion.
With a high working-age population, the development of skilled and educated manpower will play a major role in transforming India as a developed nation by 2047, as articulated in the vision for Amrit Kaal, with reduced economic inequalities.
The National Assessment and Accreditation Council (NAAC), established in 1994, is an important external agency in India which is responsible for assessment and accreditation of HEIs. But so far only a small number of colleges and universities (about 30% of over 56,000 institutions) have undergone accreditation by NAAC.
Of those accredited, only 1606 HIEs were accredited with Grade A or above. There exists a positive correlation between faculty strength and higher ratings of the institutions. Only one in three engineering colleges adheres to the AICTE-prescribed faculty-student ratio of 1:20. Faculty quality further gets reflected in scientific publications. India produced 13 lakh (1.3 million) academic papers in 2017-22 period, generating 89 lakhs (8.9 million) citations.
China, on the other hand, has scientific output that is more than triple India's size and generates five times as many citations. 90% of publications in India are being contributed by only those 12% of participative institutions in NIRF. 78% of colleges in India are in private sector which account for 66% of total enrollment.
This reflects growing dominance of privatisation, if not commercialisation, of higher education. Bulk of the students depend on State universities and their affiliated colleges. A large number of faculty positions are remained unfilled in almost all the State universities and government colleges for several years. The never ending tussle between the Governors and State governments such as Bengal, Kerala, and Tamil Nadu over the governance and selection of Vice-Chancellors would in no way help in improving the governance and image of the State-run universities.