Egypt's love affair with Bollywood
Published on: Jan 24, 2023, 5:12 PM IST


Egypt's love affair with Bollywood
Published on: Jan 24, 2023, 5:12 PM IST

Egyptian President Abdel Fattah El-Sisi arrived in New Delhi on Tuesday. During his visit to India, he will participate in the Republic Day ceremony as the chief guest. His three-day visit to India is deemed to strengthen Indo-Egypt ties followed by a series of bilateral agreements. The cultural ties between the two countries, however, run deeper.
For decades, Egyptians have developed a deep affection for Hindi films. While the political relationship between the two nations has witnessed the ebb and flow of the tides, it is safe to say that Egypt's love for Bollywood remained unfazed.
At the 16th Jaipur Literature Festival (JLF), acclaimed poet, lyricist, and screenwriter Javed Akhtar said that Indian cinema is one of the "strongest goodwill ambassadors in the world." He went on to say that Indian stars are better recognised in the world than Hollywood stars. "You go to Egypt or Germany and tell people 'I am an Indian', they immediately ask if you know Shah Rukh Khan."
What Akhtar said at the literary fest a few days back was exemplified for the world with an incident that took place in 2021 when Ashwini Deshpande, a professor from Ashoka University, had shared that an Egyptian travel agent trusted her during a money transfer issue because she is from the country of Shah Rukh Khan.
Returning the favour with grace, SRK had sent three signed pictures of himself along with a personalised message for the Egyptian travel agent's daughter who was even a bigger admirer of the superstar than her father. Needless to say, the incident was widely reported but more than that it was a gentle reminder of the fact that cinema can blur the boundaries. The takeaway from the incident is how powerful cinema is as a medium.
READ | Republic Day 2023: President Sisi's visit strategically important for India-Egypt relations
Before SRK, the Egyptians were in love with the Angry Young Man of Hindi cinema. When the boom of video cassettes brought cinema to drawing rooms, it propelled the popularity of Hindi stars in Egypt to great extent. For Egyptians, the charisma of Big B remained intact even in the grainy pirated VHS tapes.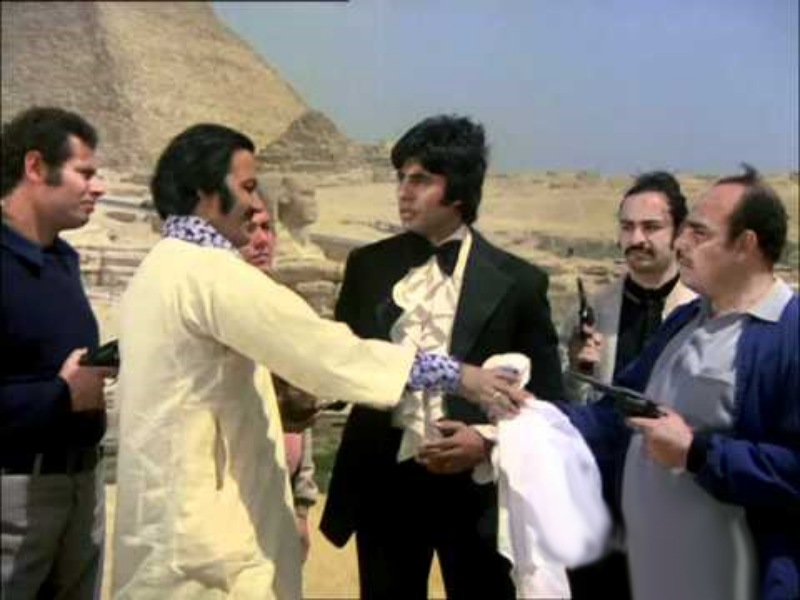 Oxford professor Walter Armbrust in his paper titled, The Ubiquitous Non-Presence of India, shared a trivia that screamed about Bachchan's fame in Egypt. Recalling an urban legend, Armbrust wrote that in the early 90s once a "plane carrying Big B touched down briefly in the Cairo airport for refuelling. Word got out about the Hindi star's presence, and tens of thousands of people came to the airport hoping to catch a glimpse of him." In those days, vendors in Egypt even sold tee shirts emblazoned with the face of Bachchan.
What makes Bollywood movies so successful in Egypt? According to Armbrust, it is the similarity in the life of a common man in both countries keeping ethnic differences aside. They enjoy song and dance sequences in Bollywood films as it manages to move them and lift their spirits.
In 2015, an Egyptian scribe Ati Metwaly wrote on Ahram, a popular Egyptian webloid, that Egyptians enthusiastically thronged a Bollywood dance workshop at India by the Nile festival. The Egyptian youths, according to Metwaly, were singing Indian songs even if they can't follow what the lyrics mean.
Indians do not consume Egyptian cinema as much as the latter do Bollywood. The Hindi filmmakers, however, have time and again proved their fascination for the beauty of Egypt's landscape and monuments. Filmmaker Shakti Samanta shot for Big B starrer The Great Gambler in Egypt and since then the land of Pyramids and Pharaohs has featured in movies like Jeans, Kabhi Khushi Khabhi Gham, Maine Dil Tujhko Diya, and Singh Is King.