Delhi air pollution: Ready to take steps like complete lockdown, AAP govt tells SC
Published on: Nov 15, 2021, 11:11 AM IST
|
Updated on: Nov 15, 2021, 4:53 PM IST

Delhi air pollution: Ready to take steps like complete lockdown, AAP govt tells SC
Published on: Nov 15, 2021, 11:11 AM IST
|
Updated on: Nov 15, 2021, 4:53 PM IST
New Delhi: The Delhi government on Monday informed the Supreme Court that it is ready to take steps such as a 'complete lockdown' to control the local emissions in the National Capital Region (NCR).
"However, such a step would be meaningful if it is implemented across the NCR areas in neighbouring states. Given Delhi's compact size, a lockdown would have limited impact on the air quality regime," the affidavit said.
The affidavit was filed in a plea stubble-removing machines to small and marginal farmers for free.
"This issue would need to be addressed at the level of air shed involving NCR areas. In view of the above we are ready to consider this step if the same is mandated for the entire NCR areas by the Central government or by the commission for air quality management in NCR and adjoining areas," the affidavit said.
As regards to the Air Quality Index (AQI), the Delhi government said October 2021 is the cleanest month in the last six years, with only 675 stubble burnings witnessed in Punjab and Haryana.
November 2021 saw seven severe days in the first 13 days of the month, which the affidavit claimed corresponded to the incidence rate of stubble burnings in Punjab and Haryana averaging around 4,300 per day.
Also read: Delhi's air quality shows slight improvement, reaches lower end of 'very poor' category
It further stated the government had taken to a comprehensive action plan for eliminating stubble burning in the NCT of Delhi. "The daily action taken reports on prevention and control of stubble burning were being sent to Commission for Air Quality Management," it added.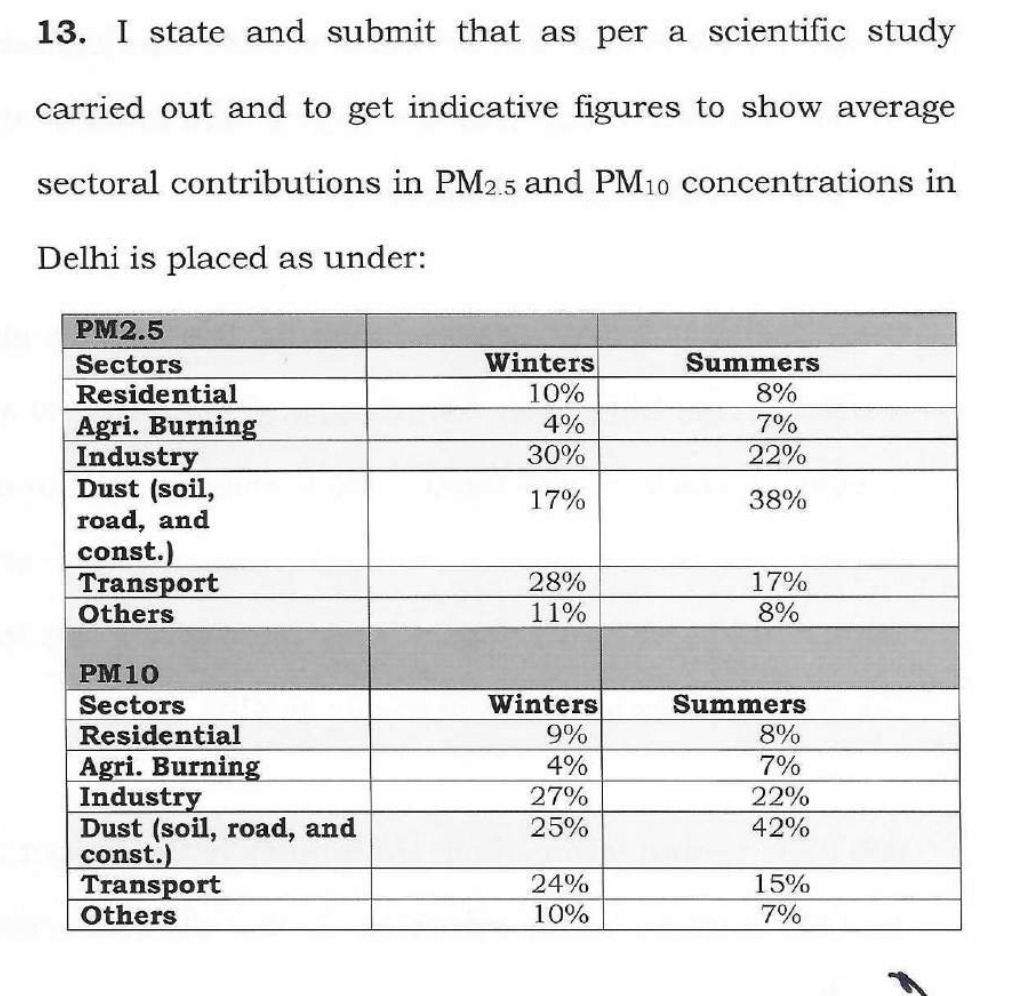 The Delhi government's affidavit revealed that stubble burnings accounted for 4 pc in winters in respect of PM2.5 and PM10 concentration levels used to measure the Air Quality Index. It added that efforts were taken consistently to address the issue of the agricultural residue in the fields in the national capital.
Earlier, the apex court on Saturday termed the rise in air pollution in Delhi-NCR as an "emergency" situation and suggested a lockdown in the national capital besides directing the Centre and the Delhi government to take immediate measures to improve the air quality.
The court had observed that the pollution is so bad that people wear masks inside their houses.
The court had pointed out that there are other reasons for pollution including vehicular emissions, firecrackers and dust. Noting that singling out stubble burning will not be the solution, the top court had also expressed concern that schools in the Delhi have re-opened and that children were being exposed to severe pollution conditions.
Also read: Delhi-NCR continues to breathe toxic air: Who's to blame?