Acharya Pramod reiterates demand to make Sachin Pilot Rajasthan CM
Published on: Sep 24, 2021, 4:11 PM IST


Acharya Pramod reiterates demand to make Sachin Pilot Rajasthan CM
Published on: Sep 24, 2021, 4:11 PM IST

Jaipur: Congress leader Acharya Pramod Krishnam, who is considered close to Priyanka Gandhi, has once again reiterated that the leadership in Rajasthan should be given to Sachin Pilot. Acharya Pramod has written on his Facebook page that he has full respect for Chief Minister Ashok Gehlot, "but injustice has happened to Sachin Pilot".
This is not the first time that Acharya Pramod has expressed his support for Pilot via social media. Recently, when there was a change of leadership in Punjab, Acharya Pramod had written on social media in support of Pilot in Rajasthan.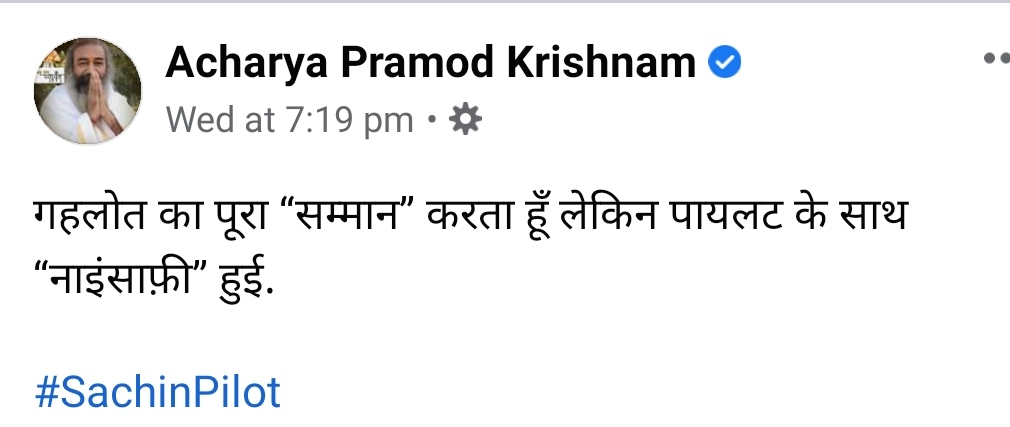 Though there is a demand from Rajasthan Congress vice-president Rajendra Chaudhary to make Pilot the chief minister, Acharya Pramod has the conveyed the same demand to the Congress high command.
Also read: After Rahul Gandhi, Sachin Pilot meets CP Joshi
At the same time, after the meeting between Pilot and Rajasthan Assembly Speaker CP Joshi here Thursday evening, there is a lot of speculation in the political circles of Rajasthan. People are wondering whether Pilot had met Joshi with a message from Delhi.
The word is that matters like cabinet expansion, political appointments and organisational expansion will be resolved by the Congress in Rajasthan during Navratri. Leaders and workers have been waiting for this for a long time.
It is also being said that during Navratri itself, it will be decided whether Pilot will be given responsibilities in Rajasthan or at the Centre. In light of this, he is meeting and cultivating all top party leaders who have full hold on Rajasthan.