World Toilet Day: History, mission, objective, significance and key points

Published: Nov 18, 2023, 11:50 PM
Follow Us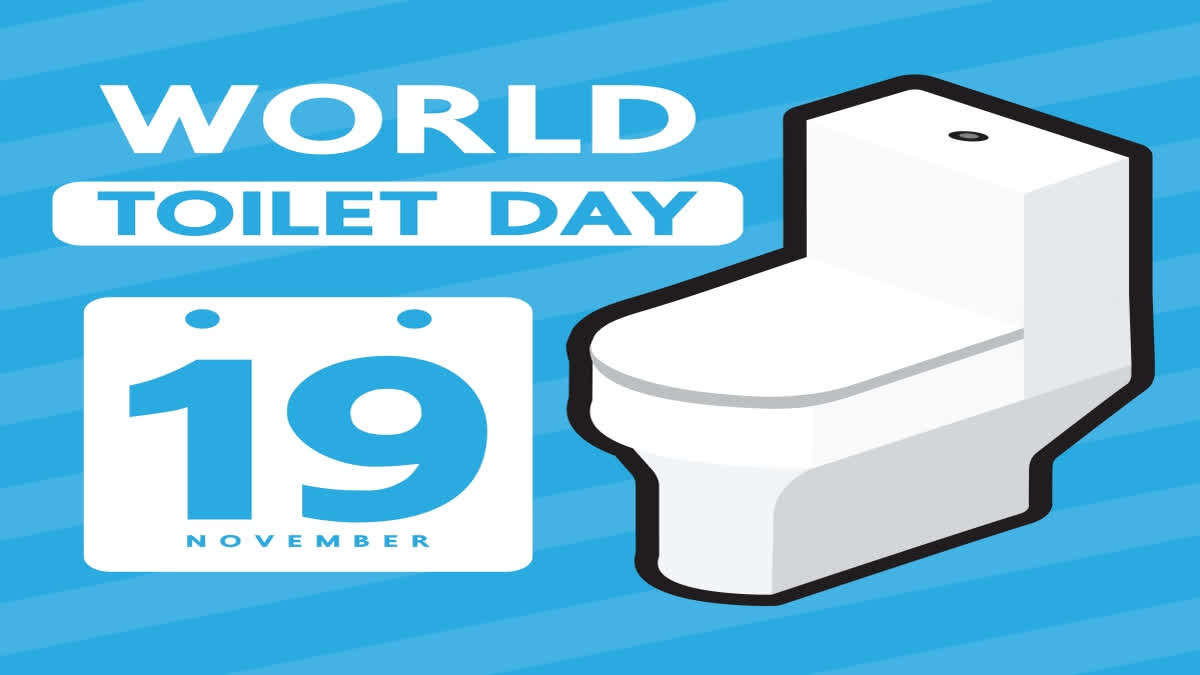 World Toilet Day: History, mission, objective, significance and key points

Published: Nov 18, 2023, 11:50 PM
Follow Us
Hyderabad: World Toilet Day, celebrated annually on November 19, highlights the crucial need for proper sanitation. Initiated in 2001 by the NGO, World Toilet Organisation, it emphasises the right to clean toilets, safe sanitation, and hygiene as a fundamental human right.
Theme- The theme for this year's World Toilet Day is "Accelerating Change for Safe Sanitation," which urges people to take global action to ensure everyone has access to safe toilets and clean water.
Objective- The objective of World Toilet Day is to raise awareness about the significance of proper sanitation, access to clean toilets, and good hygiene practices. It aims to highlight the global sanitation crisis, emphasising that safe toilets and clean water are fundamental human rights.
History- Established in 2001 by the NGO World Toilet Organisation, the day was declared on November 19 to promote public recognition and acknowledgment of the importance of toilets. It gained a further boost when the United Nations recognised the human right to water and sanitation in 2010.
Significance-This day serves as a platform to support better sanitation conditions worldwide. It aims to address social issues such as health risks caused by poor hygiene, empower women through access to sanitation, and tackle climate-related threats to sanitation systems.
Mission-The mission of this day is to accelerate change and progress toward achieving Sustainable Development Goal 6 (SDG 6), which targets universal access to safe toilets and clean water by 2030. It encourages collective action from governments, organizations, and individuals to ensure sanitation facilities for all.
Sanitation Condition in India- India faces significant sanitation challenges. Despite progress, a large portion of the population lacks access to safe toilets, leading to issues like open defecation, which exists in rural areas. This lack of proper sanitation infrastructure contributes to health problems, poses risks to water sources, and affects the dignity and safety of women and girls, particularly during menstruation. Efforts are ongoing to improve sanitation facilities and raise awareness about the importance of hygiene across the country.
Global Sanitation Issue- Around 3.5 billion people lack access to safe toilets, causing severe health risks and leading to approximately 1,000 child deaths daily due to unsafe water, sanitation, and hygiene.
Empowering Women- Safe toilets and hygiene services empower women and girls, addressing issues around menstrual hygiene and social status.
Climate Change Impact- Climate-related disasters threaten sanitation systems, causing damage and spreading waste, impacting water supplies and food crops.
Accelerating Change- The urgency of achieving SDG 6 - safe toilets and water for all by 2030 - requires a five-fold acceleration in efforts, aligning with the theme of "Accelerating Change."
Action Plan- The Water Action Agenda urges governments, companies, and organizations to fulfil commitments swiftly, accelerating progress in sanitation and water access.
Environmental Impact- Raising awareness about responsible flushing practices is vital to prevent sewage-related litter, which damages ecosystems and strains wastewater treatment processes.