World Philosophy Day 2023: Appreciating depth and breadth of philosophy

Published: Nov 15, 2023, 11:51 PM
Follow Us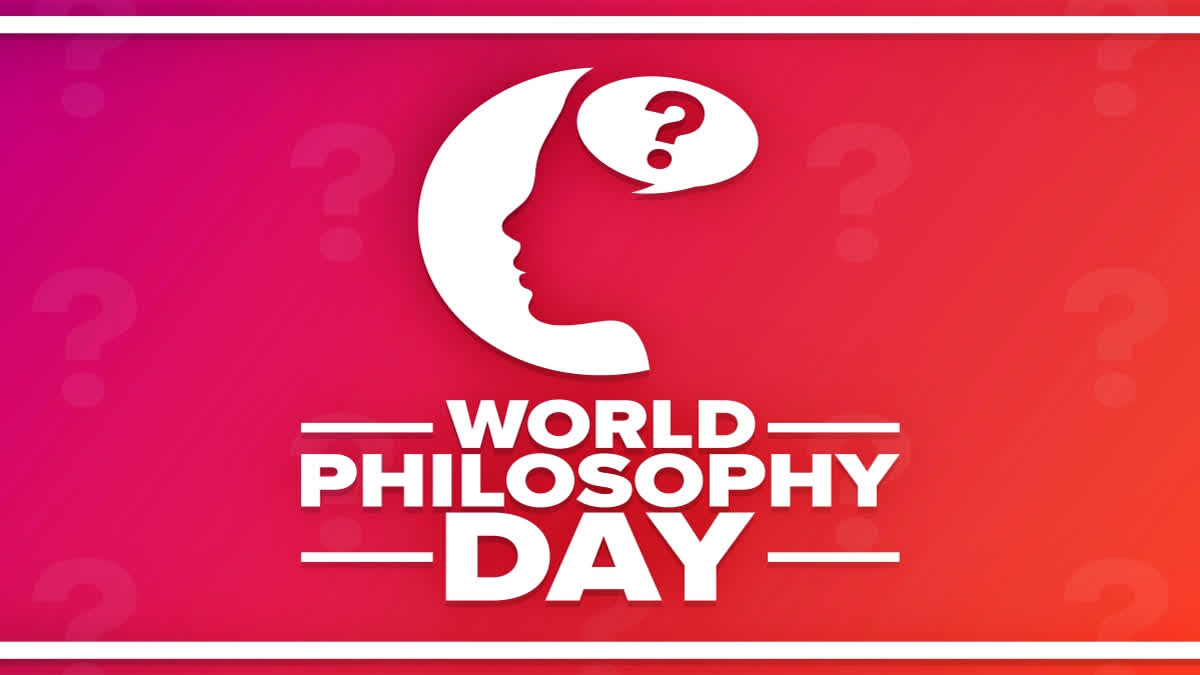 World Philosophy Day 2023: Appreciating depth and breadth of philosophy

Published: Nov 15, 2023, 11:51 PM
Follow Us
Hyderabad: Philosophy is not only an inspiring discipline but also a daily practice that can change societies. By allowing us to explore the world's diverse intellectual backgrounds, philosophy promotes intercultural dialogues. By encouraging the practice of thought and the reasoned conflict of views, philosophy promotes a more tolerant and respectful society. Philosophy helps to comprehend and address major contemporary problems by providing the intellectual foundations for change.
World Philosophy Day, observed annually on the third Thursday of November, serves as a global celebration encouraging people to contemplate philosophical ideas, engage in debates, and address societal issues.
What is Philosophy?- Philosophy, a term derived from the Greek words "philo" (love) and "sophia" (wisdom), encompasses a profound exploration of human existence, touching upon diverse realms such as nature, consciousness, morality, beauty, and social organisations. It resists easy definition, as attempts to delineate its boundaries inherently engage in philosophical activities.
Unlike other fields that may rely on basic presumptions, philosophy embraces an expansive range of subjects, fostering an environment where nothing is assumed to be identical. This intrinsic ambiguity can make philosophy challenging and perplexing for students.
History of World Philosophy Day- The inauguration of World Philosophy Day in 2002 marked a commitment by UNESCO to institutionalise the celebration of philosophical inquiry worldwide. Recognising the significance of philosophy, particularly in education, UNESCO aimed to popularise the discipline. This endeavor is reflected in the sage tradition, where early Greek philosophers, initially called sages, were instrumental in the intellectual, scientific, and political advancements of their time.
Historical origins of Philosophy- Rooted in the Greek pursuit of wisdom, philosophy is more than an intellectual exercise; it's a way of thinking that involves responsiveness, reflection, reason, and re-evaluation. The overarching goal is to attain a clearer understanding of fundamental aspects of life, ultimately enhancing the quality of our thoughts and actions.
Expanding the narrative beyond European origins, Indian philosophy offers a rich and diverse counterpart, predating its European counterpart by several centuries. Rooted in Vedic literature from the seventh and sixth centuries BCE, Indian philosophical traditions contribute significantly to the global tapestry of philosophical thought.
Role of Philosophy in human life- Every individual harbors a life philosophy that molds their existence, even those who may question the relevance of philosophy. The study of philosophy is not a mere intellectual exercise; it is a process that shapes one's attitudes and convictions.
While the information gained from philosophy may not rival the practical utility of scientific or social knowledge, its true value lies in its unique impact on the human psyche. Philosophy's capacity to sharpen and train the mind goes beyond traditional disciplines, providing depth to thinking and acting, ultimately influencing one's very existence.
Philosophy, with its focus on conceptual clarity and precision in expression, serves as a discipline that extends into everyday life. Its influence is evident in how individuals think, speak, and behave.
Greatest Philosophers of all time and their Philosophy-
Aristotle: He is perhaps best known for inventing the first logical deduction, or the systematic study of proper reasoning. He also introduced the three main schools of thought on rhetoric: ethos, pathos, and logos. He also invented the logic of deduction, also known as syllogism.
Karl Marx: Marx was certain that the working class will one day overcome the capitalist class in a revolution that would allow the working class to assume control of the economy. He is well-known for being a staunch supporter of communism.
Socrates: He paved the path for the rise of Socratic dialogue, a literary form centered on teaching via questioning. He was put to death in 399 BC for corrupting the youth and refusing to embrace the city's established gods.
Plato: Parmenides and Zeno of Elea had a great influence on Plato's Theory of Forms, which stated that the physical world we perceive is only a shadow of the real one. They both play roles in Plato's dialogue "The Parmenides."
Mahatma Gandhi: Truth, nonviolence, Sarvodaya, Self-discipline and Self-purification and Satyagraha, as well as their significance, are the four pillars of Gandhian thinking.