'Reform or rupture': UN chief Guterres gives clarion call to reform Security Council 'in line with the world of today'

Published: Sep 19, 2023, 7:17 PM
Follow Us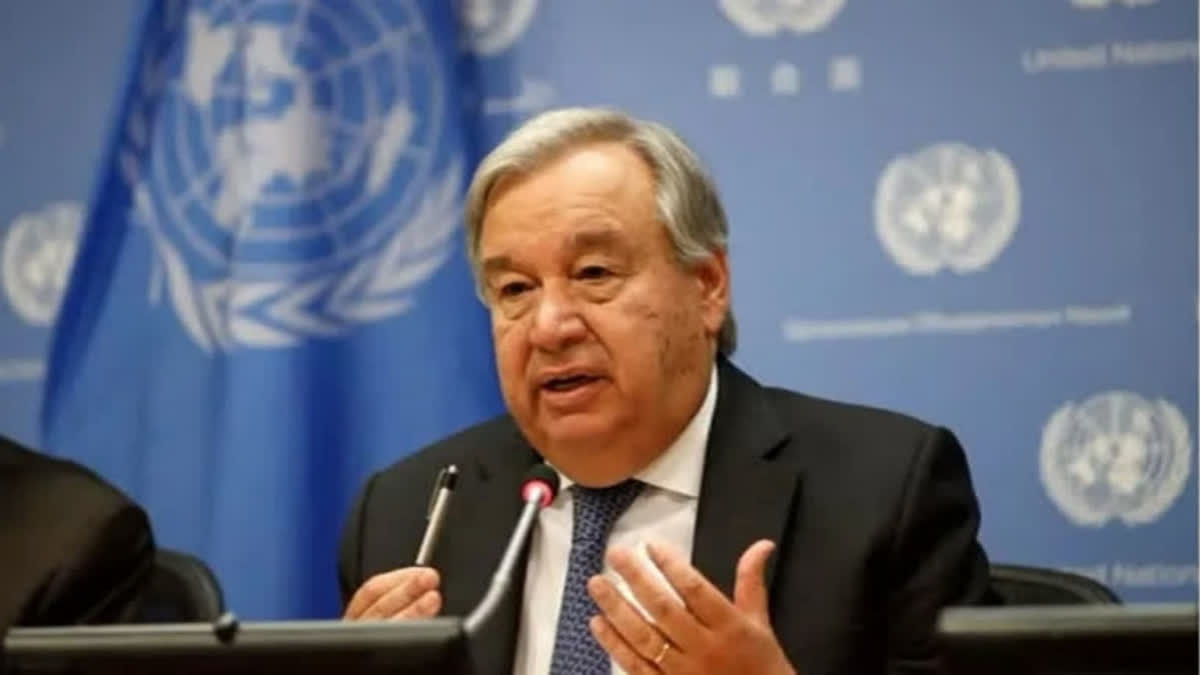 'Reform or rupture': UN chief Guterres gives clarion call to reform Security Council 'in line with the world of today'

Published: Sep 19, 2023, 7:17 PM
Follow Us
United Nations: United Nations Secretary-General Antonio Guterres on Tuesday gave a clarion call to reform the UN Security Council in line with the world of today and based on equity, telling leaders that the 15-nation body reflects the political and economic realities of 1945 and risks becoming part of the problem instead of solving it.
"Our world is becoming unhinged. Geopolitical tensions are rising. Global challenges are mounting. And we seem incapable of coming together to respond, Guterres told world leaders in his address to the 78th session of the UN General Assembly here. Addressing the world from the iconic green podium in the UNGA hall, Guterres said the world confronts a host of existential threats from the climate crisis to disruptive technologies and we do so at a time of chaotic transition.
He emphasised that a multipolar world needs strong and effective multilateral institutions, yet global governance is stuck in time. Look no further than the United Nations Security Council and the Bretton Woods system. They reflect the political and economic realities of 1945 when many countries in this Assembly Hall were still under colonial domination. The world has changed. Our institutions have not, he said.
The UN chief underscored that we cannot effectively address problems as they are if institutions don't reflect the world as it is. Instead of solving problems, they risk becoming part of the problem. He asserted that it is high time to renew multilateral institutions based on 21st century economic and political realities rooted in equity, solidarity and universality anchored in the principles of the United Nations Charter and international law.
That means reforming the Security Council in line with the world of today, he said. It means redesigning the international financial architecture so that it becomes truly universal and serves as a global safety net for developing countries in trouble, Guterres said. "I have no illusions. Reforms are a question of power. I know there are many competing interests and agendas. But the alternative to reform is not the status quo. The alternative to reform is further fragmentation. It's reform or rupture, he said.
The UN chief underscored the importance of reform at a time when global divides are deepening. Divides among economic and military powers. Divides between North and South, East and West, he said. Guterres warned that we are inching ever closer to a Great Fracture in economic and financial systems and trade relations; one that threatens a single, open internet; with diverging strategies on technology and artificial intelligence; and potentially clashing security frameworks.
India has said that its focus as G20 President on issues vital to the Global South as well as counter-terrorism, Security Council reforms and peacekeeping will be among Delhi's key priorities during the annual high-level 78th session of the UN General Assembly.
India, the world's most populous country, has been at the forefront of years-long efforts to reform the Security Council, saying it rightly deserves a seat as a permanent member at the UN high table, which in its current form does not represent geo-political realities of the 21st century.
In the realm of UN reforms, India actively participates in the discourse on Security Council reform, aiming for permanent membership and emphasising the expansion of both the permanent and non-permanent categories of membership. We also focus on revitalizing the Non-Aligned Movement, India's Permanent Representative to the UN Ambassador Ruchira Kamboj said in a video statement on the eve of the opening of the General Debate, outlining India's priorities for the high-level session. (PTI)