Kim-Putin meeting: Is it tit-for-tat after South Korea-Japan-US trilateral summit?

Published: Sep 7, 2023, 5:06 PM
Follow Us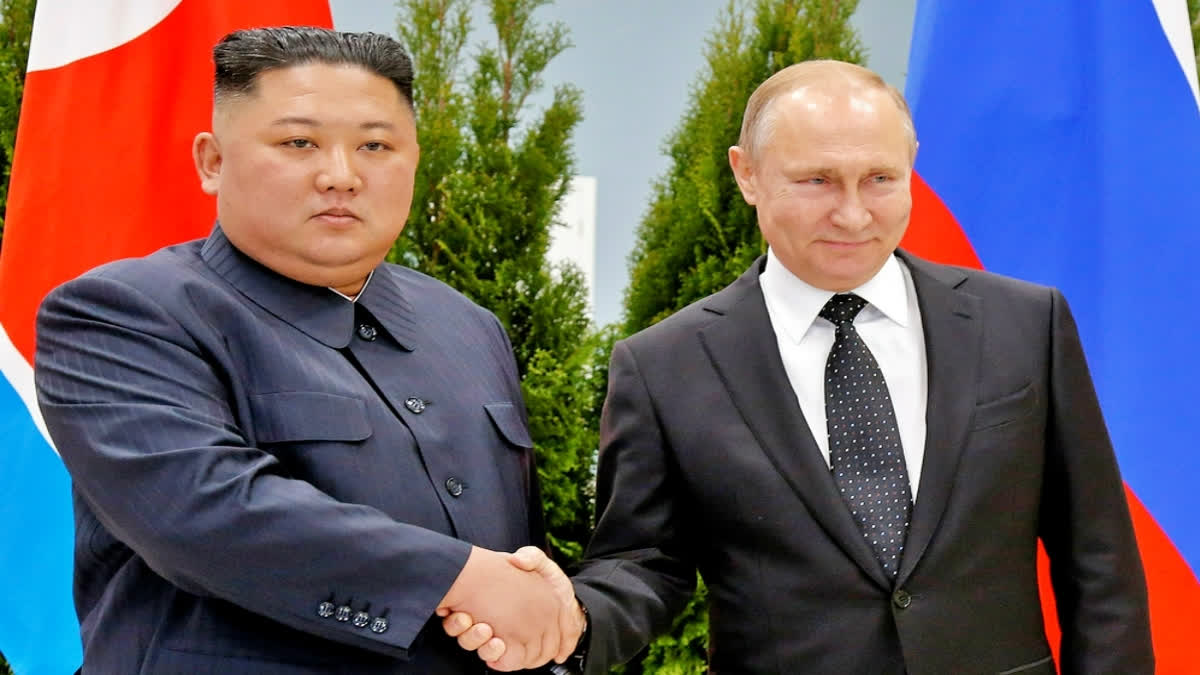 Kim-Putin meeting: Is it tit-for-tat after South Korea-Japan-US trilateral summit?

Published: Sep 7, 2023, 5:06 PM
Follow Us
New Delhi: With reports suggesting that North Korean leader Kim Jong-un will be travelling to Russia this month to hold a meeting with President Vladimir Putin, speculations have been rife about the timing of the visit.
Media reports quoted an unnamed US official as saying that Kim will be travelling to Russia this month in what will be the North Korean leader's first visit abroad since the COVID-19 pandemic started. The reports suggest that Russia might need artillery ammunition since its stocks are running low due to the war with Ukraine.
According to information available in the public domain, Kim will be in Vladivostok in Russia's Far East from September 10 to 13 where he will attend the annual Eastern Economic Forum meeting. Reports suggest that there is also a possibility of discussions on North Korea providing Russia with weapons to support its war in Ukraine.
US National Security Council spokesman John Kirby was quoted as saying that Russia's Defence Minister Sergei Shoigu had tried to "convince Pyongyang to sell artillery ammunition" to Russia during a recent visit to North Korea. During Shoigu's visit to North Korea in July this year for Pyongyang's celebrations of the 70th anniversary of the Korean War armistice, Kim reportedly showed off his country's latest defence weapons.
North Korea's Korean Central News Agency (KCNA) reported that Kim and Shoigu discussed "matters of mutual concern" in the fields of national defence and the international security environment. But both Pyongyang and Moscow have denied reports of North Korea supplying weapons to Russia in its war against Ukraine. The reports also suggest that North Korea will likely want food and energy shipments and transfers of sophisticated weapons technologies.
But an expert on the Koreas familiar with the latest developments dismissed these reports as speculative and told ETV Bharat that these are part of a Western media narrative in the midst of Russia's war against Ukraine.
"Given Russia's weapons stockpile, it will not need any external help militarily," the expert said. "However, I will not rule out a food-for-weapons deal being cut. Given the current geopolitical developments in the region, it is a timely move by both sides to send out a message in the face of the Western media's narrative to show Russia and North Korea as pariah nations."
However, more importantly, the expert explained, this is North Korea's tit-for-tat move after the trilateral summit between South Korea, Japan and the US that was held at Camp David last month. Ahead of the meeting, South Korean President Yoon Suk Yeo said that the summit "will set a new milestone in trilateral cooperation contributing to peace and prosperity on the Korean Peninsula and in the Indo-Pacific region". However, according to observers, South Korea's main driving force to deepen security cooperation with the US and Japan is to deal with the nuclear threat from North Korea. They believe that the fact that South Korea wants to take its relationship with the US and Japan to a higher level indicates that it is facing bigger threats from North Korea.
In fact, Yoon said on Thursday that North Korea's nuclear and missile development poses an existential threat to the Indo-Pacific region and called for the strict implementation of UN sanctions on the regime. Yoon made the remark during an East Asia Summit (EAS) in Jakarta that brought together leaders from the 10 members of the Association of Southeast Asian Nations (ASEAN) and South Korea, the US, Japan, China, Russia, India, Australia and New Zealand.
"North Korea's nuclear and missile development is a serious violation of UN Security Council resolutions and a direct challenge to world peace," Yonhap news agency quoted Yoon as saying. "It is an existential threat that can target and strike all nations participating in today's meeting."
According to the expert on the Koreas, both Russia and North Korea have found common ground in the face of hostility from the West. "What Kim is doing is sending a message to South Korea, Japan and the US that if their relationship threatens the security of North Korea, then he also has a friend who can watch his back," the expert explained.
Meanwhile, what is also drawing attention to Kim's visit to Russia is his mode of travel and the route he takes. Speculations are rife about whether Kim would resort to the 20-hour rattling rail journey to Vladivostok in an armoured train that North Korean leaders tend to take. In April 2019, when he visited Russia for his first meeting with Putin, Kim travelled in the green-and-yellow train described as "luxurious" where passengers enjoy expensive French wine and feast on fresh lobster and pork barbecue.
Meanwhile, Yonhap, in another report on Thursday, said that Kim might opt for an unexpected route when he travels from North Korea to Russia. "… There is a possibility of Kim Jong-un making a surprise move by choosing a different route than what is expected," the report quoted Kim Kyou-hyun, director of South Korea's National Intelligence Service (NIS) as saying during a parliamentary intelligence committee meeting.