Exclusive | India must call for ceasefire, act as negotiator: Palestinian Ambassador as Israel attacks kill over 10,000 in Gaza
Updated: Nov 6, 2023, 9:52 PM
|
Published: Nov 6, 2023, 8:59 PM
Follow Us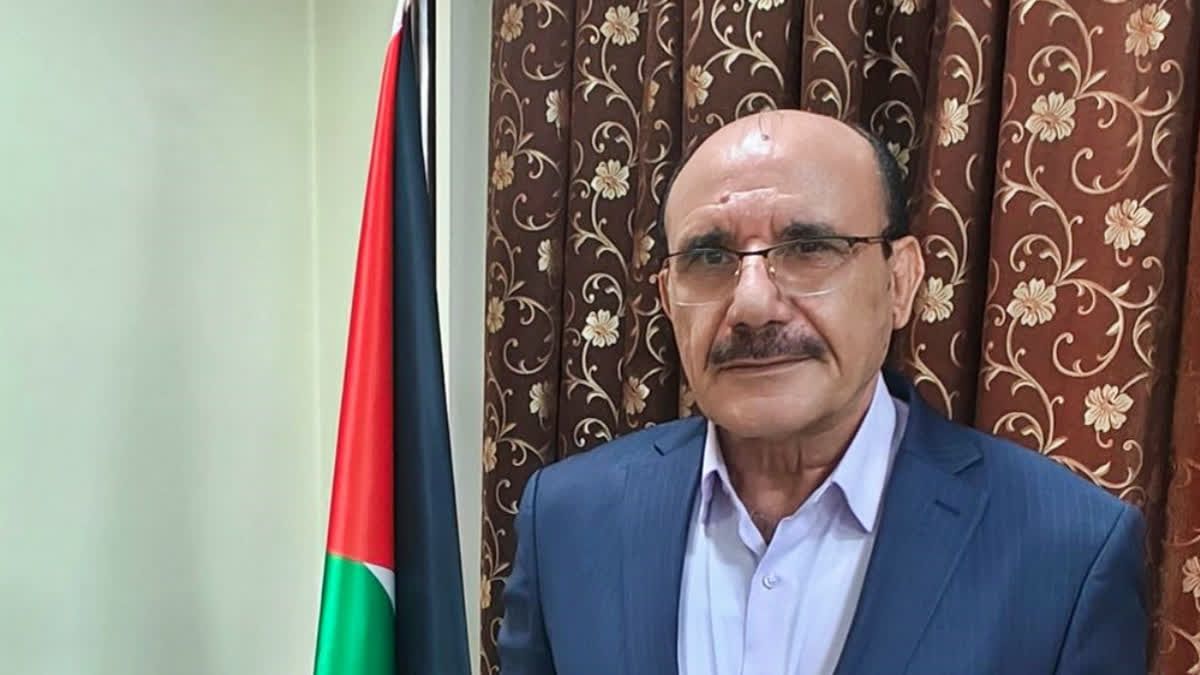 Exclusive | India must call for ceasefire, act as negotiator: Palestinian Ambassador as Israel attacks kill over 10,000 in Gaza
Updated: Nov 6, 2023, 9:52 PM
|
Published: Nov 6, 2023, 8:59 PM
Follow Us
New Delhi: As the war between Israel and Palestine enters into its fifth week, Palestinian Ambassador to India Adnan Abu Alhaija, in an exclusive interview to ETV Bharat, said that he hopes India will "look at both sides from the same point of view" and condemn the killings of the children, and innocent civilians happening in the besieged territory.
Alhaija said he was "still hoping that India will intervene, call for a ceasefire, and condemn the killings of civilians". The Palestinian death toll in the war has surpassed 10,000, including more than 4,100 children and 2,640 women, according to the Hamas-run Health Ministry in Gaza on Monday.
Israeli troops have surrounded Gaza City and cut off the northern part of the besieged territory. Troops are expected to enter the city late Monday or Tuesday, Israeli media reported, and militants who have prepared for years are expected to fight street by street using a vast network of tunnels. Casualties will likely rise on both sides in the month-old war.
Here are the excerpts from the interview:
Q: What is your current assessment of the war?
A: We are in the fifth week of this war now. The situation is very difficult. I don't think we have seen this kind of siege before. I don't know if it was the same during the Siege of Leningrad by the Nazis. The situation then must have been better than what Palestinians are facing today. About 2.2 million Palestinian people are living without water, fuel, and other basic necessities. It seems that the United States along with other colonial countries is covering all these crimes of Israelis. Israelis are now bombing refugee shelters and hospitals. The situation is barbaric and they are saying that they are attacking Hamas.
Q. How do you see the reaction from New Delhi? Even at the UNGA, India abstained from the resolution calling for a peaceful truce.
A: I was expecting India to at least call for a ceasefire. They have condemned Hamas and abstained at the UNGA. More than 10,000 have already been killed. Thousands are still trapped under the debris and we don't even have the equipment to take them out.
Q. Do you think that in the coming days, New Delhi can emerge as a peacemaker?
A: I hope they do. I have called them many times since the beginning of this war. It is good for India if it can act as a negotiator. India is a very important country with the largest population in the world now. And it has a respectable Prime Minister. I hope they (India) will look at both sides from the same point of view and condemn the killings of the children, and innocent civilians that we see every day. Israel is not fighting Hamas as they are killing Palestinians, honest people, and civilians. This is what Israel has been doing for decades. We have not seen even one Hamas soldier coming to Hospital, all we have seen are children, women, and innocents coming to hospitals. We are still hoping that India will intervene, call for a ceasefire, and condemn civilian killings.
Q. What actually triggered this war?
A: There are several reasons and it is not just October 7. The main reason is what Palestinians have been facing for 75 years and the West Bank and Gaza for 56 years now. We have thrived and signed agreements with Israel for peace. In 1993, we signed a peace deal (Oslo Accords) with them. According to the agreement that we signed with Yitzhak Rabin, the Palestinian independent state should have existed in 1999 but the present government and leaders of the extreme settlers assassinated Mr Rabin. Since then, they have been destroying and killing the Oslo Accords and the two-state solution by confiscating Palestinian land, building more settlements, bringing in more and more settlers, and attacking Palestinian citizens.
And let me tell you, as per that agreement the West Bank was divided into three zones. Zone A is the cities, Zone B is the towns, and in between Zone C. Israelis control Zone C 100% which is 61% of the West Bank. In that area, we cannot build a room and if you build anything, they will not give you permission and will demolish it. The extreme settlers attack the common Palestinians every day and that has become a norm. This should stop now.
Q. Top leaders from the United States have been visiting Israel and the Middle East since October 7. US Secretary General Antony Blinken also visited the West Bank yesterday and met the Palestinian President. Where is this war heading?
A: I think the United States is the main partner in this war. This visit of Mr. Blinken is just to cover up Israel's crimes. They are even against the ceasefire because they are the main partners of this war along with old colonialist countries from Europe.
Q. The importance of non-state actors in the region cannot be ignored. We have been hearing statements from Iran, and Hezbollah. Where do you see the future of Palestine? Can this war spill more troubles in the region?
A: I don't know. I am not Iranian or (associated with) Hezbollah. I read what you read. We have heard statements from Hassan Nasrallah, and from Iranians as well. We are not looking to escalate this war and we are looking for a ceasefire. We want to defend our honest people. The war is against the Palestinian people and not against Hamas. We have not seen Hamas soldiers getting killed or being admitted to hospitals. It is the civilians who are the first victims of this war.
Q. Reports claim that Russia's mercenary group is actively in touch with Hezbollah. Your view on it?
A: I am afraid it's a joke. I don't know if Wagner is in Syria.
Q. Is the two-state solution still a viable option?
A: It is the most practical solution. But we are not just talking about the two-state solution. Let me remind you that for Mr Donald Trump Palestine is 14 cities connected by tunnels or bridges. This is the state of Palestine. But what we are looking for is the state of Palestine in the land of 1967 with East Jerusalem as its capital.
Q. Israel had already developed relations with the Arab nations, be it the Abraham Accords or the rumors that a Saudi-Israel peace deal was on the cards. And then this happened on October 7. Don't you think that this was an attempt by Hamas to stop the normalization of ties?
A: I don't think so. What Hamas did needs a long time for preparation. And the deal between Saudi-Israel that we are hearing about is very new. I hope Saudi Arabia, being the owner of the Arab initiative for peace, will insist on a real solution for the Palestinian cause if they want to normalise relations with Israel. Israelis have been making deals with the Arab states but they are ignoring the Palestinians who are living in Gaza and the West Bank. Security in West Asia wouldn't be there until the Palestinian people get their rights and are given social, economic and political security. We are fed up now and we want a peaceful solution.
Q. But don't you think that the attack unleashed by Hamas on October 7 put the Palestinian cause into a deadlock?
A: The Palestinian cause is for the Palestinian people. Hamas is not the Palestinian people, it's a part of the Palestinian people. And, I think the world and the international community have seen that our people in Gaza have been living under siege for 17 years. They can't move, can't feel free, and there is extreme poverty. We want a final solution now. If they think that Palestinian people will raise the white flag, they don't know what is the nature of the Palestinian people. And if they think that we will make the mistake of 1948 and become a refugee from Gaza and the West Bank, then also they don't know the nature of Palestinians. We Palestinians belong to our land and we will live and die there.
Q: Can this war now bring in the final solution to the Palestinian cause?
A: If not, then it's not the last war. The international community is responsible for that.