Miss Universe 2023: India's Shweta Sharda stuns as 'armoured goddess' in National Costume Show - watch

Published: Nov 17, 2023, 1:26 PM
Follow Us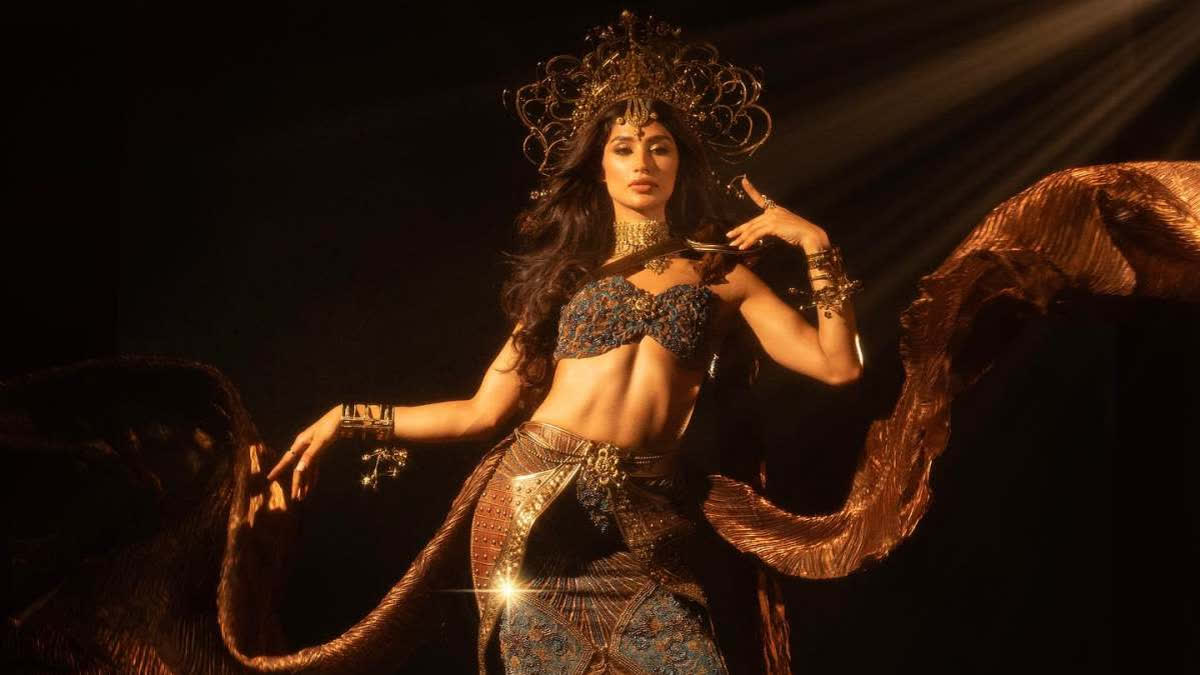 Miss Universe 2023: India's Shweta Sharda stuns as 'armoured goddess' in National Costume Show - watch

Published: Nov 17, 2023, 1:26 PM
Follow Us
Hyderabad: Shweta Sharda, India's representative at the 72nd Miss Universe pageant, showcased a National Costume that symbolised diversity, integrity, strength, and resilience. Designed by Nidhi Yasha, the costume, named the 'armoured goddess,' featured a lotus halo on the headgear and the lower half resembling a golden peacock, India's national bird, adorned with handcrafted feather embroidery.
Aptly named the 'armoured goddess,' Shweta's National Costume designed by Nidhi, symbolises a resilient India, braving challenges and emerging robust. It embodies diversity, integrity, strength, and resilience, encapsulated in the appearance of an armored goddess. The commanding shoulders and meticulously crafted bodice accentuate the delicate yet robust nature of femininity.
The headpiece boasts a lotus halo, signifying the harmonious coexistence of India's myriad religions and cultures, paying homage to the lotus, the national flower. The lower section resembles a mystical golden peacock, India's national bird, adorned with artisanal peacock feather embroidery. The flowing Organza skirt and striking long train provide a striking contrast to the structured upper body, symbolising India's ability to flourish amidst its beautiful dichotomies and harmonies.
Sharda, crowned as Miss Diva Universe 2023, boasts a diverse portfolio as a model, dancer, and choreographer. Originating from Chandigarh, she moved to Mumbai at 16 to pursue a career in dance. Her journey includes participation in various dance-reality shows like Dance India Dance Season 6, Dance Deewane, and Dance Plus 6. Additionally, she served as a choreographer on Jhalak Dikhla Jaa Season 10.
The Miss Diva beauty pageant in August 2023 saw Sharda being crowned as Miss Universe India 2023 by Divita Rai. Fans can catch the livestreams on Live Bash, while Telemundo airs it in Spanish in the US, and The Roku Channel provides streaming access. For Indian audiences, the final competition will be available on Miss Universe's YouTube channel and X account at 6:30 a.m. on November 19, per Indian Standard Time.