Elvish Yadav poses with Bigg Boss OTT 2 trophy, Abhishek Malhan says 'Thank you' in first post after finale

Published: Aug 15, 2023, 2:51 PM
Follow Us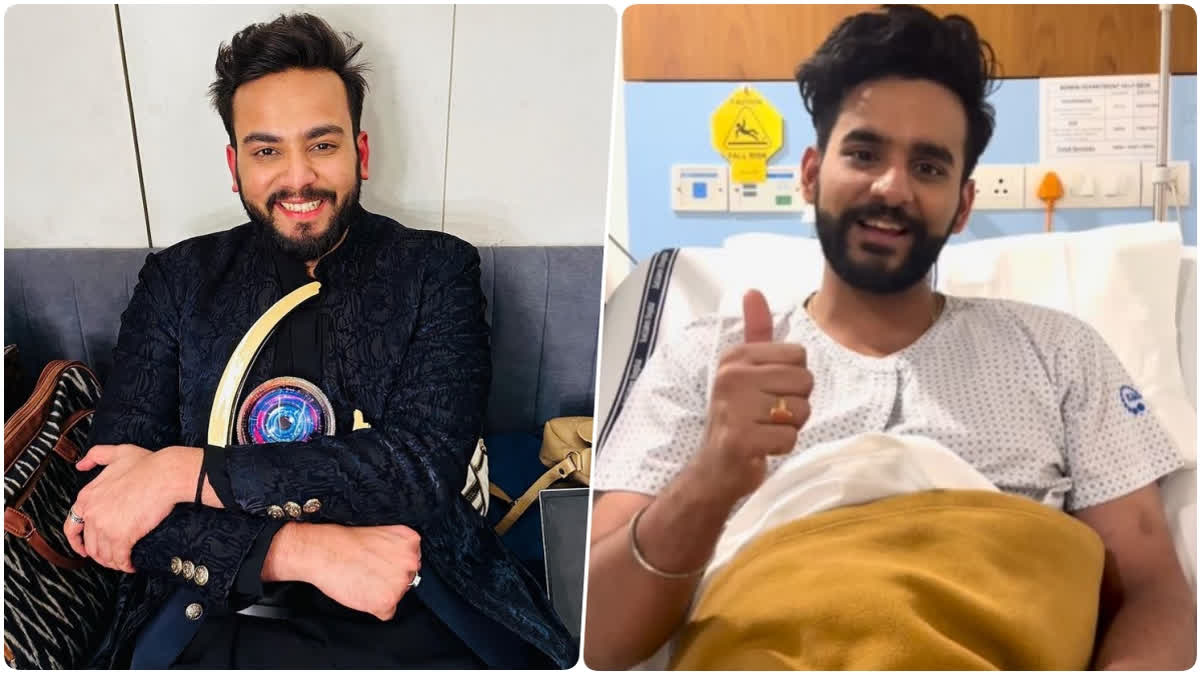 Elvish Yadav poses with Bigg Boss OTT 2 trophy, Abhishek Malhan says 'Thank you' in first post after finale

Published: Aug 15, 2023, 2:51 PM
Follow Us
Hyderabad: Elvish Yadav, a content creator, made Bigg Boss history by becoming the show's first wildcard winner. He has now congratulated his followers, whom he affectionately refers to as his "Elvish Army," and stated that he has no words to explain his joy at winning. On the other hand, Abhishek Malhan, the shows runner-up, also shared a video thanking his fans and asking for forgiveness for letting them down by not emerging as a winner.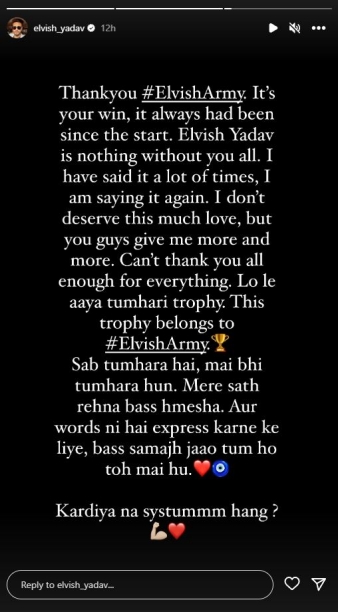 Elvish took to Instagram Stories, where he posted a photo of himself clutching the trophy with a thank you message for his admirers. Elvish turned to Instagram stories following his victory and wrote: "Thank you #ElvishArmy. It's always been your win since the beginning. Elvish Yadav would be nothing without you. I've said it before, and I'll say it again. I don't deserve this much affection, but you keep showering it on me. I can't express how grateful I am to everyone. #ElvishArmy"
He further added: "Mai bhi tumhara hun, sab tumhara hai. Bass hmesha mere sath rehna." In the first post after being declared the winner, Elvish wrote: "Elvish Army Is The Best #ElvishYadav #ElvishYadav."
Bigg Boss OTT 2 runner-up Abhishek Malhan, on the other hand, recorded a video from a hospital thanking his followers. After attending the Bigg Boss OTT 2 grand finale, Abhishek commented about not winning. Abhishek praised Elvish and admitted to 'disappointing' his fans by not winning Bigg Boss OTT 2.
It was a close call between Elvish Yadav and Abhishek Malhan because the two had built up a large fan base for themselves, with Elvish's army also crashing down the Bigg Boss 'Systum' with their vote at one point during the show. Apparently, Elvish broke the BB record with a record 280 million votes in 15 minutes.