BBOTT2: Elvish becomes 1st wildcard in Bigg Boss history to win the show
Updated: Aug 15, 2023, 11:15 AM
|
Published: Aug 15, 2023, 6:40 AM
Follow Us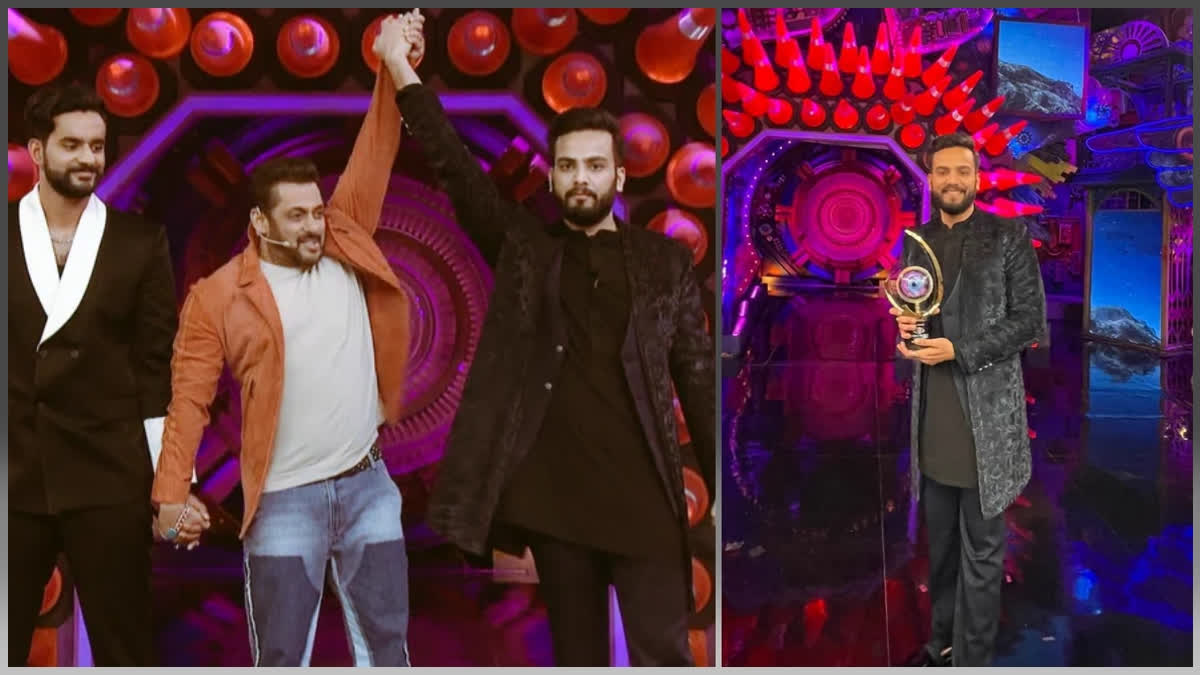 BBOTT2: Elvish becomes 1st wildcard in Bigg Boss history to win the show
Updated: Aug 15, 2023, 11:15 AM
|
Published: Aug 15, 2023, 6:40 AM
Follow Us
Mumbai (Maharashtra): The moment is right here, Bigg Boss OTT 2 finally has its winner and it's the content creator Elvish Yadav. With this, Elvish has become the first wildcard contestant in the history of Bigg Boss to win the show. Elvish entered the show in its 4th week. It was a close contest between Elvish Yadav and Abhishek Malhan as the two have cultivated a huge fan following for themselves with Elvish's army also crashing down the Bigg Boss 'Systum' at one point of the show with their voting. As the winner of Bigg Boss OTT 2, Elvish will take the cash prize of Rs 25 lakhs.
Ahead of him being crowned the winner, Elvish said on stage, "This experience is unreal for me. This was the first time I met you. I am grateful to be in the top 5 despite being a wildcard. If I win it would be good and if I don't it's okay I got the love of all". Right before the grand finale, Abhishek Malhan was hospitalised due to a viral infection. But, he was called into the Bigg Boss OTT 2 house as the finalists stuck together in the deciding moment as evictions followed.
Earlier, Elvish and Manisha Rani swayed the audience with their dance performance which was pre-recorded. Abhishek didn't perform because of his infection. Hence, Elvish and Manisha paid tribute to Abhishek as he was sick and couldn't perform. They had a paper cutout of Abhishek. The grand finale of the show clocked 70 lakh views as the fight for the winner raged. The grand finale opened to much fanfare as Bollywood superstar and show host Salman Khan shook a leg along with the former contestants of the show and the family members of the finalists.
Sporting a burnt orange jacket, a cream-coloured t-shirt and a pair of denims, the Bollywood superstar looked dapper. He engaged in a lot of fun banter with the former contestants. Pooja Bhatt, became the first finalist to get evicted from Bigg Boss OTT 2. During the Grand Finale, Pooja called housemate Bebika Dhurve her "Warrior Princess". Her eviction was followed by Bebika's eviction. The news of Bebika's eviction was broken by her father. After getting evicted she performed the 'Boti Boti' rap as Elvish Yadav gave her the beat from inside the Bigg Boss OTT 2 house.
During the finale, Comedian and television personality, Krushna Abhishek appeared twice on the show as he left everyone in splits as he assumed the avatar of Jackie Shroff or Bollywood's Jaggu Dada and second with his avatar as Dharmendra. He also cracked jokes on Badshah's footwear choices as he said, "We place our shoes in the cupboard but, Badshah has to park his shoes in the garage". Bigg Boss OTT 2 is streamed on JioCinema. (IANS)