World Cup 2023 Final: From Kareena Kapoor, Rashmika Mandanna to Ranveer Singh, celebs stand by team India as Australia lifts trophy
Updated: Nov 20, 2023, 9:26 AM
|
Published: Nov 20, 2023, 7:51 AM
Follow Us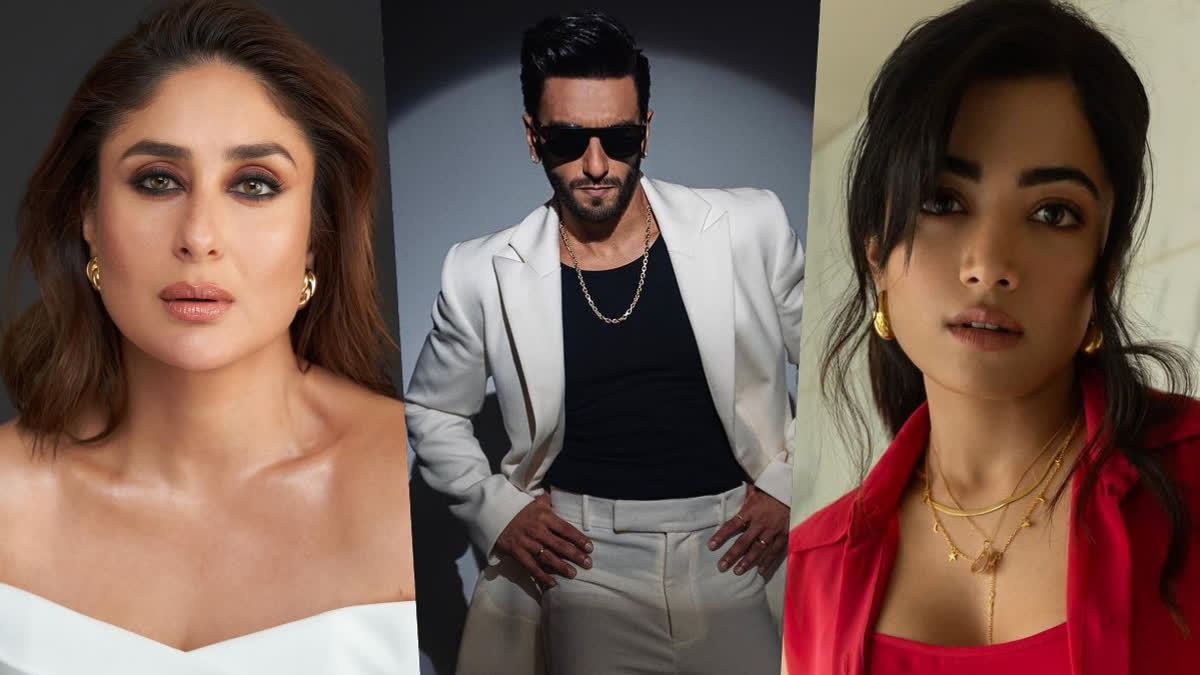 World Cup 2023 Final: From Kareena Kapoor, Rashmika Mandanna to Ranveer Singh, celebs stand by team India as Australia lifts trophy
Updated: Nov 20, 2023, 9:26 AM
|
Published: Nov 20, 2023, 7:51 AM
Follow Us
Hyderabad: In spite of a commendable performance against Australia in the final of the World Cup 2023, Team India faced defeat. Numerous B-town celebrities took to social media platforms to express their support for Team India. Bollywood celebs like Kareena Kapoor Khan, Shah Rukh Khan, who was also at the stadium along with Ranveer Singh shared heartfelt wishes for team India for giving their all and giving a tough competition to Aussies.
The way the Indian team has played this whole tournament is a matter of honour and they showed great spirit and tenacity. It's a sport and there are always a bad day or two. Unfortunately it happened today….but thank u Team India for making us so proud of our sporting legacy in…

— Shah Rukh Khan (@iamsrk) November 19, 2023
After Team India's loss to Australia in the World Cup, Bollywood celebrities applauded and praised the Indian cricket players. A multitude of celebrities including Shah Rukh Khan, Gauri Khan, Ranveer Singh, Deepika Padukone, Ayushmann Khurrana, and Shanaya Kapoor were present at the stadium to boost Team India. Although Team India exhibited an exceptional performance against Australia, they lost the match by six wickets. Shortly after the conclusion of the game, numerous Bollywood stars lauded Team India's efforts and expressed their pride in their journey during the World Cup 2023.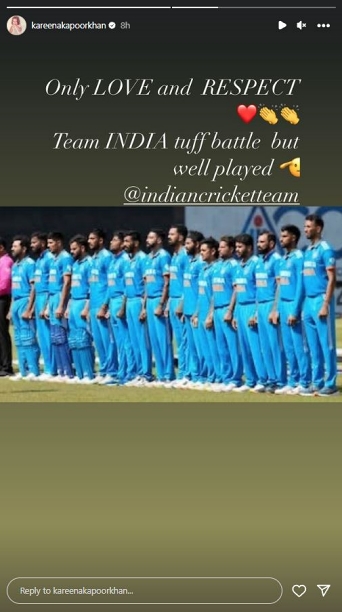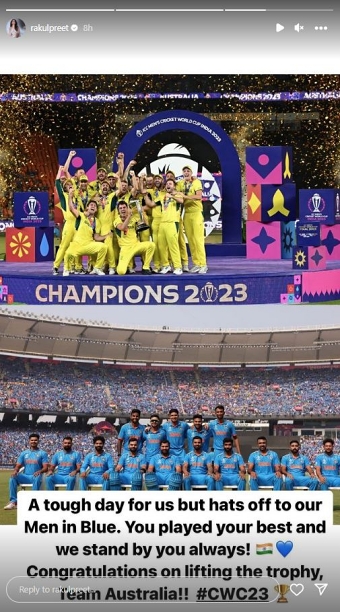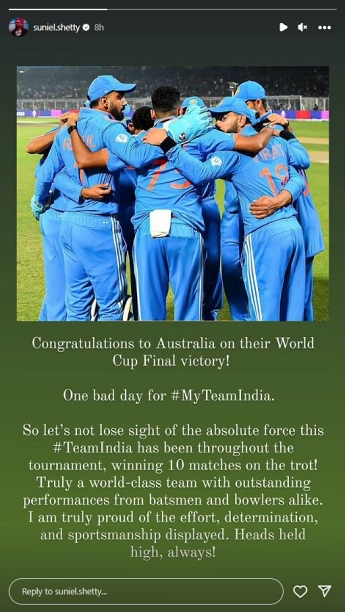 Taking to Instagram Stories, Kareena Kapoor wrote: "Only LOVE and RESPECT. Team INDIA tuff battle but well played." Pan-India actor Rashmika Mandanna took to her Instagram handle and shared a picture of the 'Men in Blue' and wrote "Thank you." Similarly, actor Ranveer Singh applauded the team writing, "Some highs, some lows. Some good days, some bad days. Some wins, some losses. That's sport. That's life. We are all gutted, but let's applaud our boys for giving it their all."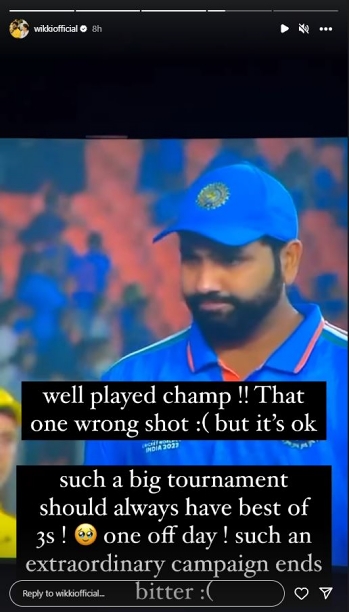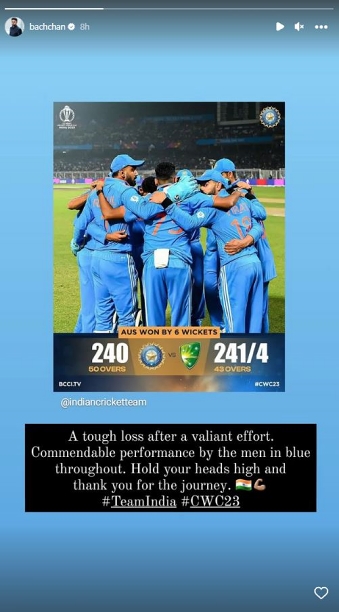 Congratulations Australia.
Well played India.

— Vivek Ranjan Agnihotri (@vivekagnihotri) November 19, 2023
On X (formerly known as Twitter), Ajay Devgn wrote, "India, your unwavering spirit throughout the championship was a triumph in itself... Hold your heads high." Kajol shared on Instagram, "Well played, Team India. Congratulations to Australia on yet another World Cup!"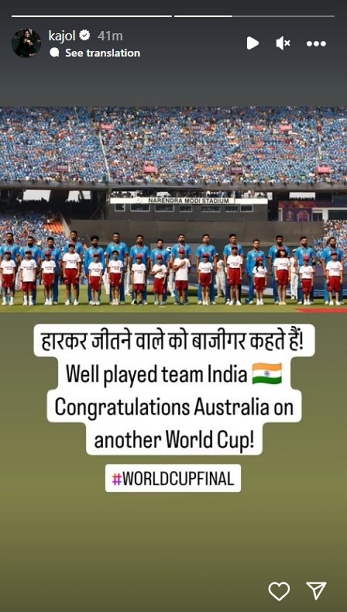 Anupam Kher shared his mother's reaction to India's defeat. He shared on Instagram, "One of them had to win. Mom's analysis of today's game! She watched the entire match. Her words were philosophical and comforting. Listen to her! Her words will bring solace! However, I can't deny that like every Indian around the world, I am disappointed. We performed exceptionally well throughout the tournament. Truly played like champions! Thank you, #TeamIndia, for the delight and the sense of pride you instilled in us during this #WorldCup. Jai Ho! Jai Hind!"
This encounter marked the second time India and Australia clashed in the ICC ODI World Cup 2023. The two teams faced each other earlier on October 8, with India emerging victorious by six wickets. India entered their fourth ODI World Cup final with the intention of avenging their loss in the 2003 final. However, Rohit Sharma's men were unable to halt the Australian juggernaut in Ahmedabad.