Watch: Ranbir Kapoor puts Rashmika Mandanna in a spot as he asks to choose between him and Vijay Deverakonda on Unstoppable with NBK

Published: Nov 18, 2023, 4:27 PM
Follow Us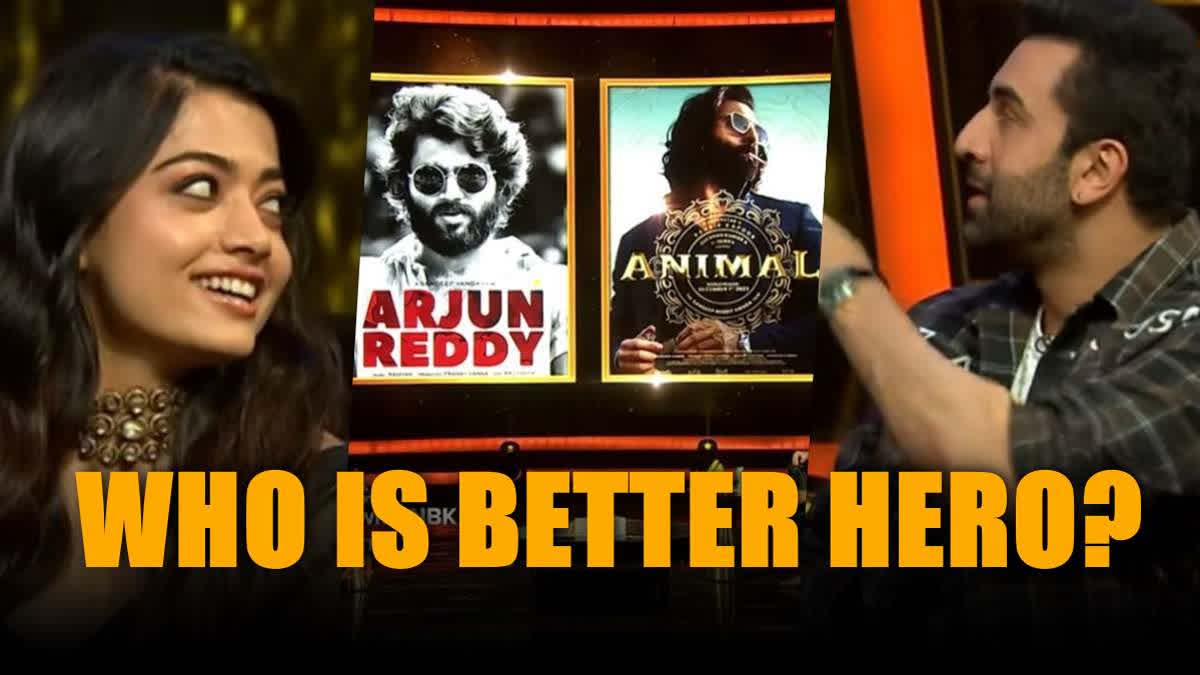 Watch: Ranbir Kapoor puts Rashmika Mandanna in a spot as he asks to choose between him and Vijay Deverakonda on Unstoppable with NBK

Published: Nov 18, 2023, 4:27 PM
Follow Us
Hyderabad: Ranbir Kapoor, accompanied by Rashmika Mandanna and director Sandeep Reddy Vanga, is set to grace the stage of Balakrishna's show, Unstoppable Season 3, to promote his upcoming movie, Animal. The latest promo of the episode, now available, showcases intriguing moments from the upcoming appearance. For those unfamiliar, Nandamuri Balakrishna, also known as Balayya, embarked on his journey as a talk show host with Unstoppable with NBK, available for streaming on the Aha OTT platform.
In the recently shared promo, Ranbir Kapoor engages Rashmika Mandanna in a playful moment, asking her to pick between himself and Vijay Deverakonda, and later joins Telugu superstar Nandamuri Balakrishna in a lively bhangra session. The episode promises a delightful mix of interactions. Ranbir Kapoor, conversing in Telugu, shares dialogue from Balakrishna's 2014 film Legend: "Flute jinka mundu voodhu, simham mundu kaadhu." Additionally, the duo showcases their dance moves on the title track of Balakrishna's 2017 film Paisa Vasool.
The promo also hints at intriguing moments, such as Sandeep Reddy Vanga's reaction upon seeing posters of Animal and his earlier film Arjun Reddy, starring Vijay Deverakonda. Furthermore, Ranbir encourages Balakrishna to inquire about Rashmika's favorite actor between himself and Vijay. In a light-hearted exchange, Rashmika receives a call and blushes as a voice, speculated to be Vijay's, says, "Whatsup re", sparking fan speculation about their rumored relationship.
Ranbir also shares a tidbit about the Animal team pondering the storyline of Pushpa: The Rule, the sequel to the 2021 blockbuster Pushpa: The Rise, in which Rashmika stars alongside Allu Arjun. He mentions, "Through the making of Animal, we kept guessing the story of Pushpa 2." The conversation takes an amusing turn when Ranbir jests about frequently checking someone's social media profile other than his wife Alia Bhatt's, playfully indicating towards Rashmika Mandanna.
Animal, featuring Anil Kapoor, delves into the dynamics of a toxic father-son relationship and is slated for release on December 1. The film will have a release clash with Vicky Kaushal starrer Sam Bahadur. Helmed by Meghna Gulzar, Sam Bahadur brings the life and times of India's first Field Marshal Sam Manekshaw onto the screen.