Watch: Rajinikanth meets Malaysia's Prime Minister Anwar Ibrahim, latter stuns actor with Sivaji The Boss move

Published: Sep 12, 2023, 7:07 PM
Follow Us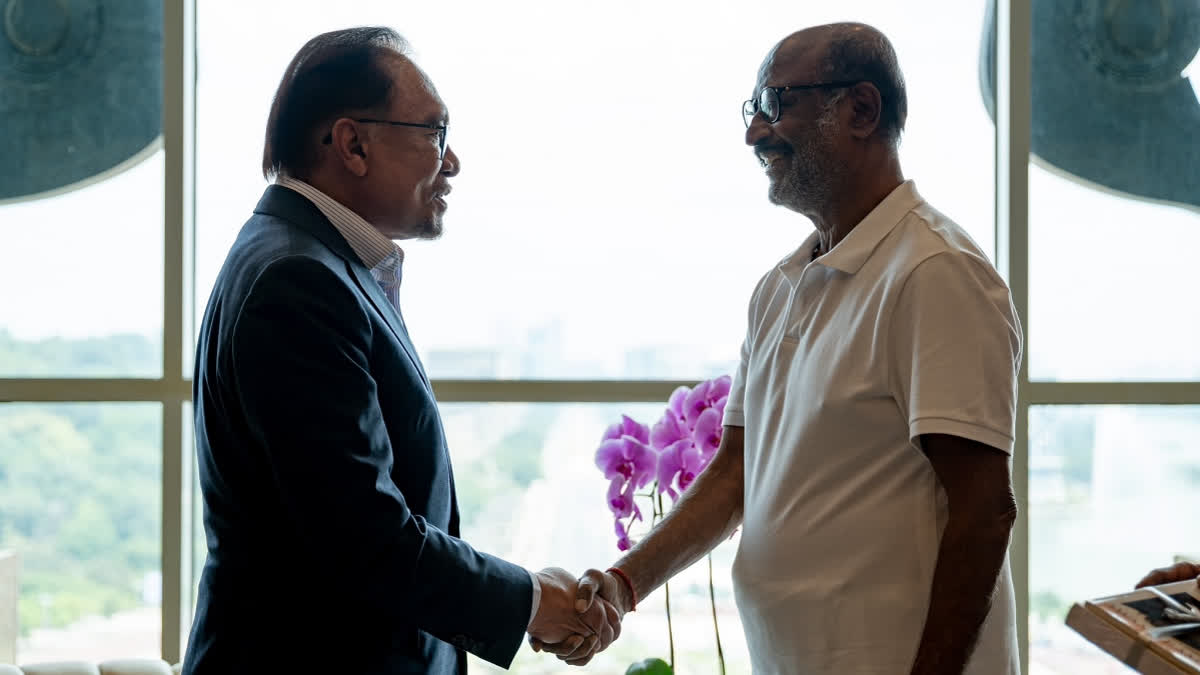 Watch: Rajinikanth meets Malaysia's Prime Minister Anwar Ibrahim, latter stuns actor with Sivaji The Boss move

Published: Sep 12, 2023, 7:07 PM
Follow Us
Hyderabad: Rajinikanth, the Tamil superstar, recently met Malaysian Prime Minister Anwar Ibrahim. The politician took to X to share about their meeting, as well as dropped some photos of them.
"Today I received a visit from Rajinikanth, an Indian film star who is well-known in the Asian and international art worlds. I appreciate his consideration for my struggle, especially in light of the subject of people's sorrow and suffering. Things that were lightly addressed were undoubtedly relevant to the societal issues that I hope to include in his future works. We wish Rajinikanth continued success. Wishing Rajinikanth continued success in the film world," he wrote in his post.
Hari ini saya menerima kunjungan bintang filem India, Rajinikanth yakni satu nama yang tidak asing lagi di pentas dunia seni asia dan antarabangsa.

Saya hargai penghormatan yang diberikan beliau terhadap perjuangan saya khasnya terkait isu kesengsaraan dan penderitaan rakyat.… pic.twitter.com/Sj1ChBMuN6

— Anwar Ibrahim (@anwaribrahim) September 11, 2023
Rajinikanth was dressed casually in a white shirt and dhoti, whereas Anwar Ibrahim was dressed officially in a suit. The Malaysian PM made a quick move that reminded fans of Rajinikanth's flick Sivaji The Boss when Rajinikanth approached him with an extended hand. The actor burst out laughing at his gesture.
PM Terima Kunjungan Bintang Filem India, Rajinikanth di Putrajaya

PM hargai penghormatan yang diberikan oleh Rajnikanth terhadap perjuangan PM yang berkait dengan isu kesengsaraan dan penderitaan rakyat. pic.twitter.com/4vgUsm4Feb

— Malaysian Update🇲🇾 (@Msia_Update) September 12, 2023
Maran also gifted Nelson and Anirudh Porsche cars upon the film's humongous success. Going forward, Rajinikanth will be next seen in Lal Salaam, in which he makes a cameo. The film is helmed by his daughter Aishwarya Rajinikanth. He also has Gnanavel, a film directed by Jai Bheem.