Watch: Ektaa Kapoor gets emotional as she wins International Emmy Directorate Award, says 'This is for you India'

Published: Nov 21, 2023, 1:10 PM
Follow Us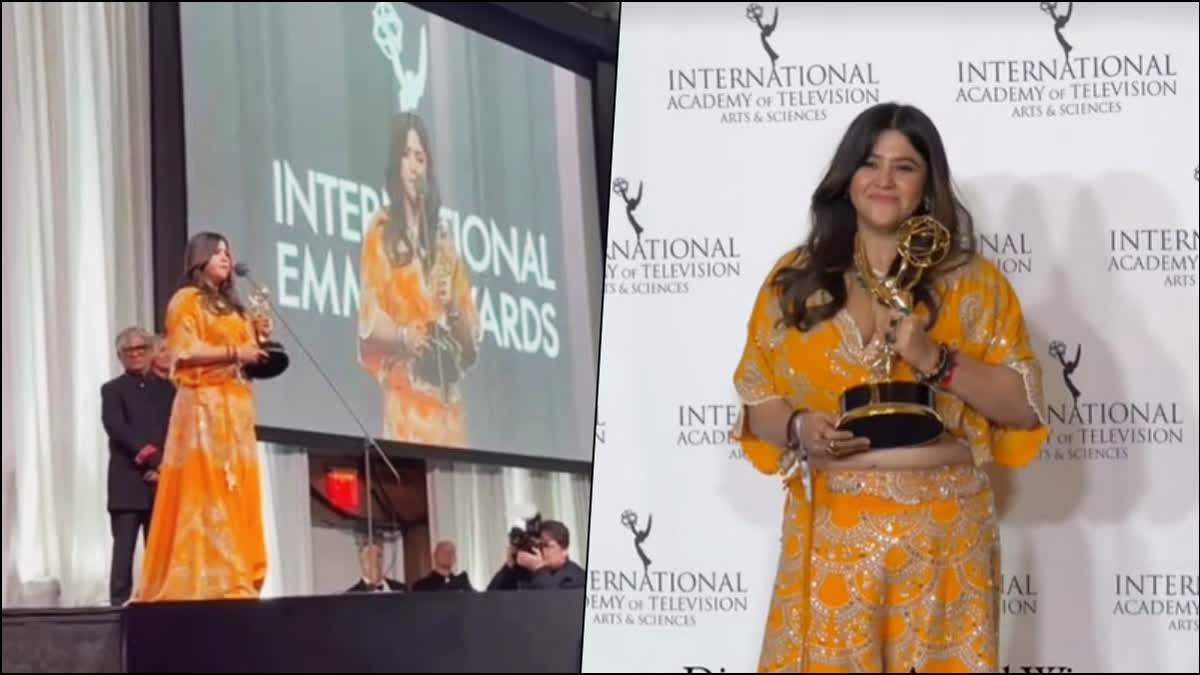 Watch: Ektaa Kapoor gets emotional as she wins International Emmy Directorate Award, says 'This is for you India'

Published: Nov 21, 2023, 1:10 PM
Follow Us
Hyderabad: The prestigious International Emmy Directorate Award was won by Ektaa Kapoor, making her the first Indian to achieve this honour. Deepak Chopra, on the esteemed platform of the 51st International Emmy Awards' World Television Festival 2023 in New York, presented the award to her on November 20 (November 21 in India). Overwhelmed with emotions, Ektaa expressed her gratitude towards India by stating, "This award is for you India."
On Tuesday, Ektaa shared a video of her speech at the event on Instagram, accompanied by the caption, "Parts of the speech (followed by a heart emoji) @iemmys." She commenced her speech by extending her gratitude to her mother, with whom she embarked on this journey in the industry. She further thanked her father, brother, and son. "I'd also like to thank my father and my brother, who are currently babysitting my son. I'd like to thank my son and nephew - Laksh and Ravi - who taught me the toughest paths can sometimes lead you to magic," she said.
Continuing with her expressions of gratitude, she thanked her friends and colleagues in the industry. Ektaa concluded her speech by saying, "But above all, I'd like to thank my country India. It's time I humanise you India - because I find a reflection of me - you've been pulled, pushed, conquered, ruled, and as you found your freedom, you found your voice. This award is for you India - to my motherland - I am bringing home your Emmy."
Recognized as one of the most accomplished producers in the industry, Ektaa's victory goes beyond personal triumph. It serves as recognition for her groundbreaking and unconventional work, consistently delivering content that resonates with a diverse and extensive audience for decades. Ektaa has been a prominent figure in Indian television since the establishment of Balaji in 1994. Under the Balaji banner, she has conceptualized and produced over 17,000 hours of television content and 45 films.