Nayanthara birthday special: Top 5 films of Lady Superstar of South cinema to binge watch
Updated: Nov 18, 2023, 11:35 AM
|
Published: Nov 17, 2023, 8:07 PM
Follow Us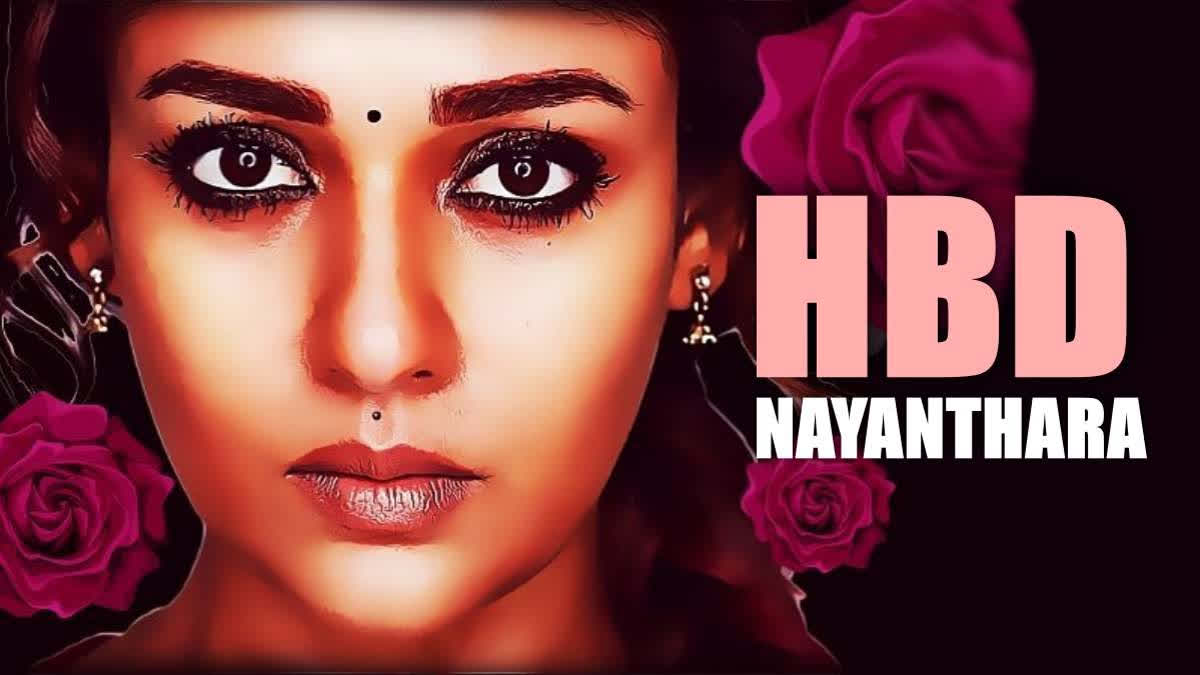 Nayanthara birthday special: Top 5 films of Lady Superstar of South cinema to binge watch
Updated: Nov 18, 2023, 11:35 AM
|
Published: Nov 17, 2023, 8:07 PM
Follow Us
Hyderabad: Born and raised in Karnataka, Nayanthara embarked on a journey through various cities like Bangalore, Delhi, and Gujarat before finally settling down in Thiruvalla, Kerala. During her early years, she kickstarted her professional career as an anchor and model, setting the stage for a successful path that would soon capture the hearts of audiences throughout the country.
Often referred to as the 'Lady Superstar' of South cinema, Nayanthara has recently left an indelible mark in the Bollywood industry with her debut film Jawan in 2023. Originally named Diana Mariam Kurian, she was born in Karnataka to Malayali parents. Nayanthara's transition from the South Indian film industry to Bollywood is a testament to her talent, determination, and triumph. As the actor celebrate her birthday on November 18, this is an opportune moment to delve into the incredible trajectory of Nayanthara's career.
The spotlight on Nayanthara shone even brighter when she made her highly anticipated Bollywood debut in 2023 with Jawan. This film not only showcased her versatility but also marked a significant milestone in her career. By collaborating with the iconic Shah Rukh Khan in her inaugural Hindi venture, Nayanthara effortlessly blended elements of romance and action, leaving an enduring impression on the hearts of audiences.
Nayanthara's acting journey began two decades ago with the Sathyan Anthikad directorial Manassinakkare, in which she starred alongside Jayaram and Sheela. Throughout the years, she delivered remarkable performances in films like Ghajini, Chandramukhi, Rappakal, Jawan, Naanum Rowdydhaan, and Aramm, among others. Her upcoming project, Annapoorani: The Goddess of Food, will feature her alongside Sathyaraj and K.S. Ravikumar.
Ahead of her birthday on November 18, we deem it an opportune moment to reflect upon several of her exceptional works, which can now be enjoyed through OTT streaming platforms. Below, you will find a list of Nayanthara's indispensable cinematic gems that warrant your undivided attention.
1. Kolamavu Kokila - Zee5
Considered one of Nayanthara's critically acclaimed films, Kolamaavu Kokila showcases her as Kokila, a young woman who enters the world of drug trafficking to support her ailing mother. This comedy thriller is a must-watch for a weekend.
Despite receiving mixed reviews upon its release, Maya emerged as one of the highest-grossing Tamil films in 2015. In this horror thriller, Nayanthara portrays the role of a single mother, delivering a natural and commendable performance. Directed by Ashwin Saravanan, the film also features Aari Arujunan, Azmath Khan, and Uday Mahesh. It received such love and admiration that it was even remade in Kannada as Aake.
3. Aramm - Amazon Prime Video
Released in 2017, Aramm showcases Nayanthara as a district collector. Undoubtedly, this film stands as one of the most exceptional performances of Nayanthara's career.
4. Imaikkaa Nodigal - Amazon Prime Video
Anurag Kashyap and Raashii Khanna make their Tamil cinema debuts in this action thriller. The film was a commercial hit at the box office and was largely praised by reviewers and audiences alike.
Nayanthara, Sathyaraj, Anupam Kher, and Vinay Rail star in this Tamil supernatural horror movie from 2022. Both critics and fans had differing opinions on the film when it first came out.