Mansoor Ali Khan hits back at SIAA, rejects apology demand over remarks on Trisha

Published: Nov 21, 2023, 2:02 PM
Follow Us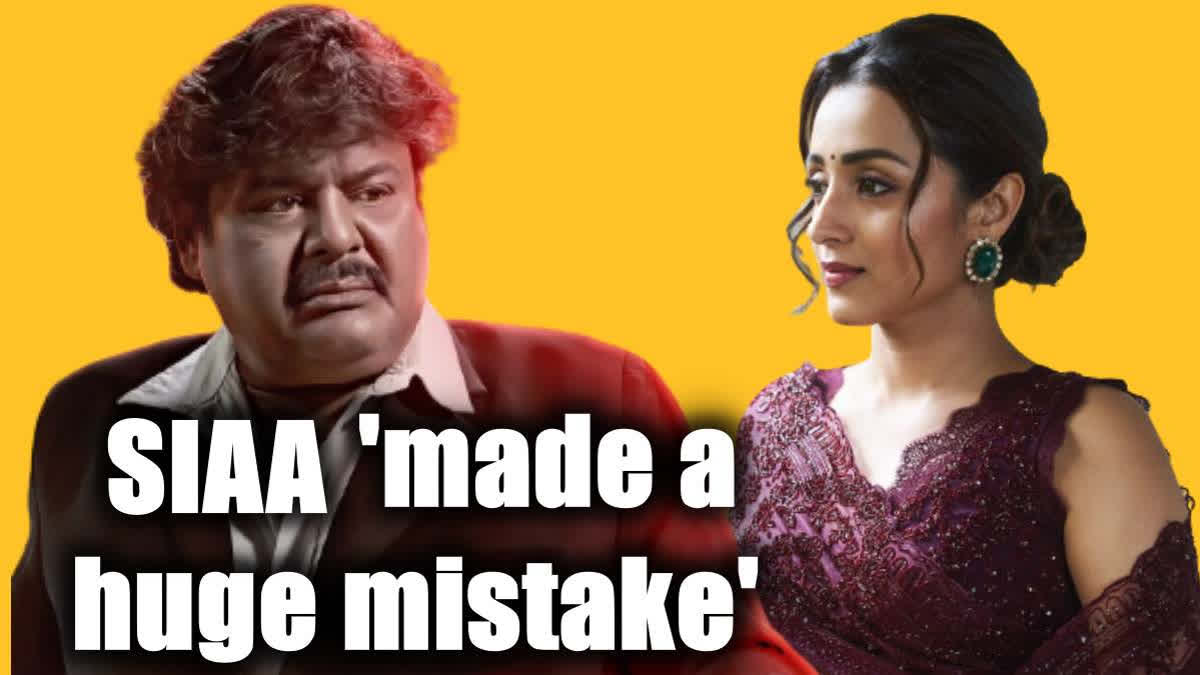 Mansoor Ali Khan hits back at SIAA, rejects apology demand over remarks on Trisha

Published: Nov 21, 2023, 2:02 PM
Follow Us
Hyderabad: Mansoor Ali Khan has responded to the recent controversy regarding his statements about his co-star Trisha Krishnan, stating that he did not intend any offense towards her and criticising the South Indian Artistes' Association (SIAA), also known as Nadigar Sangam, for their actions without seeking his explanation. Khan mentioned that he cannot offer an apology regarding this matter.
The SIAA, on the other hand, strongly denounced Khan's remarks as sexist and disrespectful towards Trisha and other actresses. They demanded a public apology and considered temporarily suspending Khan's membership until an apology was issued.
A recent video has come to my notice where Mr.Mansoor Ali Khan has spoken about me in a vile and disgusting manner.I strongly condemn this and find it sexist,disrespectful,misogynistic,repulsive and in bad taste.He can keep wishing but I am grateful never to have shared screen…

— Trish (@trishtrashers) November 18, 2023
Despite the demand for an apology, Khan expressed reluctance and criticized the SIAA for what he deemed a significant error on their part. He urged them to retract the actions taken against him.
Addressing the media in Chennai on Tuesday, Khan reiterated that he did not speak ill of Trisha and instead praised her. He expressed dissatisfaction with the SIAA's decision, claiming that they should have sought clarification from him before taking action. Khan firmly asserted his stance, stating that he was not one to apologize and hinted at potential repercussions if the situation escalated.
During the press conference, Khan also questioned the actors' association's understanding of certain cinematic nuances and also took a swipe at the National Commission for Women for what he perceived as selective action regarding similar incidents in the past.
My attention was drawn to some reprehensible comments made by actor Mansoor Ali Khan about Trisha.

The comments are distasteful and disgusting not just for an Artiste but for any woman or girl. These comments must be condemned in the strongest words. They reek of perversion.…

— Chiranjeevi Konidela (@KChiruTweets) November 21, 2023
He demanded the withdrawal of the statement made by the Actors' Association within a specific timeframe, indicating his intention to respond subsequently. Khan reiterated his stance of praising Trisha and denied speaking negatively about any individual.
SIAA President M Nasser emphasised Khan's responsibility to apologise publicly to the actresses involved, stating the association's unwavering support for them. The forum condemned Khan's comments as disrespectful and condemned his sexist remarks purportedly made in the name of comedy.
The National Commission for Women is deeply concerned about the derogatory remarks made by actor Mansoor Ali Khan towards actress Trisha Krishna. We're taking suo motu in this matter directing the DGP to invoke IPC Section 509 B and other relevant laws.Such remarks normalize…

— NCW (@NCWIndia) November 20, 2023
Trisha Krishnan, in a strong social media statement, criticized Khan's comments as sexist, disrespectful, and repulsive. The controversy arose in connection with their collaboration in the recent hit movie Leo. Trisha's condemnation prompted various celebrities, including Actor and BJP functionary Khushbu Sundar, Leo director Lokesh Kanagaraj, superstar Chiranjeevi, CEO of AGS Cinemas Archana Kalpathi, singer Chinmayi Sripaada, director Karthik Subbaraj, to support her and denounce Khan's behaviour.
In response to the backlash, Khan defended himself in a statement, asserting his longstanding respect for actresses and attributing the controversy to 'vested interests' misrepresenting his comments.