Mammootty's wit shines as he responds to a query about most anticipated Mohanlal film

Published: Nov 20, 2023, 4:38 PM
Follow Us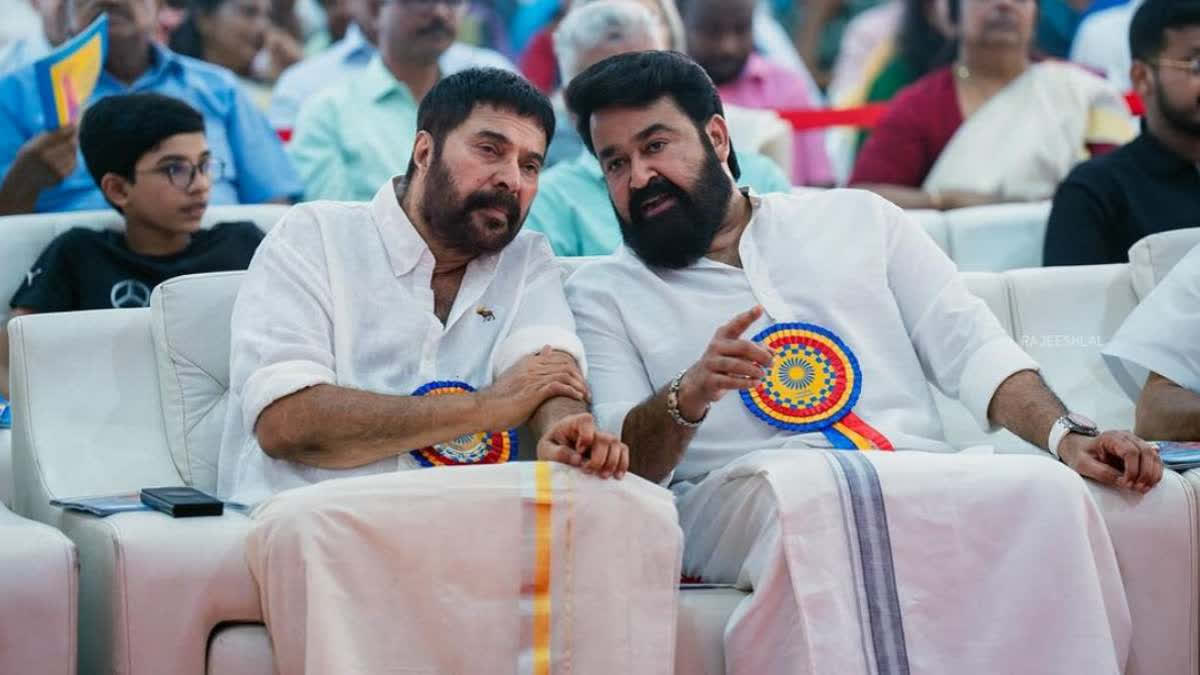 Mammootty's wit shines as he responds to a query about most anticipated Mohanlal film

Published: Nov 20, 2023, 4:38 PM
Follow Us
Hyderabad: Malayalam screen icon Mammootty is gearing up for the release of his upcoming film Kaathal – The Core. During promotions of the film in Kochi, the superstar indulged in lighthearted banter with the media as he got quizzed about whether he was eagerly anticipating any specific Mohanlal movies.
During Kerala's 67th state anniversary celebration at the Keraleeyam event, attention centered on photos that went viral. These images featured Malayalam film industry icons Mammootty and Mohanlal seated together, both clad in traditional white shirts and dhotis. The actors themselves shared these photos on their social media.
While promoting his upcoming movie Kaathal – The Core in Kochi, Mammootty talked about his time with Mohanlal at the Keraleeyam event. He mentioned that their conversation didn't focus much on their upcoming projects, as they had a lot of other topics to discuss. When asked if he was looking forward to any particular Mohanlal movies, Mammootty nodded in agreement without mentioning any specific titles. He mentioned his habit of watching all movies consistently and teasingly quizzed the reporter with a friendly smile, "Are you a Lal fan?" This lighthearted comment sparked laughter among those present.
Discussing the impact of movie reviews on a film's success, the septuagenarian superstar expressed that while everyone has the right to voice their opinions, a single review shouldn't determine the fate of a movie. "Every review reflects an individual's viewpoint. I don't think stopping reviews would save cinema. The destiny of a movie is determined by the audiences. As I've mentioned before, we all have the right to exercise freedom of speech and express our opinions. However, the opinions we express should be our own," said the superstar while promoting Kaathal – The Core.
Currently preparing for the release of Kaathal – The Core alongside Jyotika, Mammootty has a packed lineup with movies like Yatra 2, Bazooka, Bramayugam, and Turbo. Kaathal – The Core, scripted by Adarsh Sukumaran and Paulson Skaria and produced by Mammootty Kampany, is set to hit screens on November 23.