Koffee With Karan Season 8: Varun Dhawan-Sidharth Malhotra back on show after almost a decade, Vicky Kaushal wants Shuddhi back on track

Published: Nov 19, 2023, 5:55 PM
Follow Us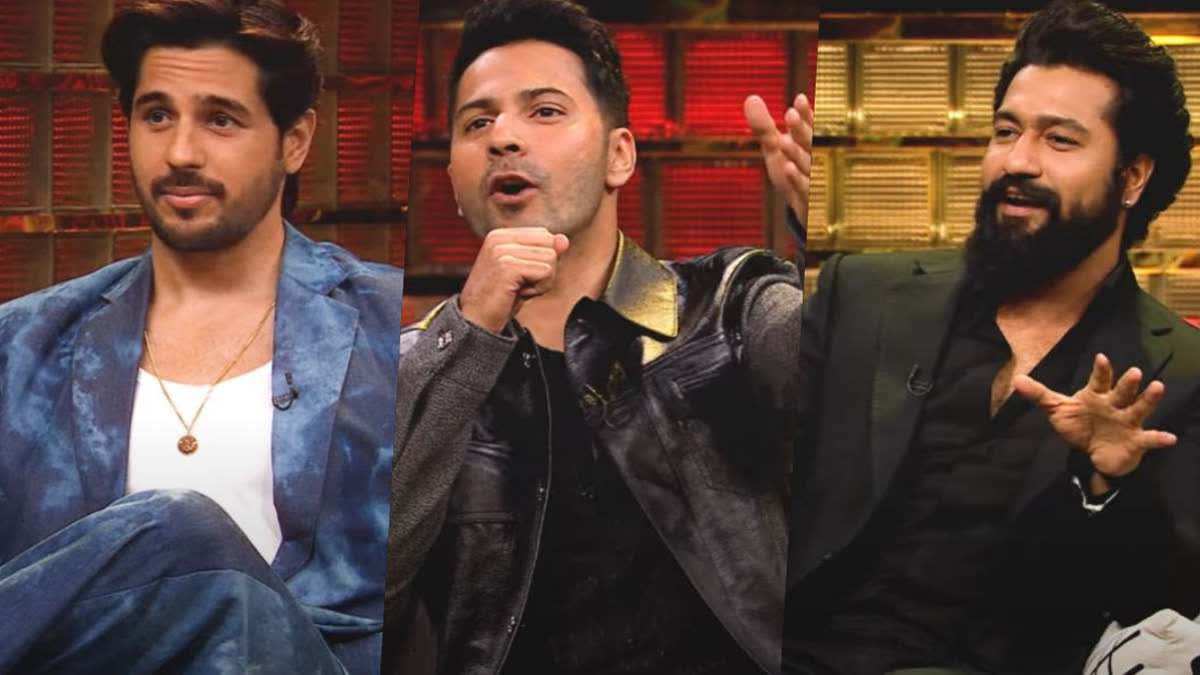 Koffee With Karan Season 8: Varun Dhawan-Sidharth Malhotra back on show after almost a decade, Vicky Kaushal wants Shuddhi back on track

Published: Nov 19, 2023, 5:55 PM
Follow Us
Hyderabad: After four engaging episodes of Koffee with Karan Season 8, the makers are all set to treat fans to some more tea as the show's host Karan Johar will pursue celebrity pairs to spill the beans. The talk show is now gearing up to host the charismatic duo Varun Dhawan and Sidharth Malhotra. The recently released promo offers a sneak peek into their lively banter, discussing relationships, sharing revelations, and even creating a new moniker for the host who introduced them with Student of the Year in 2012.
Karan Johar, after unveiling the 'big guest reveal' a few weeks ago, has dropped another promo for Koffee with Karan Season 8. The latest promo features Sidharth Malhotra, Varun Dhawan, Rani Mukerji, Kajol, Janhvi Kapoor, Ajay Devgn, and Vicky Kaushal, hinting at their appearances in the upcoming episode.
The next episode promises entertainment as actors Varun Dhawan and Sidharth Malhotra take the spotlight on the notorious couch. Varun sported a stylish black casual outfit with a leather jacket, while Sidharth charmed in a blue blazer paired with a white t-shirt and jeans.
In the promo, Kajol amusingly mimics Karan, saying, "I am doing Koffee with Karan, please come on my show." There's also a witty exchange where Karan asks Sidharth, "One thing Varun has that you don't?" To which Sidharth quips, "A big a**." Vicky Kaushal, who is set to appear on the show with Kiara Advani, humorously mentions he's there for Shuddhi, a derailed project that was backed by Karan. In the promo, Vicky is seen saying, "Hum Karan yahan Shuddhi karne aye hai" (We have come here for Shuddhi). Varun adds, "He's Dharma's hero, very delicate."
Captioning the teaser, Karan wrote, "There's a lot more brewing…but are you ready for this 'koffee' to be spilled?" Excited fans anticipate the reunion of their favorite 'students' Varun and Sidharth. One fan expressed, "Waiting for Varun, Vicky, and Rani Mukherjee the most," while another eagerly exclaimed, "Sid and Varun are coming together after SOTY time!"
During an Instagram live session, Karan interacted with fans and hinted at Vicky Kaushal as his next guest but didn't disclose the accompanying person. Reflecting on Varun and Sidharth, he mentioned, "Everyone is saying Varun and Sid. Do you know if Varun and Sid were to come on Koffee's couch, y'all haven't seen them in an interview together in 11 years. So it might be fun to watch them. If at all that rumor is true that you guys are spreading." (Sic)
The preceding episode of Koffee With Karan 8 featured Alia Bhatt and Kareena Kapoor Khan. The show will also feature Kajol, Rani Mukerji, Ajay Devgn, Rohit Shetty, and more in upcoming episodes.