Fans trend Dunki Drop 2 on X after Rajkumar Hirani promises to share Shah Rukh Khan starrer's glimpse as return gift
Updated: Nov 21, 2023, 12:11 PM
|
Published: Nov 21, 2023, 11:46 AM
Follow Us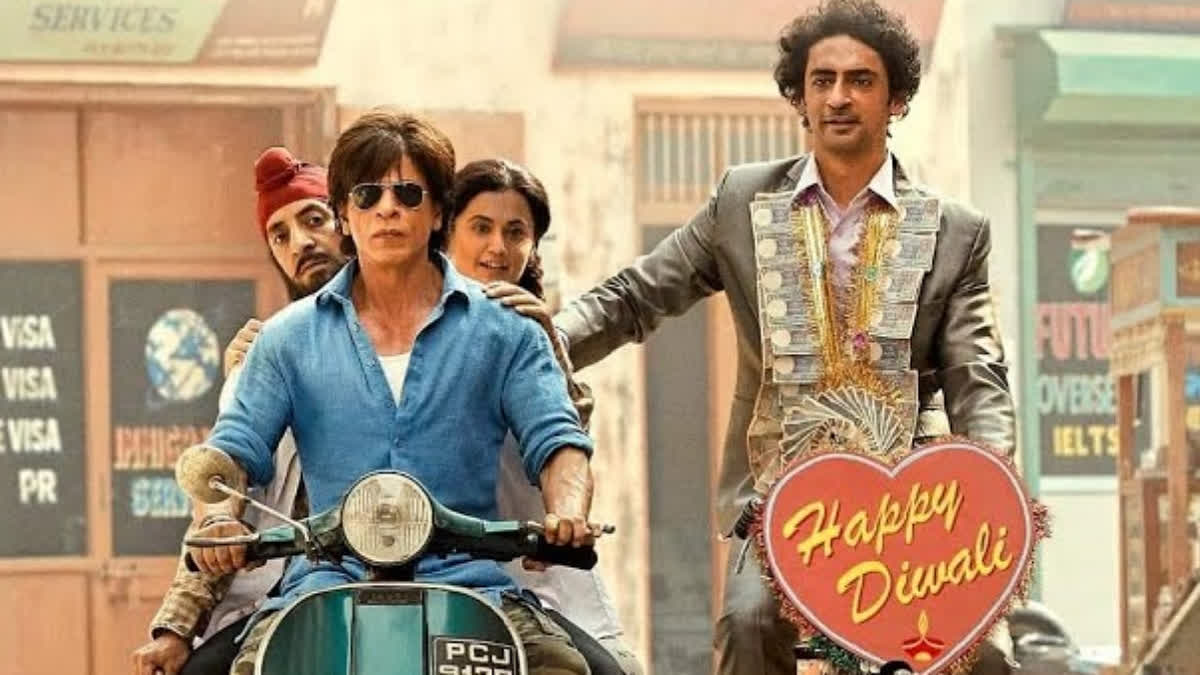 Fans trend Dunki Drop 2 on X after Rajkumar Hirani promises to share Shah Rukh Khan starrer's glimpse as return gift
Updated: Nov 21, 2023, 12:11 PM
|
Published: Nov 21, 2023, 11:46 AM
Follow Us
Hyderabad: Shah Rukh Khan fans are in for a treat as Rajkumar Hirani promises to share Dunki Drop 2 on Wednesday. SRK fans took X (formerly known as Twitter) by storm in anticipation. Coming soon is the much-awaited sequel, Dunki Drop 2, featuring renowned actors Shah Rukh Khan, Taapsee Pannu, Vicky Kaushal, Boman Irani, and more.
Directed by Rajkumar Hirani, this film has generated immense buzz among fans. The release date for Dunki Drop 2 is set for November 22nd. Fans are eagerly anticipating its arrival. According to a reliable source associated with the project, after the success of Dunki Drop 1 and the intriguing posters, the makers have decided to unveil the first song from Dunki titled Lutt Putt Gaya on November 22nd.
Rajkumar Hirani surprised fans with this exciting news, announcing the release date of Dunki Drop 2 on his birthday. He expressed his gratitude on X, writing, "Thank you all for your affection and warm wishes on my birthday. Here is a gift in return for all of you. #DunkiDrop2 dropping on December 22nd, 2023."
Anticipation is already high among audiences for Rajkumar Hirani's upcoming film Dunki as the first song from the film is scheduled to release this week, adding further excitement to the heartwarming world that Hirani is about to present. Witnessing the first melody from Dunki will undoubtedly be a treat for SRK fans. The song is a romantic track titled Lutt Putt Gaya and features soulful yet fun elements, including quirky dance steps that will make everyone groove to its rhythm.
The attention-grabbing music video unit from Dunki Drop 1 has already raised the excitement level. Following that, the makers unveiled captivating posters, providing the audience with a broader glimpse into the film's charming world, filled with love, friendship, and nostalgic homely vibes. With the release of the first song, Lutt Putt Gaya, this week, the makers are all set to embark on a musical journey.
Dunki boasts of an ensemble cast, with talented actors such as Boman Irani, Taapsee Pannu, Vicky Kaushal, Vikram Kochhar, and Anil Grover alongside Shah Rukh Khan, portraying colorful characters. Dunki is a joint production of Red Chillies Entertainment and Rajkumar Hirani Films, produced by Rajkumar Hirani and Gauri Khan. With a screenplay penned by Abhijat Joshi, Rajkumar Hirani, and Kanika Dhillon, the film is scheduled to release worldwide on December 21, 2023, and in India on December 22. Dunki will face competition at the Box Office from Prabhas-starrer Salaar, which is also hitting cinemas on December 22. Salaar, starring Prithviraj Sukumaran, Shruti Haasan, Jagapathi Babu, and Easwari Rao, will be released in Telugu, along with dubbed versions of Kannada, Hindi, Tamil and Malayalam languages.