Anushka Sharma hugs Virat Kohli after team India faces defeat against Australia in World Cup Final

Published: Nov 20, 2023, 9:10 AM
Follow Us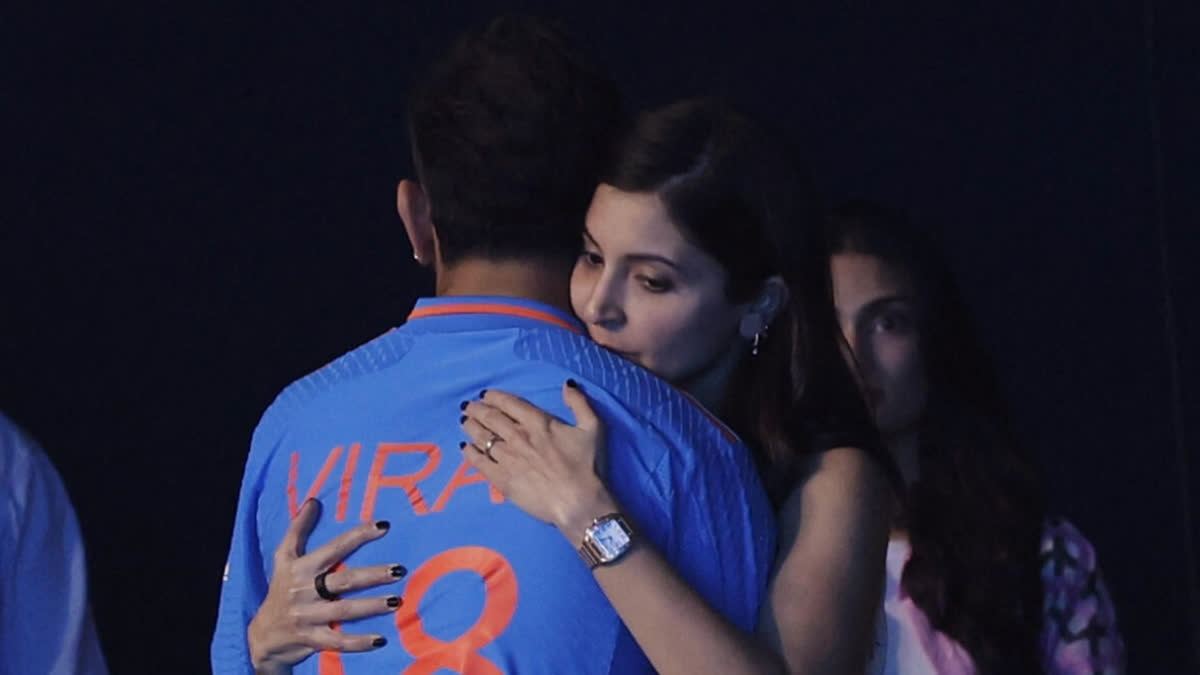 Anushka Sharma hugs Virat Kohli after team India faces defeat against Australia in World Cup Final

Published: Nov 20, 2023, 9:10 AM
Follow Us
Hyderabad: In a viral picture shared on Instagram, Anushka Sharma can be seen embracing her husband Virat Kohli following India's loss in the Cricket World Cup final against Australia. The heartbreaking match took place on November 19 at Ahmedabad's Narendra Modi Stadium, where Australia emerged victorious by 6 wickets. The nation mourned the defeat with many celebrities coming out in support of Team India's efforts so far.
A picture capturing Anushka and Virat's embrace spread like wildfire on social media. The picture from inside the stadium went viral, depicting Anushka Sharma consoling her husband Virat Kohli after India's defeat in the World Cup final against Australia. The image showcases Anushka offering solace to her disappointed partner, former Indian skipper Virat Kohli.
In another picture, Anushka and Athiya Shetty appear glum as India succumbs to defeat against Australia in the final match. Prime Minister Narendra Modi took to Twitter, offering words of motivation and commending Team India for their exceptional talent and unwavering determination throughout the World Cup. He expressed solidarity with the team, emphasizing their remarkable spirit and the immense pride they brought to the nation.
Shah Rukh Khan penned a heartfelt message applauding the Indian team's performance in the tournament, praising their spirited efforts and resilience. He acknowledged that setbacks can occur in sports, but thanked Team India for their outstanding representation of our cricketing legacy, which fills the entire nation with joy and pride. The message conveyed deep love and respect, emphasizing that they remain a source of immense pride for the entire nation. Various Bollywood celebrities also expressed their support for Team India in the wake of their tragic defeat in the World Cup final.