Matthew Perry's journey: From desperate prayers to portraying Chandler Bing and delivering the iconic closing line of Friends' finale

Published: Oct 29, 2023, 7:15 PM
Follow Us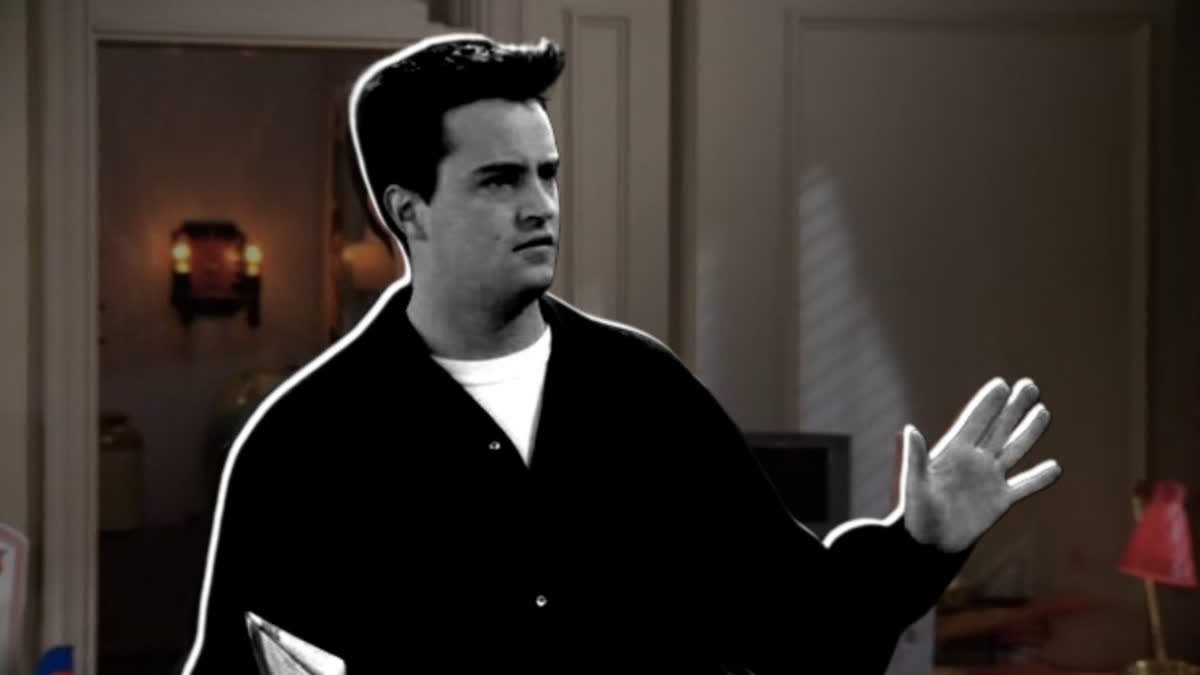 Matthew Perry's journey: From desperate prayers to portraying Chandler Bing and delivering the iconic closing line of Friends' finale

Published: Oct 29, 2023, 7:15 PM
Follow Us
Hyderabad: In the world of television, few characters are as loved as Chandler Bing from the 90s hit series Friends. The man who brought this lovable, sarcastic character to life was Canadian-American actor Matthew Perry. His recent passing at the age of 54 leaves a void in the hearts of fans worldwide who are united in grieving the demise of a 'lost Friend'. Let's take a look at Matthew Perry's journey and how he secured the role of Chandler in Friends and got to say the closing line in the finale of the much-revered show.
Matthew Perry's early life was marked by both talent and adversity. Born on August 19, 1969, in Williamstown, Massachusetts, Perry was the son of John Bennett Perry, an actor, and Suzanne Morrison, a Canadian journalist. His parents' divorce and his mother's subsequent struggles with substance abuse would later influence his life and career.
Perry's early interest in acting led him to join the theater at a young age, and he attended Ashbury College in Ottawa, where he honed his acting skills. However, his journey to stardom was not without its share of setbacks. Before landing the role that would define his career, he appeared in various television shows and films, including a brief stint on the popular series Beverly Hills, 90210.
The turning point in Matthew Perry's career came in the early 1990s when he auditioned for a new sitcom called Friends. As the fans of Friends would know the trivia that Perry initially auditioned for the role of Joey Tribbiani, a character that would eventually go to Matt LeBlanc. However, the show's creators, David Crane and Marta Kauffman, saw something special in Perry and decided to cast him as Chandler Bing.
Perry's path to becoming Chandler Bing on Friends was almost derailed in 1994 when he was in a desperate financial situation. At that time, he had committed to a pilot called LAX 2194, where he played a baggage handler in a futuristic setting. In his 2022 memoir, Friends, Lovers and the Big Terrible Thing, Perry recalled the life-altering opportunity.
Just weeks before his Friends audition, Perry found himself on his knees in his small apartment, praying for a life-altering transformation. His prayer included a plea for fame. Three weeks later, he landed the role on Friends, but his journey also came with its share of challenges, including addiction and health struggles.
Chandler Bing quickly became a fan favorite for various reasons. He was known for his quick wit, razor-sharp humor, and a penchant for sarcasm that made him stand out from the rest of the Friends' ensemble. His comedic timing, impeccable delivery, and signature catchphrases, such as "Could I BE any more...?" and "Sarcasm? That's a surprise," endeared him to fans. His humor served as a constant source of laughter, providing the perfect blend of levity in the face of life's ups and downs.
Friends premiered in 1994 and became a cultural phenomenon. Perry, along with the rest of the ensemble cast, enjoyed immense popularity and critical acclaim throughout the show's ten-year run. The series catapulted him to stardom, and Chandler Bing remains one of the most beloved characters in television history.
While Friends was primarily a sitcom, it didn't shy away from addressing real-life issues and emotions. Chandler's character was no exception. His journey from a commitment-phobic, socially awkward individual to a loving husband and father resonated with many viewers. His struggles with identity, career, and relationships mirrored the experiences of countless people, making him a relatable and sympathetic character.
Chandler's bromance with Ross Geller, played by David Schwimmer, was a highlight of the series. The contrast between Ross's serious demeanor and Chandler's humor created memorable on-screen chemistry. Their relationship showcased the importance of friendship and how humor can be a vital coping mechanism in the face of adversity.
Matthew also got to mouth the last lines which brought down curtains on the show. It is not widely known, but Perry made a special request to the creators of Friends regarding the last line in the series finale. He approached Marta Kauffman, one of the co-creators and executive producers, expressing that he had a personal connection to this particular line. In his memoir, Perry shared his request and how it led to him delivering the closing line of the beloved show.
In the final scene, as Chandler and Monica prepared to move out and raise their children away from the city, the group of six friends shared memories in their apartment. Just before leaving, Rachel inquired if they had time for coffee, to which Chandler humorously responded, "Sure. Where?" This line, given their frequent visits to Central Perk, was a fitting nod to his character's trademark sarcasm and humor.
In the world of entertainment, there are characters who come and go, but only a select few manage to etch their names in pop culture history. Among these unforgettable characters, Chandler Bing will always remain "F.R.I.E.N.D.S" with fans across generations.
On Sunday, Perry, aged 54, was discovered lifeless in his Los Angeles residence's hot tub. The exact cause of his demise remains unknown at this time, but there were no drugs found at the scene, and law enforcement sources do not suspect any foul play. The Los Angeles Police Department's robbery-homicide detectives are currently investigating this tragic incident.