World Suicide Prevention Day 2023: Alarming rise in suicides

Published: Sep 9, 2023, 11:57 PM
Follow Us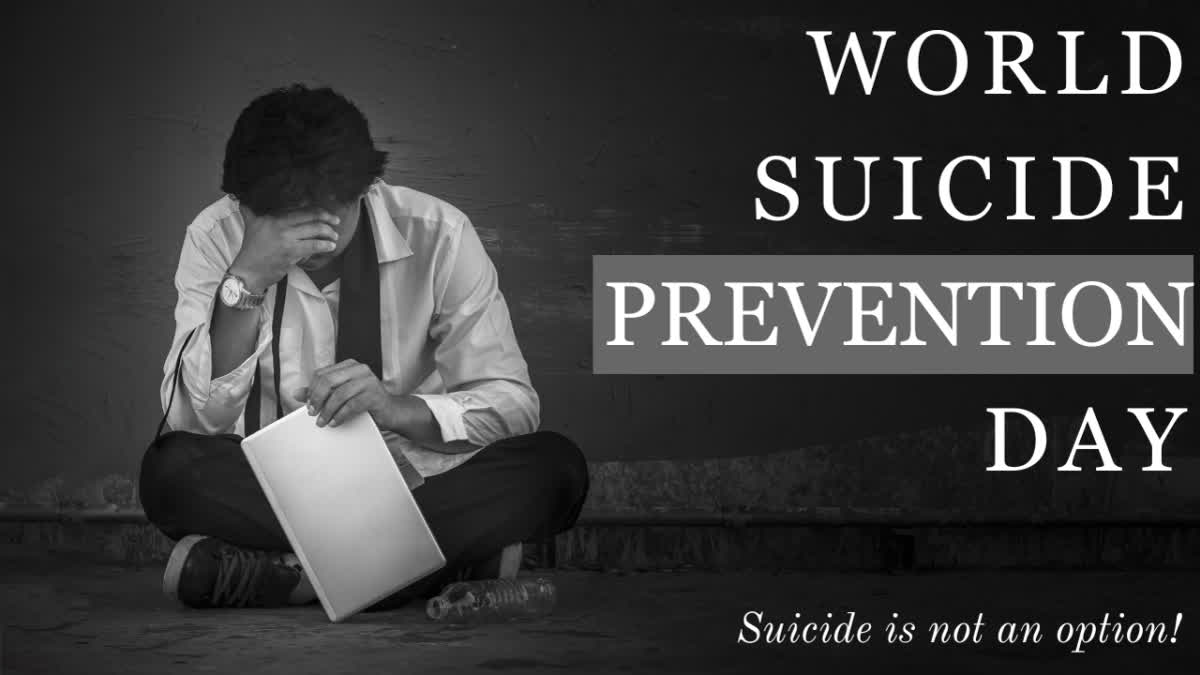 World Suicide Prevention Day 2023: Alarming rise in suicides

Published: Sep 9, 2023, 11:57 PM
Follow Us
Hyderabad: Each suicide is a personal tragedy that prematurely takes the life of an individual and has a continuing ripple effect, affecting the lives of families, friends and communities. Suicides among teenage girls and young women have almost doubled in recent years. It is estimated that there are currently more than 7,00,000 suicides per year worldwide, and we know that each suicide profoundly affects many more people.
World Suicide Prevention Day, observed every September 10th, serves as a global call to action to prevent suicides. This day is marked by a multitude of events and activities designed to raise awareness about the preventable nature of suicide and combat the stigma surrounding mental health.
History- World Suicide Prevention Day was established in 2003 through a collaboration between the International Association for Suicide Prevention and the World Health Organisation(WHO). The day observed on Sept. 10, calls for attention to the issue of suicide, reduce the stigma associated with it, and raise awareness among organisations, governments, and the public, emphasizing the preventability of suicides.
Global Suicide Statistics in 2023
More than 700,000 people die due to suicide each year, highlighting the urgent need for prevention efforts.
For every suicide, there are countless more suicide attempts. Previous suicide attempts significantly increase the risk of subsequent suicides in the general population.
Suicide ranks as the fourth leading cause of death among 15 to 29-year-old people worldwide.
Alarmingly, 77% of suicides occur in low and middle-income countries.
Ingestion of pesticides, hanging, and firearm use remain some of the most common methods of suicide globally.
Suicides in India- With over 1,00,000 suicides occurring annually, India also suffers from a significant suicide problem. Multiple factors contribute to these tragedies, including professional reasons, isolation, abuse, family conflicts, mental health disorders, addiction, financial stress, and chronic pain.
In 2021, a total of 1,64,033 suicides were reported in India, marking a 7.2% increase compared to 2020. The majority of suicides were concentrated in Maharashtra, Tamil Nadu, Madhya Pradesh, West Bengal, and Karnataka, collectively accounting for over half of the total suicides in the country. Remarkably, Uttar Pradesh, despite its high population, reported a relatively lower percentage of suicides compared to its size.
Social Media, Internet, and Adolescent Suicides- A concerning factor contributing to suicides among youths is the overuse of social media platforms. Spending excessive time on these platforms has led to shortened attention spans, heightened stress, and increased anxiety among students. The constant exposure to curated, idealized content on social media can fuel feelings of inadequacy and despair.
Parents' Role in Suicide Prevention- Parents play a very crucial role in identifying signs of mental distress in their children. Listening, empathizing, and encouraging open communication between children and their parents are vital steps in addressing suicide risks. Parents should be vigilant and avoid dismissing concerning behaviour as mere "teenage drama."
India's National Suicide Prevention Strategy- In November 2022, India launched its National Suicide Prevention Strategy (NSPS), with an aim to make suicide prevention a public health priority. The NSPS aims to reduce suicide mortality by 10% by 2030 through an approach that includes enhanced surveillance, the establishment of suicide prevention services at the district level, and integrating mental well-being education into schools.
The alarming rise in suicides, especially among vulnerable populations such as students, demands immediate and comprehensive action. Only through collaborative efforts can we hope to reduce the tragic toll of suicides on individuals, families, and communities around the world.