Pro-Khalistan activist Pannu dispels rumours about his death, appears in video
Updated: Jul 6, 2023, 8:06 PM
|
Published: Jul 6, 2023, 8:00 PM
Follow Us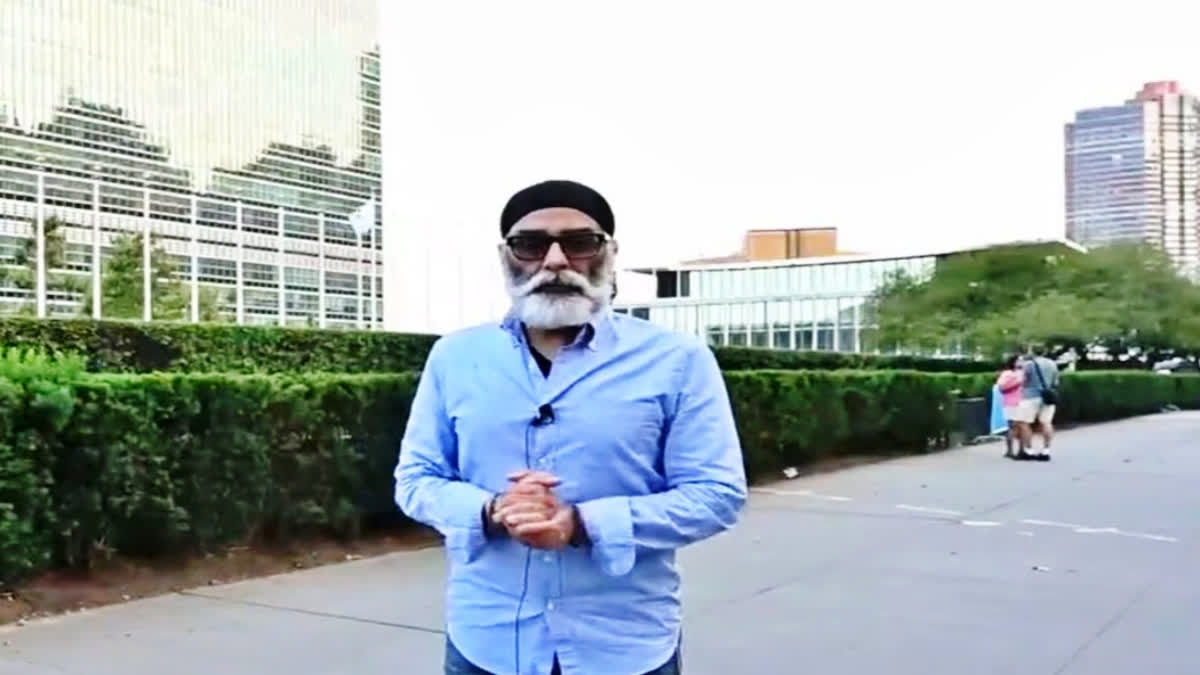 Pro-Khalistan activist Pannu dispels rumours about his death, appears in video
Updated: Jul 6, 2023, 8:06 PM
|
Published: Jul 6, 2023, 8:00 PM
Follow Us
New Delhi: Pro-Khalistan activist and one of the founders of the banned secessionist group Sikhs for Justice (SFJ) Gurpatwant Singh Pannu on Thursday dispelled rumours about his death in a road accident in the US. A day after social media was abuzz with news about his purported death in an accident on Highway 101 in California, Pannu posted a video online to show that he was alive. In the video, Pannu is seen standing in front of the UN headquarters in New York and threatening Indian diplomats in the US, Canada, UK, Germany and Europe holding them responsible for the death of Hardeep Singh Nijjar, the leader of the Khalistan Tiger Force, in Canada last month.
Earlier, too, Sukhi Chahal, CEO and Editor-in-Chief of The Khalsa Today, had dismissed the reports of Pannu's death as "fake and false". "Regarding the news about the alleged car accident in my neighbourhood in California and the death of SFJ Gurpatwant Singh Pannu, I would like to emphasise that the information is FAKE & FALSE," Chahal tweeted. "I kindly urge everyone to refrain from spreading this misinformation."
The reports of Pannu's purported death came days after Khalistani activists set the Indian Consulate in San Francisco on fire, which drew swift condemnation from the US State Department. Pannu, who was born at Khankot village in Amritsar, is actively lobbying for the cause of Khalistan. In 2020, he spearheaded the international referendum for Khalistan. He has also filed lawsuits against Indian officials and organisations alleging human rights violations against Sikhs.
The Government of India declared Pannu a designated terrorist in 2020 and attached his agricultural land under Section 51A of the Unlawful Activities (Prevention) Act. He is facing 22 criminal cases, including three of sedition, in India. The rumours of Pannu's death came after he was reportedly untraceable for the last few days. Some reports suggested that he had gone into hiding after a series of deaths of Khalistani activists abroad in the last two months.
On May 6, Paramjeet Singh Panjwar, head of the Khalistan Commando Force, was shot dead while he was on a morning walk near his house in Lahore. He was in a park at Sunflower Housing Society when two assailants fired at him and fled from the spot on a motorcycle. Paramjeet, 63, was involved in drugs and weapons smuggling. The Government of India designated him as a terrorist under the Unlawful Activities (Prevention) Act in July 2020. He also had the support of Pakistan's Inter-Services Intelligence (ISI). Paramjeet originated from Jhabbal village in the Taran Tarn district of Punjab.
On June 15, Avtar Singh Khanda, a leader of the Khalistan Liberation Force, died at a hospital in Birmingham, UK. While some reports claimed that Avtar, 35, died due to food poisoning, UK medical records state that he died of blood cancer. Avtar is believed to have been the brain behind the conspiracy to attack the Indian High Commission in London on March 19. He is also the man, who mentored Amritpal Singh and sent him to India as the head of Waris Punjab De.
Intelligence agencies, however, believe that Avtar was killed by rival Khalistani activists as they thought that he had become a liability after the conspiracy behind the attack on the Indian High Commission was exposed. Then again, on June 19, 45-year-old Hardeep Singh Nijjar, a leader of the Khalistan Tiger Force (KTF) and head of the Canadian arm of the SFJ, was shot dead in the parking lot of a Gurdwara at Surrey in Vancouver, Canada.
A native of Harsinghpur in the Jalandhar district of Punjab, Nijjar reportedly worked as a plumber in Surrey, Canada. He was elected to head the Guru Nanak Sikh Gurdwara in Surrey, Canada. He had visited Pakistan in 2013-14 to meet with Jagtar Singh Tara of KTF, who was arrested from Thailand in 2015, according to the Institute for Conflict Management.
The National Investigation Agency (NIA) had designated Nijjar as a terrorist under the Unlawful Activities (Prevention) Act in 2020 and had put a reward of Rs 10 lakhs on his head. The deaths of Paramjeet Singh Panjwar, Avtar Singh Khanda and Hardeep Singh Nijjar fuelled the speculations about the fate of Gurpatwant Singh Pannu.