National Engineers Day 2023: Remembering Mokshagundam Visvesvaraya on his birth anniversary

Published: Sep 15, 2023, 11:32 AM
Follow Us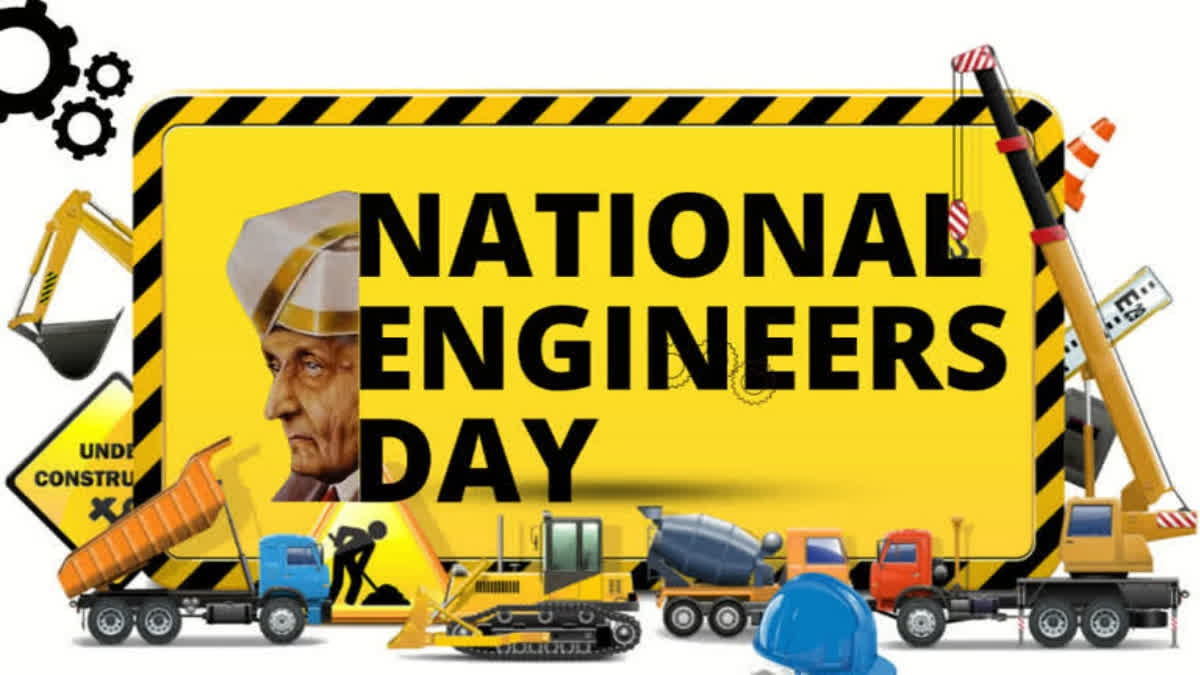 National Engineers Day 2023: Remembering Mokshagundam Visvesvaraya on his birth anniversary

Published: Sep 15, 2023, 11:32 AM
Follow Us
Hyderabad: Engineers are the unsung heroes behind the progress and development of societies across the globe. Their innovative ideas, problem-solving abilities, and technical expertise lay the foundation for a better future. In India, their contributions are celebrated on National Engineer's Day, which falls on September 15th each year. This special day not only recognizes the tireless efforts of engineers but also commemorates the birth anniversary of the legendary Mokshagundam Visvesvaraya, a pioneer in Indian engineering and economic planning.
The Birth of a Visionary Engineer
Sir Mokshagundam Visvesvaraya, affectionately known as 'Sir' MV, was born on September 15, 1861, in the picturesque village of Muddenahalli in Karnataka, India. His early education in Chikkaballapur laid the foundation for a brilliant academic career that would shape the destiny of India.
Visvesvaraya pursued a Bachelor of Arts degree at the University of Madras and later enrolled in Pune's College of Science to obtain a diploma in civil engineering. His dedication and exceptional skills led him to secure the first rank in the course in 1883.
The Architect of Modern India
After completing his education, Visvesvaraya's journey as an engineer began when he received a job offer as an Assistant Engineer from the Bombay Government. This marked the start of a remarkable career that left an indelible mark on India's infrastructure and development.
Visvesvaraya's achievements are numerous and awe-inspiring. As the Diwan of Mysore from 1912 to 1918, he played a pivotal role in the construction of the iconic Krishna Raja Sagara Dam in Mysore, which transformed the region's agricultural landscape. His contributions extended to the installation of the Deccan Plateau irrigation system, ensuring a consistent and reliable water supply to the arid lands.
One of his notable inventions, the block system with automatic doors to regulate water flow, revolutionized water management in India. The flood protection system he designed for Hyderabad showcased his expertise in disaster prevention and management. His legacy can also be traced through institutions and enterprises he founded, including the Mysore Soap Factory, Bangalore Agricultural University, State Bank of Mysore, Mysore Iron and Steel Works, and Government Engineering College.
In 1916, Visvesvaraya founded the University of Mysuru, emphasizing the importance of education in nation-building. He made primary education compulsory and placed a strong emphasis on technical education, understanding that a well-educated workforce was crucial for India's progress.
The magnitude of Sir Mokshagundam Visvesvaraya's contributions to the nation was recognized through various accolades:
In 1955, he was honored with India's highest civilian honor, the 'Bharat Ratna,' by the Government of India, underscoring his extraordinary contribution to the field of engineering.
King George V bestowed him with British knighthood, leading to the title 'Sir' M. Visvesvaraya, as recognized by the Institution of Civil Engineers.
Google paid tribute to his remarkable contributions by launching a doodle on his birthday in 2018, a testament to his enduring legacy.
His stature in the world of science and engineering was evident when he presided over the 1923 session of the Indian Science Congress.
Beyond his illustrious career, Sir M. Visvesvaraya was a multifaceted individual who continued to contribute to the nation's development. He served on the Governing Council of the 'Indian Institute of Science Bangalore,' demonstrating his commitment to advancing education and research. Later, he became a member of the Tata Iron and Steel Governing Board, contributing to the growth of India's industrial sector.
Visvesvaraya's literary prowess was also remarkable; he authored two books during his career, with "Reconstructing India" and "Nation Building" being among his most notable works. His dedication to nation-building and engineering excellence continued until his passing in 1962. Today, his spirit lives on in the hearts and minds of engineers across the country.
National Engineer's Day in India serves as a fitting tribute to the visionary engineer, Sir Mokshagundam Visvesvaraya, and all engineers who have contributed significantly to the nation's progress. His legacy, marked by a tireless commitment to innovation, infrastructure development, and education, inspires generations of engineers to strive for excellence. As India marches towards a brighter future, it is essential to remember the indomitable spirit of Sir MV, the father of Indian engineering, and continue to honor and celebrate the invaluable contributions of engineers to the nation's growth and development.