India is a top tier security partner for Australia, says Australian Deputy PM ahead of the the 2+2 Ministerial dialogue today

Published: Nov 20, 2023, 1:29 PM
Follow Us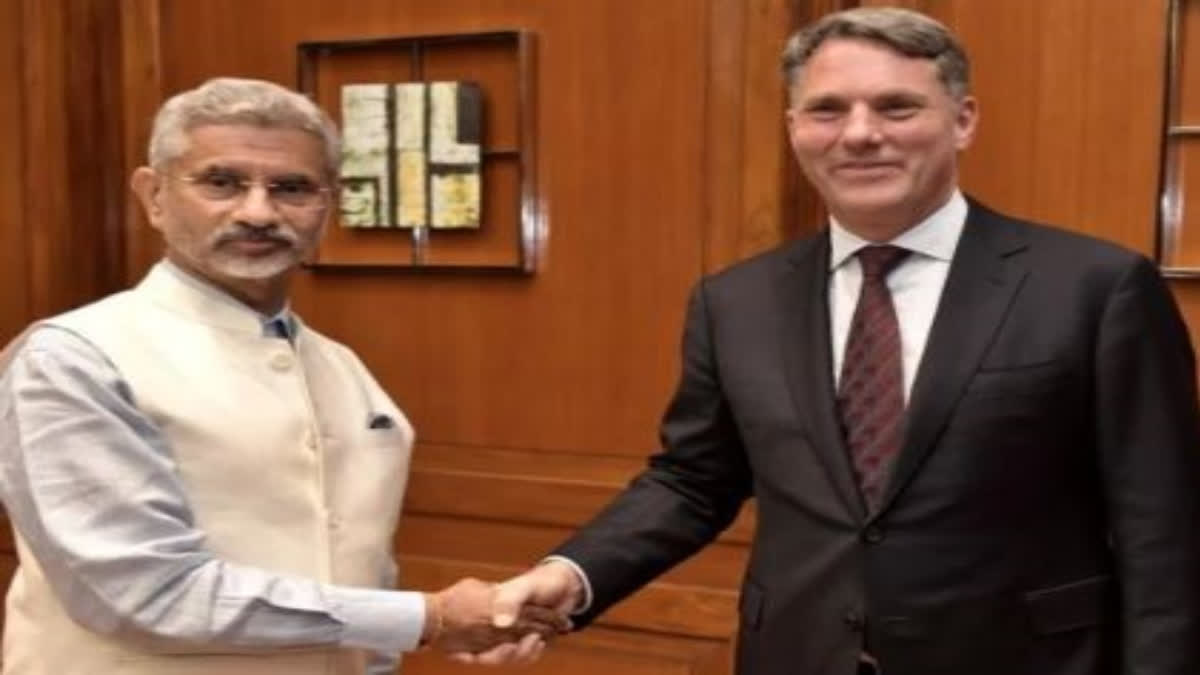 India is a top tier security partner for Australia, says Australian Deputy PM ahead of the the 2+2 Ministerial dialogue today

Published: Nov 20, 2023, 1:29 PM
Follow Us
New Delhi: Australia's Deputy Prime Minister and Minister for Defence Richard Marles and Minister for Foreign Affairs Penny Wong will hold the India- Australia 2+2 dialogue along with their Indian counterparts, External Affairs Minister S Jaishankar and Defence Minister Rajnath Singh.
The meeting will focus on defence, security, renewable energy, technology, and deepening trade and investment ties. The Australia–India relationship has never been more consequential. Both the countries are working together through its Comprehensive Strategic Partnership, as Quad partners and beyond to promote a peaceful, stable and prosperous Indo-Pacific region.
The 2+2 Ministerial Dialogue is a cornerstone of the steady relationship and an opportunity for both countries to progress the work together to shape the type of region we want.
During the meeting, ministers will advance cooperation on the shared regional interests, including in defence, security, renewable energy and technology. They will also discuss deepening trade and investment ties.
Deputy Prime Minister Marles will also meet his counterpart, Indian Defence Minister Rajnath Singh, to discuss ways to continue driving forward the Australia–India defence relationship and discuss the shared challenges facing our region.
Foreign Minister Wong will meet with her counterpart Indian External Affairs Minister Dr S. Jaishankar for the long-standing annual Australia–India Foreign Ministers' Framework Dialogue.
The Deputy Prime Minister will then travel to the United Arab Emirates to meet with his ministerial counterparts between 21 and 22 November. Ahead of the 2+2, Deputy Prime Minister and Minister for Defence, Richard Marles said, "India is a top-tier security partner for Australia and our Comprehensive Strategic Partnership is one of practical, tangible actions that directly benefit the Indo-Pacific region".
"This year has seen a number of firsts in our defence relationship, including an Indian submarine visit to Perth and Australia's hosting of Exercise Malabar, demonstrating the growing closeness of our defence and security partnership", he said.
"Our cooperation with India is at the heart of Australia's approach to ensuring the Indo-Pacific remains open, inclusive and resilient.
"Australia remains committed to maintaining our close bilateral defence and economic relationship with the UAE through dialogues, training and industry cooperation", added Marles.
Meanwhile, Foreign Affairs, Senator Penny Wong: noted that the India–Australia partnership is central to the stability and prosperity of our shared region.
"Along with our deepening defence and security cooperation, Australia is committed to partnering with India more closely for the benefit of our region, in the Indian Ocean, in Southeast Asia, and in the Pacific," said Wong.