Canada is playing with fire as it has become a haven for extremists
Updated: Oct 7, 2023, 2:33 PM
|
Published: Sep 25, 2023, 8:33 PM
Follow Us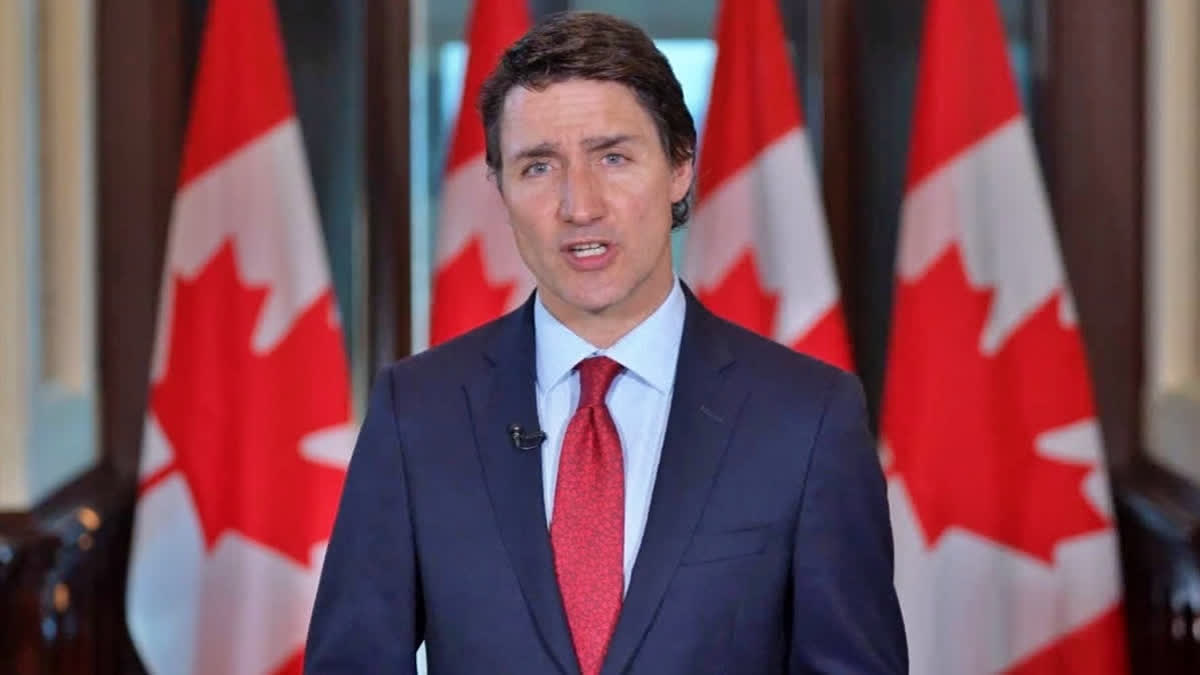 Canada is playing with fire as it has become a haven for extremists
Updated: Oct 7, 2023, 2:33 PM
|
Published: Sep 25, 2023, 8:33 PM
Follow Us
Hyderabad: Khalistan Tiger Force leader and notorious extremist Hardeep Singh Nijjar was assassinated in Canada on June 18. On August 12, Khalistanis launched attacks on the prominent Lakshmi Narayana Temple in British Columbia, Canada, stating, "India should be held responsible for the killing of Hardeep. They vandalised the temple and pasted posters conveying that message."
On September 18, the Prime Minister of Canada, Justin Trudeau, while speaking in Parliament said that there were credible allegations that the Indian government agents might be behind the murder of his country's citizen, Nijjar. He backed up the comments of the Khalistanis, who are spewing venom towards India. Nijjar, a wanted fugitive in more than a dozen murder and terrorist cases, had left for Canada on a fake passport and had been under Interpol's red notice since 2014. India has given Canada full details of Hardeep Singh's anarchy, seeking his arrest.
However, the Canadian authorities seem to have shown little interest in arresting Hardeep and had given him their country's citizenship. If it is a shame to arm a terrorist as its own citizen, it is a testament to Trudeau's stupidity to level allegations against India.
A former US defence official, Michael Rubin, recently fumed that the Canadian Prime Minister committed a huge and irreparable mistake by making baseless accusations. Justin Trudeau appears to be courting votes from the Sikh community, especially with the support of National Democratic Party leader Jagmeet Singh, who holds the balance of power in the minority government. In this process, he caused a rift with his unwarranted comments.
Canada is no stranger to being a haven for militant groups that pose a serious threat to India's national security. Surjan Singh Gill, the self-proclaimed 'Councillor General of Khalistan' opened a parallel Sarkari store in Vancouver, Canada in 1982.
He indulged in extravagances like issuing Khalistani passports. The then Canadian Prime Minister Pierre Elliott Trudeau (father of present Prime Minister Justin) refused to extradite Talwinder Singh Parmar, who had killed two policemen in Punjab and escaped to Canada. And then in 1985, the Khalistanis blew up Air India's 'Kanishka' plane, which claimed more than 300 lives. This decision by Canada to harbour individuals connected to a heinous terrorist act led to a long-standing diplomatic dispute. It later came to light that the Canadian intelligence agencies ignored prior information regarding the terrorist attack on the plane.
There are at least nine India-hating separatist groups currently roaming freely in Canada. When Justin Trudeau visited India in 2018, then Punjab Chief Minister Amarinder Singh met him in Amritsar. Trudeau was given a list of nine A-category terrorists hiding in Canada and asked to take action against them.
The Canadian government has been unresponsive to these concerns. Prime Minister Modi, who recently met with Justin Trudeau during the G20 Summit, warned that Canada becoming a base for anti-Indian forces will prove self-destructive for the country in the future. As Modi recently commented, "It is essential to formulate international legal provisions for the prevention of terrorism."
International cooperation and efforts to counter such threats are imperative to maintain global security. Only then will it be possible to ground the demon of terrorism that is spilling blood across the borders? (Eenadu editorial published on September 25 edition)